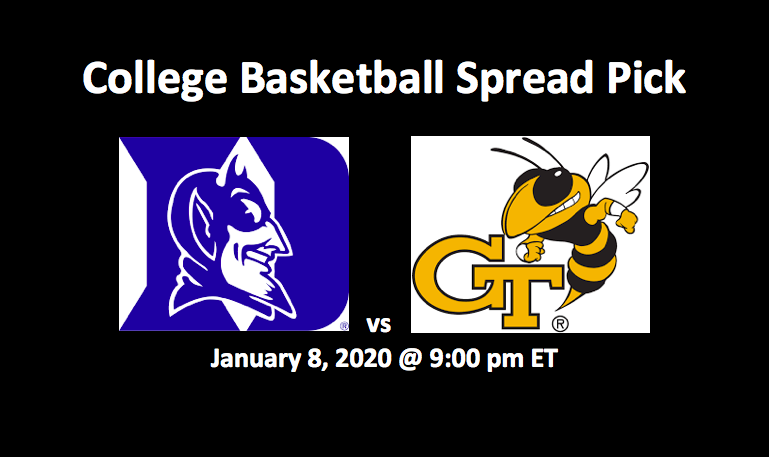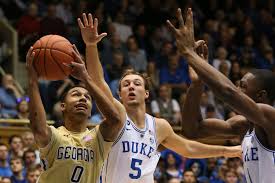 Our Duke vs Georgia Tech pick offers the Blue Devils at -11.5. In creating our Duke vs Georgia Tech prediction, we see the Jackets as being improved and gunning for the number two men's basketball team in the nation. The #2 Duke Blue Devils (13-1 Overall, 3-0 ACC) top the Atlantic Coast Conference. The Georgia Tech Yellow Jackets (7-7 Overall, 2-2 ACC) are tied for sixth in the conference with the Virginia Tech Hokies. The game will be played Wednesday, January 8, 2020 at 9:00 pm ET. These two teams will tip off at McCamish Pavilion in Atlanta, Georgia.
Duke vs Georgia Tech Pick – Recent Performance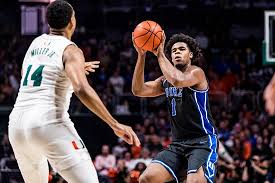 Duke started the season with six-straight wins, including taking down #3 Kansas 68-66 in their first game of the season. There first and only loss thus far was on November 26 when Stephen F. Austin took them down in OT 85-83. Since then, the Blue Devils have reeled off seven more wins. That string includes an 87-75 victory over #11 Michigan State. They last played on January 4, blowing Miami out of the water 95-62.
The Yellow Jackets have been up and down all season. Over there first eight games, they were four and four. That eighth game was against #8 Kentucky. In that contest, the Wildcats beat the Yellow Jackets 67-53. After their last six games, Georgia Tech has gone 3-3. On December 31, Florida State beat the Yellow Jackets 70-58. In their last game, which was January 4, they took down the North Carolina Tar Heels 96-83.
Blue Devils at Yellow Jackets – Stats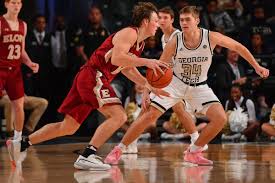 Our Duke vs Georgia Tech pick notes that the Blue Devils are out-scoring and out-defending the Yellow Jackets. Duke is averaging 84.1 PPG and allowing 62.4 PPG. Georgia Tech has been good for 67.6 PPG and giving up 68.0 PPG. Plus, Duke is outshooting GT 48.4% to 44.4%, and they top them in assists 16.9 to 12.7. The Blue Devils are taking down 41.8 RPG, while the Yellow Jackets are grabbing just 35.3 RPG. Duke is also better on BPG (6.6-5.3) and SPG (9.3-7.6).
Devils vs Jackets – Players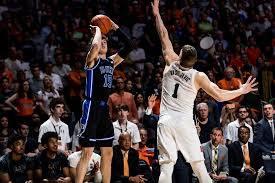 Duke is deep and strong both upfront and in back. Center Vernon Cary Jr. tops the team with 18.4 PPG, 9.0 RPG, a 62.8 FG% and 57.1 3PT%. In the backcourt, Tre Jones is the playmaker, averaging 7.2 APG and 14.2 PPG. Forward Matthew Hurt and guard Cassius Stanley have averaged 11.6 and 11.0 PPG respectively while combining for 8.1 RPG.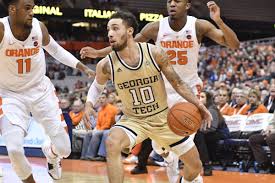 GT also has a sound front and back court. Although, we don't think they're of the same calibre as Duke's. Moses Wright leads the Jackets with a 57.2 FG% and 7.9 RPG. He's scoring 13.4 PPG. Guard Michael Devoe is putting in 16.9 PPG, which is the best point production on the team. Also, guard Jose Alvarado is hitting for 10.0n PPG while dishing off 4.4 APG. Forward James Banks III, who's grabbing 7.2 RPG and averaging 9.9 PPG, can battle inside.
Our Duke vs Georgia Tech Pick
The fact is Duke is the superior team. Duke's last five wins have been by 14 or more points and their last two were by 30-plus each. As noted, Georgia Tech is coming off a 93-86 win against what has been a very uneven UNC team. Our Duke vs Georgia Tech pick is the Blue Devils at -11.5. Also, check out our Pittsburgh vs UNC prediction that's coming up at 7:00 pm ET.
#2 Duke Blue Devils vs Georgia Tech Yellow Jackets Prediction – Summary
Duke Blue Devils at -11.5