Free Expert Sports Picks
MLB Tuesday August 31st Phillies at Nationals Betting Preview
Philadelphia a Tempting 'Dog in D.C.?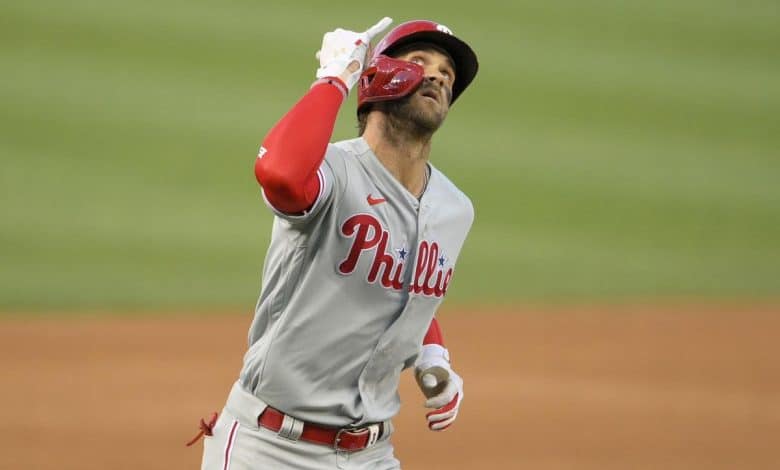 Philadelphia is a slight +100 underdog heading into the August 31st Phillies at Nationals contest. That line may seem a bit strange considering the Phillies took the series opener 7-4 as -138 favorites for their 4th straight victory. Philadelphia has a whole lot more to play for in this one, just 3.5 back in the NL East and 3 off the 2nd wild card spot.
Washington is a -120 favorite on Tuesday night despite losing 7 of their last 9. Do these seemingly flip-flopped lines make the Nationals an automatic contrarian play? Washington has dropped six straight in the head to head series, and are 1-7 vs. the Phillies at Nationals Park this season.
Odds Moving Away From Phillies
There appears to be some big backers on Washington in the August 31st Phillies at Nationals contest, with the line moving against Philadelphia from the -108 open. That's a pretty big indictment against Tuesday starter Matt Moore (2-4, 6.12 ERA) who gave up 4 ER over 4.0 IP in his last start, an 8-7 loss at home to Arizona as -140 favorites.
Moore made a spot start for Zach Eflin last time out, but he was on normal rest. Moore had pitched well in two previous starts, allowing just 2 ER over 10.1 IP while striking out 12. Washington is also 6-14 in their last 20 vs. a LH starter, but tagged Moore for 6 ER over 4.0 IP in a 6-4 Nats' win on July 27th. Moore has an 8.00 ERA in three appearances vs. Washington in 2021.
Even if Moore isn't at his best, how do you go against this Phillies offense right now? Philadelphia has scored 7 runs in five straight games, powered by a scorching Bryce Harper who has a .556 OBP over the past week. Harper had a HR in Monday's win, and Odubel Herrera stayed hot with a 2 for 4 night. Herrera has reached base in 8 of his last 16 plate appearances.
Corbin Drawing the Washington Love?
Moore has been roughed up by the Nationals this season, but is that enough for Washington to be -120 favorites in the midst of a 3-7 record over their last 10? The obvious angle would be that Patrick Corbin (7-13, 6.09 ERA) gives the Nationals an edge on Tuesday.
In reality, Corbin really looks like a liability in this matchup. Washington has dropped 9 of his last 11 starts, and the left-hander has been getting abused lately. Corbin gave up 6 ER over 3.0 innings to Miami in his last start, the 7th time in his last 8 outings he's surrendered at least 4 ER. Corbin is 1-4 with a 7.33 ERA in August.
The Nationals did manage 4 runs and drew 4 walks over 6.0 innings against Philly starter Zack Wheeler on Monday, but they were down 3-0 after the first inning and 6-1 by the middle of the 3rd. The Washington offense should put up some good numbers on Tuesday against Moore, who they are 17 for 51 (.333) against as a team. 6 of those hits have been HRs.
August 31st Phillies at Nationals Pick
Philadelphia +100 definitely looks like a trap play here, and there's seemingly big money driving the Nationals to -120 favorites. That's still too big of a price to pay on Corbin, but with Moore's equal struggles vs. Washington makes this one a total play.
Phillies 5 – Nationals 7 
Free Pick: Over 9