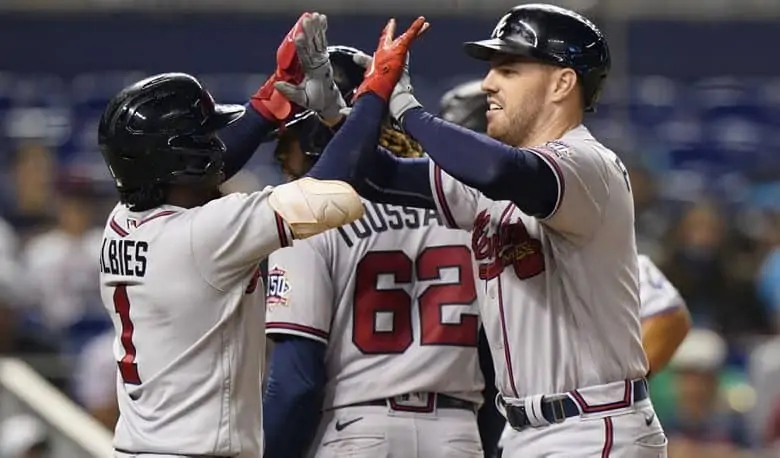 The trap seems to be set heading into the August 17th Braves at Marlins matchup. 1st place Atlanta is just a -125 favorite riding a 4-game win streak into Tuesday night's meeting in Miami. The Braves took the series opener in dominating fashion on Monday, winning 12-2 as -162 favorites.
Does the pitching matchup favor Miami in this one? Huascar Ynoa gave up 5 ER in his last start way back in May, but had allowed a total of three in four starts prior. The Marlins send Sandy Alcantara to the mound, and he can either dominate or be dominated. Alcantara gave up 10 ER in just 3.2 IP on August 6th, but has shut out opponents in the two sandwich starts around those outings.
Braves a Trap Play Here?
How do you not absolutely love Atlanta in the August 17th Braves at Marlins matchup? Sure there's a chance Atlanta doesn't have much left in the offensive tank after Monday's 12-2 win that was powered by 3 RBI each from Ozzie Albies and Freddie Freeman, but the Braves have also scored 34 runs in their last four games.
Once Atlanta learned how to string consecutive wins together, they've risen to the top of the NL East with a 1.5 game lead over the Phillies. The Braves alternated wins and losses for 16 games in the middle of July, but since August 3rd Atlanta is 11-2. Atlanta has also taken 42 of the last 60 against the Marlins, but are just 7-7 against the fish this season.
The major reason Atlanta is just a -125 favorite on Tuesday night is because Huascar Ynoa (4-2, 3.02 ERA) is making his first start in three months after losing a fight with a dugout bench back in May. The Braves had won 4 of 5 Ynoa starts before he suffered a fractured pitching hand, but there will obviously be some rust to work through on Tuesday night.
Can Marlins Take Advantage of Pitching Matchup
Miami will get to face a pitcher with cobwebs on his right arm on Monday night, but can the Marlins offense do more than their 4-hit performance in the series opener? The fish had a good time beating up on the Cubs over the weekend in a 3-game sweep in which they plated 23 runs, but the Braves served a dose of reality in the 10 run win to kick off the series.
Jazz Chisholm and Isan Diaz hit solo HRs to account for the only 2 runs Miami scored on Tuesday night. The Marlins also struck out 10 times over 6.0 IP against Ynoa back in April, but that was still a 5-3 Miami win as +126 underdogs in the same pitching matchup as this contest.
Sandy Alcantara (7-10, 3.52 ERA) pitched into the 7th in that win over Atlanta back in April. It was the first of three starts against the Braves for the right-hander, who has followed that up with 2 ER allowed over 14.0 IP while scoring a couple wins in his last two starts vs. Atlanta. Alcantara's 10 ER outing on August 6th also came at Coors Field, so he can't be totally held accountable for that one.
August 17th Braves at Marlins Pick
While at first glance the Braves as only -125 favorites seems like a trap, the truth is Miami is a steal in this one. Alcantara has owned Atlanta the last two times he's faced them this season and has allowed 0 ER in his last two starts that weren't at Coors Field. Throw in Ynoa making his first start in three months after punching a dugout bench and Miami is the play in this one.
Marlins 5 – Braves 2 
Free Pick: Marlins +105