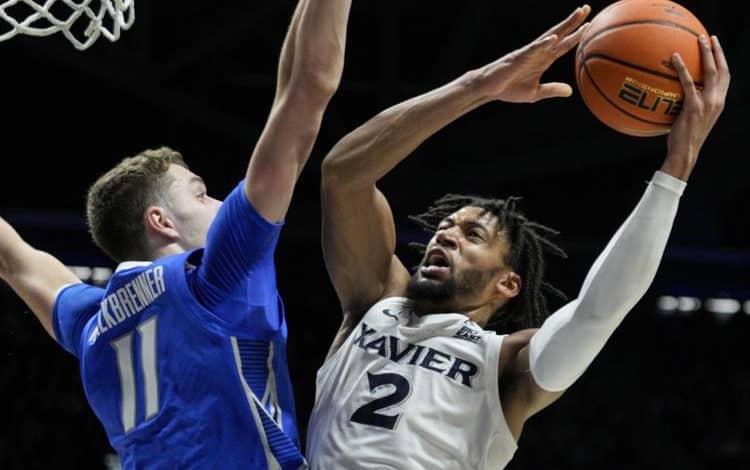 Right away the line in the Xavier at Creighton betting matchup on Saturday looks a bit off. The #13 ranked Musketeers (17-4) are +5.5 point underdogs in Omaha against the Bluejays (12-8). Make no mistake, Creighton is a solid squad that was ranked as high as #7 earlier this season, but that point spread still seems disrespectful.
Saturday's meeting does culminate the regular season series between these two teams, with Xavier picking up a 90-87 win on January 11th at the Cintas Center to barely cover the -2 point number in a game that soared over the 153.5 total. Will we see another high scoring affair in the rematch (O/U 157.5)?
Why Xavier Can Cover +5.5
The Musketeers getting +5.5 points seems like a misstep by somebody at the sportsbooks, but we know that never happens. Xavier was good enough to build up a 39-24 halftime lead on the road against #19 UConn on Wednesday, and sure they had to hold on for an 82-79 victory that's still an impressive win as +6 point underdogs.
Sean Miller's club has losses against Gonzaga and Duke this year as well as falling to Indiana – three defeats nobody would be ashamed of. The real blip on this team's resume was falling 73-72 at DePaul as -9 point favorites on January 18th, something that could simply be chalked up as an anomaly game. That was the Musketeers only road loss this season (5-1) and 73 points was tied for the fewest they've scored in the last 15 games.
It's that Xavier offensive potency which is the main reason this team can not just cover +5.5 points on Saturday but win outright. The Musketeers 84.0 ppg is the 8th best mark in the nation and they hit 50.3% of their shots from the field which is the 5th best tally in the country.
Why Creighton Can Cover -5.5 Points
There's no doubt that Xavier's offense is impressive, in fact they rank 5th in the country according to the KenPom offensive efficiency ratings. Creighton's defense gives up 68.3 ppg on a whole which isn't overly impressive (157th), but they are also 22nd in defensive efficiency once again looking back to the KenPom statistics.
Xavier has been very good on the road this year and just picked up a big win at #19 Connecticut, but Creighton is also 9-1 in Omaha this season with their lone home loss being what looks like a once off in a 63-53 defeat against Nebraska as -14.5 favorites.
The Musketeers can score – but so can Creighton coming off a season high 104 points against St. John's on Wednesday as all five Bluejays starters scored at least a dozen points. Creighton lost the first game against Xavier, but still tallied 87 points led by 25 from Baylor Scheierman while Trey Alexander, Ryan Nembhard, and Ryan Kalkbrenner all added 15+ points.
Free Xavier at Creighton Betting Pick
This game is a tough one because every fiber in your being is telling you to take #13 Xavier getting +5.5 points. Yes it's tough to win in Omaha, but the Musketeers offense really makes it nearly impossible for them to get blown out (by 6+ points at least).
There are a couple of things working the way to take Creighton in this matchup. First it's the "unranked team at home against a ranked conference opponent" angle but also that the Bluejays might be one of the most underrated teams in the country – unranked but listed at #11 overall in the KenPom standings that takes a lot of external factors into account. Throw in the Xavier letdown after the win at UConn this week and this game looks like it goes to the Bluejays big.
Free Pick: Creighton -5.5