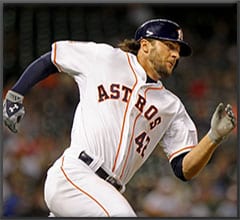 Overview
The Houston Astros are in San Diego for the the second game of a three game series with the Padres. The Astros scored 5 runs in the final couple innings to take the first game 9-4. Before the last game the Astros hadn't played the Padres since 2012 and that's probably a good thing as the Padres kind of had their way with the Astros winning 13 of the last 19 meetings.
Head to Head Trends
Astros are 3-9 in the last 12 meetings in San Diego.
Under is 21-7 in Reynolds' last 28 games behind home plate.
San Diego Padres (-145)
The San Diego Padres are 3rd in the National League West with an 11-10 record. The Padres started out the season super good winning 10 of their first 15 games but they seem to be coming back down to earth losing 5 of their last 6 games. A big reason for the Padres early success was due to their offense who were just crushing the ball hitting like .280 and averaging close to 6 runs per game but over their last 5 games they are hitting just .221 and averaging 3.2 runs per game so I guess it was a good run while it lasted for the Padres but looks like it's over now.
On the hill for the Padres in this one is Tyson Ross who is 1-1 with a 3.97 ERA in his four starts so far this season. Last season Ross was a beast but he's looking just kind of average this season so I guess we'll have to wait and see if he starts throwing like he did last year or if he takes a step back.
San Diego Padres Trends
Padres are 35-16 in their last 51 home games.
Padres are 8-20 in their last 28 interleague home games vs. a team with a winning record.
Houston Astros (+135)
The Houston Astros are 1st in the American League West with a 12-7 record 3 games up on the 2nd place LA Angels. The Astros are red hot right now winning 8 of their last 9 games and are looking like a really solid team. The one thing I'm a little worried about with the Astros is that right now they are hitting a lot of home runs but I'm afraid once the long ball dries up they will struggle to score runs and I don't know if they have the pitching to absorb that.
Starting for the Astros today is Roberto Hernandez who is 0-2 with a 3.57 ERA in his 3 starts this season. Hernandez has pitched well it's just he hasn't had any of that good run support from the Astros offense so lets hope changes tonight.
Houston Astros Trends
Astros are 4-0 in their last 4 overall.
Astros are 2-8 in their last 10 interleague road games.
Conclusion
I'm going with the Houston Astros over the Padres in this one. The Astros are just red hot right now and the Padres are starting to struggle so I think they might be a good team to fade in general over the next little while.
Free Pick: Houston Astros +135