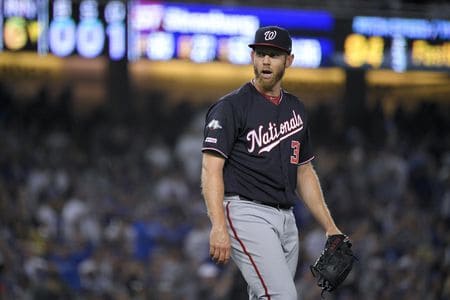 Washington will be looking for their first win streak of the season heading into the April 13th Nationals at Cardinals matchup. Dave Martinez' team tallied a 5-2 win at Busch Stadium on Monday night to snap a stretch of five consecutive losses.
Did the Cardinals just let one get away from them in the opener? St. Louis has been very streaky so far in this early 2021 campaign, having now dropped three straight following wins in four consecutive contests. Oddsmakers like STL getting back on track on Tuesday night, listing them as -115 favorites. Washington is just -105 with Stephen Strasburg on the mound though.
Nationals Offense Finally Breaking Out?
Washington is dangerous – and dangerous to wager on – every night out because of the inconsistency of their offense. So far in 7 games this season, the Nats' have scored 5+ runs in four of them and been shut out in the other three. This team is quite literally hit or miss.
Those shutouts add up though, as the Nationals are just 26th in the majors in runs/game with 3.14. Kyle Schwarber going 2-5 with a 2B and an RBI and Josh Bell scoring two runs – both in their Washington debuts – do give optimism for a turnaround from the Nats bats. Washington had 12 hits in the series opener, with every starter but Trea Turner getting a knock.
Stephen Strasburg was absolutely dazzling in his 2021 season debut, throwing 6.0 IP of 1-hit ball in what was ultimately a 2-0 loss to Atlanta. The right-hander did his job, and his hoping for some more run support in the April 13th Nationals at Cardinals game. It was a nice bounce back for Strasburg, considering he pitched just two games in 2020 due to carpal tunnel neuritis.
Cardinals Trending In Wrong Direction
Monday's loss was the third straight for the Redbirds, and pushed their record to just 1-3 at home on the season. The dynamic duo of Paul Goldschmidt and Nolan Arenado were a combined 0-8 against Washington pitching, with Arenado getting the hat trick with 3 K's.
St. Louis has a top 10 offense in baseball, so Monday's game could be chalked up to 'one of those nights.' How do things get any easier against Strasburg (0-0, 0.00 ERA) however? Arenado does have 2 HR against the Washington starter in 18 career ABs, but has also K'd in six of those. Collectively the Cardinals are 20-82 (.244) vs. Strasburg which is decent.
Jack Flaherty (1-0, 5.23 ERA) makes his 2021 Busch Stadium debut following a nice bounce back start last week with 6.0 IP of 1-hit ball vs. Miami. Is that the Flaherty we'll see this season, or is it the 4.1 IP with 6ER allowed in his first start? Flaherty hasn't seen the Nationals that much, but he does have experience from former NL Central mainstays Bell (4-17, 2-2B, 1 HR) and Schwarber (2-18, HR).
Free Nationals at Cardinals Pick
Tuesday night's game features two starters coming off solid outings last week, which puts the betting total at just 7 runs. One would think a Cardinals even-up game would be coming but at the same time the Nationals finally have a majority of their offense in tact – and also have Strasburg on the bump.
Washington 4 – Cardinals 2 
Free Pick: Washington -105