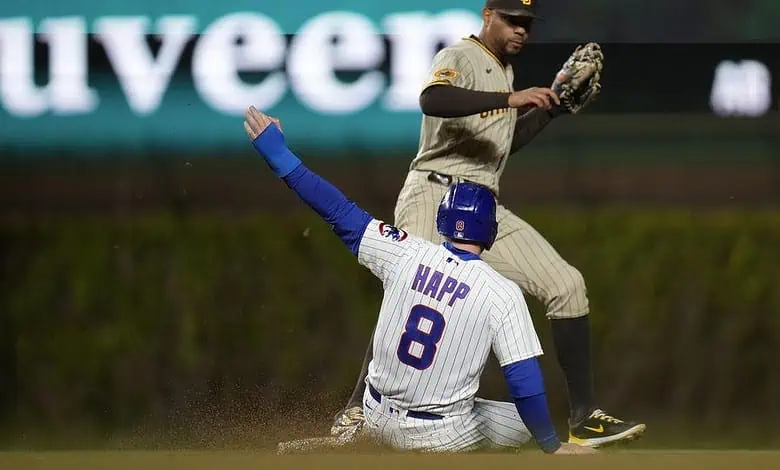 A series win is on the line in the Thursday April 27th Padres at Cubs betting matchup as the two clubs have split the first two games so far this week. Chicago got a dominant pitching performance to take Tuesday's game 6-0 while San Diego evened things up with a 5-3 victory on Wednesday.
The Padres are -135 favorites in the series wrap up, mostly because Chicago's starting pitcher Hayden Wesneski has been wildly inconsistent through three starts. Roughly 60% of early public betting is backing San Diego.
Why the Padres Have Value at -135
San Diego looks like they are starting to turn things around, winners of five of their last seven to pull within a game of the Diamondbacks in the NL West. The Padres could only manage 3 hits against Cubs starter Justin Steele on Tuesday, but Wesneski is a whole different story as he's allowed 3+ runs in three of his four starts and has only pitched out of the 5th inning once so far this season.
San Diego's offense looked much better on Wednesday in the 5-3 win, led by a 3 RBI game from Fernando Tatis and a 2-run triple from Jake Cronenworth. Tatis is hitting just .222 in his six games this season, so if he starts coming around the Padres have even more value at -135. Plus, that -135 line when games one and two of the series were +100 and -100 the last two games suggests San Diego has a big edge here.
San Diego has the pitching edge in the April 27th Padres at Cubs betting matchup with Wesneski's struggles combined with Seth Lugo starting the year 2-1 with a 2.78 ERA. Lugo has held opponents to 2 runs or less in three of his four starts and the Padres also have the 7th best bullpen in MLB led by Josh Hader's 9 saves and 0.75 ERA.
Why the Cubs Have Value at +115
Chicago has their best price of the series on Thursday, going off at -109 and -108 the last two nights. The Cubs lost on Wednesday night, but it was a solid back-and-forth game as the North Siders tied things up at 2-2 and then took a 3-2 lead but the bullpen could not hold on.
The Cubs looked much better on Tuesday in the 6-0 win led on offense by 3 RBI games by both Nico Hoerner and Yan Gomes. Trey Mancini hit a HR in Wednesday's loss, and he's coming around with multiple hits in three of his last five starts. Chicago could be getting a bit more from Dansby Swanson who is 0-15 the last four games, but he's just 1-13 (.077) in his career against Lugo.
Wesneski is the big wild card for the Cubs in this game, and although he's been mostly bad this year he also does have the potential as shown in 7.0 IP of 1ER ball on April 17th – unfortunately that came against the A's however.
Free April 27th Padres at Cubs Betting Pick
One thing the Cubs have going for them on Thursday is San Diego may be in a look ahead spot as their next series will be in neutral site Mexico City against the Giants in a somewhat unique situation. That being said the Padres are heating up while Chicago just dropped three of four to the Dodgers and are having some issues against the NL West the past week.
Free Pick: Padres -135