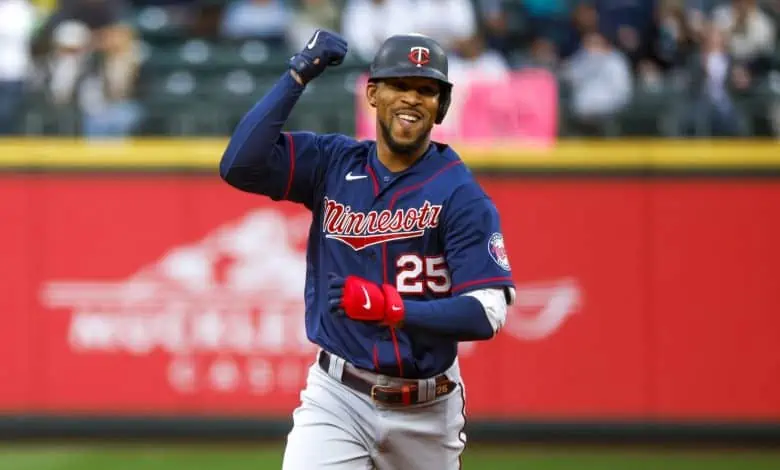 At this point Minnesota and Cleveland may be getting sick of each other. The June 29th Twins at Guardians betting matchup will be the 7th time these two teams have played each other in the last 8 days, with the current 5-game series wrapping up on Thursday.
Minnesota took the opener 11-1 on Monday, and the teams battled to a double header split on Tuesday. They have won three games apiece in the six games played against each other over the last week plus, but the Twins are holding on to a 3 game lead in the division. Wednesday's odds reflect the coin flip, with Cleveland -110 and Minnesota -106.
Twins Finding the Power Stroke
Minnesota just wrapped up a series with the Rockies, but one would think they are playing at Coors Field the last two days after belting out 7 HRs so far in the series. Carlos Correa has two of those long balls while Byron Buxton and Gary Sanchez are also among those who have taken Cleveland pitching deep this week.
The Twins will try to keep that power hitting going on Wednesday night against Cal Quantrill. This will be the first time Minnesota has faced the right-hander this year, but he was 2-0 in six games pitched against the Twins in 2021. Max Kepler and Jorge Polanco are a combined 1-22 against the Cleveland starter, while Luis Arraez has had a little more success going 4-13 with a couple of triples vs. Quantrill.
Minnesota has gotten solid starting pitching this series, something they hope continues with Dylan Bundy (4-4, 4.80 ERA) on the hill in the June 29th Twins at Guardians betting matchup. Bundy has allowed just 1ER in each of his last two starts, buckling down from giving up 13 over his previous three outings.
Cleveland Offense Struggling
The Guardians are a streaky team. They were 7-2 on a recent road trip against these Twins, the Rockies, and Dodgers but have now returned home to go 1-5. The most obvious culprit for that downturn has been the offense, as Cleveland hasn't scored more than 3 runs in any of the last 6 games.
Minnesota starter Sonny Gray gave up just 3 hits on Monday and Cleveland was outhit 6-5 in the first game of the double header on Tuesday even though they did get a 3-2 win. Josh Winder then held the Guardians scoreless over 6.0 IP in the nightcap and relievers Tyler Duffey and Jovan Moran closed the door to preserve the shutout.
Quantrill (4-4,3.76 ERA) shouldn't go into Wednesday night's game expecting a whole lot of run support the way Cleveland has been hitting the ball. He's given up just 3 total runs over his last two home starts and has 3.31 / 4.41 home/road ERA splits this season.
Free June 29th Twins at Guardians Betting Matchup
It's hard to trust the Cleveland offense right now, especially combined with Minnesota hitting the ball fairly well this week. Bundy has looked good in two straight starts but Quantrill has also been solid at home this season.
This feels like a 4-3 matchup, and with the way Cleveland's offense is hitting the 'under' 9 is a solid wager.
Free Pick: Under 9