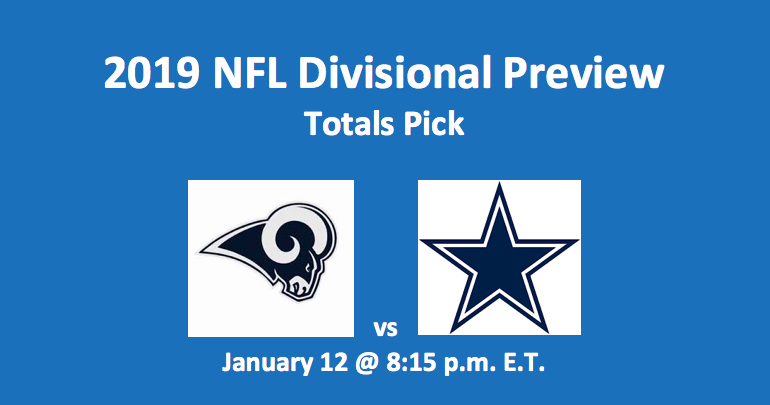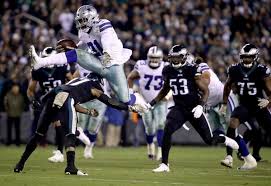 Along with this LA Rams vs Cowboys totals pick, we're also offering the spread analysis and pick for the game. Be sure to check it out and make sure you read all of Betting Brains fantastic daily free picks. This contest between Dallas and LA is the second of two NFL Divisional Playoff games being played on Saturday, Jan 12. The kickoff time for this contest is 8:15 pm ET. Our LA Rams vs Cowboys totals pick lists the over/under at 48.5. Here's a look at how we see this game going. Our basic gist is we do think there is the potential for a lot of points to be scored tonight.
Basic Stats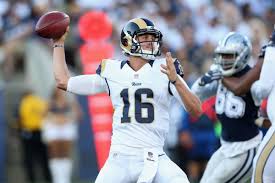 The Rams are noted for their offense. They had the second most-productive offense in the NFL, averaging 32.9 PPG. In their final five games of the season, LA averaged 27.6 PPG. The Cowboys come to this game scoring an average of 21.2 PPG. They put up 24 points in their playoff game against Seattle. In their final two games of the season, Dallas averaged 31.5 PPG. All of these stats, indicate a good chance of this game going over.
During the regular season, the Dallas D allowed 20.3 PPG. They gave up 22 points to Seattle last week. Los Angeles gave up 24.0 PPG. Defenses held LA to under 23 points just once this season. That was when they played Chicago.
At home, the Rams are very tough to stop. They scored 38.0 PPG when playing at the Coliseum. On the road, Dallas is averaging just 17.4 PPG. Putting those two stats together, you're at 55.4 points, which is well over 48.5.
Edge: Over
Point Producers vs Defense
Here's a look at and comparison of each team's offense and defense. There's a lot of scoring potential here.
Dallas Offense vs LA D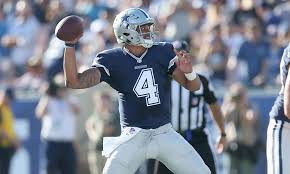 Look for Dallas QB Dak Prescott and RB Ezekiel Elliot to be focused on producing points. Prescott, who scored six rushing TDs, completed 67.7% of his passes for 3,885 passing yards. He threw 22 TD passes and eight picks. He has plenty of fine pass catchers, including Amari Cooper, Cole Beasley, and running back Elliot. Elliot has crossed the goal line nine times this season
LA will be looking to check the potentially dangerous Dallas offense. LA is giving up 235 yards in passing and just over 120 YPG in running. The Rams bring 18 INTs and 41 sacks to this game. We do like their pass defense, but their ability to stop Elliot on the ground is questionable. They did post 84 TFL and had the 12th-ranked third down defense in the NFL. Opponents had a success fate of just 37.2% on third down attempts. LA will hamper this offense, but they should not be able to stop them completely.
Los Angeles Offense vs Dallas D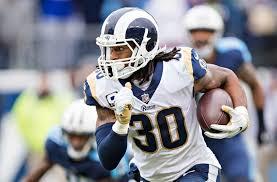 We have to wonder in developing our Rams vs Cowboys pick if anyone can stop QB Jared Goff. Goff, who's completed 64.9% of his passes, tossed for over 4,600 yards. He threw 32 TD passes and 12 INTs. Although LA will be without one of its top receivers, Cooper Kupp who's out with an ACL tear, they still have a huge number of top-notch receivers. Included in that group are wideouts Robert Woods and Brandin Cooks and RB Todd Gurley II. Both Woods and Cooks have over 1,200 yards in receptions each and 80-plus catches for a combined total of 11 TD catches. As a running back, Gurley has scored 17 times, rushing for over 1,200 yards while averaging 4.9 YPA. He has over 2,000 total offensive yards.
Dallas is keeping opponents to approximately 235 yards in passing, while holding ground attacks to under 95 yards per game. The Cowboys had 90 TFL and LA and posted 39 sacks. They captured only nine picks. On third downs, Dallas saw teams covert against them 42.3% of the time for a ranking of 27th. Dallas may slow down the Rams a bit, but we see LA putting a good number of points on the scoreboard.
Edge: Over
Keys to Our LA Rams vs Cowboys Totals Pick
Can both QBs produce, or can Goff excel and Prescott and company get on the board a few times?
Effective rush attacks help towards the over
Neither defense is stellar, opening up scoring
Our LA Rams vs Cowboys Totals Pick
Our LA Rams vs Cowboys totals pick is for the over at 48.5. The Rams will be very tough to stop, and Dallas should score some points. We can see this being a 40-point game for LA and a 20-point game for Dallas. Be sure you check out our Dallas and LA spread pick too as well as our over/under for KC versus Indy and our point spread pick for that same game.
Summary LA Rams vs Cowboys Totals Pick: Over 48.5