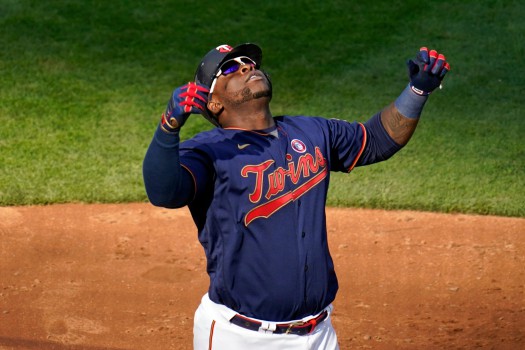 Was Saturday's game the kick-start Minnesota needs to get another win in the May 16th Athletics at Twins matchup? Rocco Baldelli's team was in danger of dropping their 6th straight game before a 4-run 8th inning propelled them to a 5-4 win as -133 favorites.
Sunday's game is still called pretty close by oddsmakers, with Oakland at -105 and the Twins at -115. The A's are 3-2 as they wrap up a current 6-game road swing but could also be looking ahead to the off day on Monday and a trip back home. Oakland is 11-6 on the road, up against a Twins team that is just 7-12 at Target Field on the year.
A's Look For a Bounce Back
Oakland could be in a tough spot in the May 16th Athletics at Twins matchup. The A's are likely a little deflated after blowing Saturday's game and are also in getaway day as they wrap up a 6-game road swing.
Then again, Oakland has plenty of motivation holding just a 0.5 game lead over Houston who has won five in a row. That also puts them in a 'look ahead' spot, as the Astros visit for a 3-game series starting on Tuesday. The A's have won or at least split in all five of their road series' this year, making Sunday's rubber match very interesting.
Chris Bassitt (3-2, 3.54 ERA) taking the mound gives the A's a great chance at -105 on Sunday. The right-hander is in the zone lately giving up 2 ER in six straight starts, striking out 8+ in four of the past five. Bassitt has pitched 7.0 IP in two straight as well.
Twins Set to Go On a Run?
Minnesota was amped up after a 3-run Miguel Sano HR on Saturday that helped the team snap a 5-game losing streak. That's either a random big hit, or the type of play that you look back on as the turning point of the Twins' season. Minnesota needs something, going 2-8 over their last 10 and falling 9.5 GB in the Central.
Can the Twins get to the red-hot Bassitt on Sunday? There are some reasons to be optimistic, such as Josh Donaldson (3-6), Nelson Cruz (3-8), and Jorge Polanco (3-8) having some success in the past against the Oakland starter. The rest of the Twins lineup is 0-17 in their career against Bassitt however.
The Twins also don't know what to expect from Kenta Maeda (2-2, 5.08 ERA) in the series finale. Minnesota lost 13-12 to complete getting swept by Oakland on April 21st, a game in which Maeda gave up 7 ER including 3HR in just 3.0 IP. He's now allowed 15 ER in his last three road starts (16 IP), but has a 1.86 ERA in two home starts.
Free May 16th Athletics at Twins Pick
Both Maeda (at home) and Bassitt should be sharp on Sunday. Saturday's tilt needed a miracle 3-run HR to push the total over by 0.5 a run, but with the betting total staying up there at 8.5 for the series finale, expecting a low scoring game is the route to take.
Athletics 4 – Twins 3
Free Pick: Under 8.5