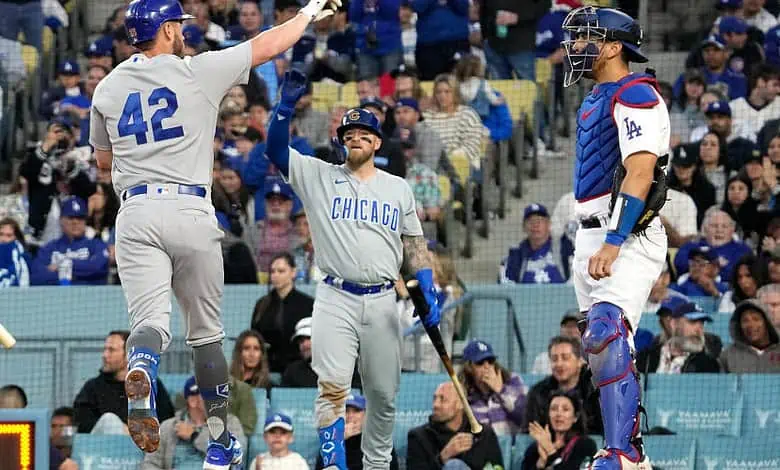 Chicago is playing well at 7-6 and a decent 2-2 on the road, so should L.A. really be a -230 favorite in the Sunday April 16th Cubs at Dodgers betting preview? Chicago could easily be going for a sweep here after winning Friday night's game 8-2, and then giving up 2 runs in the bottom of the 9th on Saturday in a 2-1 loss.
With Saturday's 2-out rally for the win, the Dodgers are still just 3-5 over their last 8. They've also alternated wins and losses over their last six, a trend which would leave them in line for a defeat if it continues, giving the Cubs some definite value at +195 for the series finale.
Why Chicago Has Value at +195
The Cubs were 0-7 against the Dodgers last year, but have already looked immensely better in their 2023 matchups. Chicago was explosive on Friday night, getting 2 HRs from Yan Gomes, a 4-4 outing from Ian Happ, and a Seiya Suzuki HR in his first game of 2023 to win 8-3 as +141 underdogs.
Chicago almost wrapped up the series win on Saturday night, holding a 1-0 lead with 2 outs in the 9th before a David Peralta walk-off, pinch-hit single gave the Dodgers the win. That's still two solid pitching performances so far this weekend from the Cubs staff, and the positive of Patrick Wisdom homering in both games.
Drew Smyly (0-1, 6.52 ERA) hopes to keep Chicago's starting pitching success going in the April 16th Cubs at Dodgers betting matchup after Justin Steele and Jameson Taillon have combined to throw 12 innings while allowing just 5 hits the first two games. Smyly gave up 6 ER in his first start of the year against the Reds, but looked much better with 5.0 IP of 2-hit ball against the Mariners last Monday.
Why Los Angeles Has Value at -230
L.A's price tag seems pretty high for this one for a team that is just 8-7 on the year, but we will chalk that up to the Julio Urias effect. Urias (3-0, 1.50) can become the first 4-game winner in the Majors if he is victorious on Sunday, picking up victories over Arizona, Colorado, and San Francisco so far this season.
Urias has completed 6.0 IP in all three of his starts this year, but the Cubs got to him for one of his worst starts of 2022, tagging the lefty for 5ER over 2.0 IP but was bailed out by his offense in an 11-9 Dodgers win. Despite that poor showing, Urias has still held this Cubs lineup to a combined .205 batting average especially dominating Dansby Swanson who is just 1-12 in his career vs. the Dodgers starter.
Even if Urias is his usual dominant self on Sunday, the Dodgers will still have to find some offense after plating just three runs the first two games of the series. Freddie Freeman is 3-7 (.429) in his career vs Smyly – all doubles – and Mookie Betts is 10-29 (.345) with 2 HRs off the Cubs starter which gives the L.A. offense some hope for a breakout.
Free April 16th Cubs at Dodgers Betting Pick
Chicago has a tough task up against Urias, but they got to him last season so at the very least that gives this offense some confidence. The Dodgers are -105 on the run line but the 'over' 8 looks to be the way to play this one because Smyly is going to give up a few in his own rights.
Free Pick: Over 8