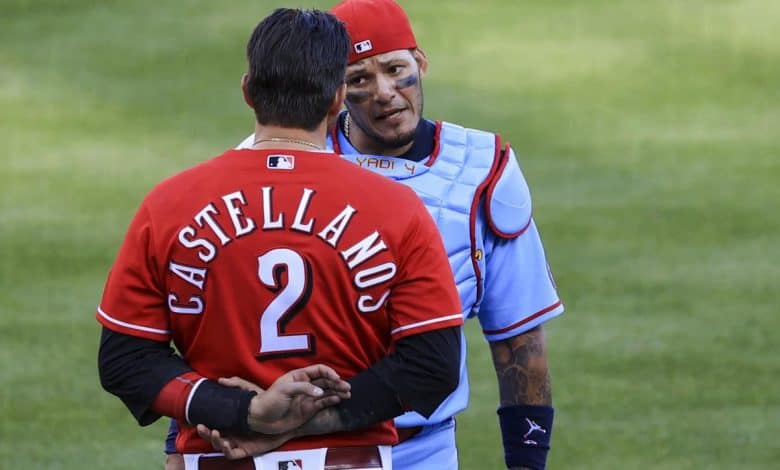 Oddsmakers are calling the June 5th Reds at Cardinals matchup a close one, setting Cincinnati as -119 favorites after taking the first two this weekend at Busch Stadium. There's some value on St. Louis at +110, because they are still three games above .500 at home, and 3.5 games ahead of the Reds in the NL Central.
The Reds seem to have the pitching advantage though, as Tyler Mahle (4-2, 3.42 ERA) hasn't allowed a run in his last two starts. Johan Oviedo (0-2, 5.40 ERA) to take the St. Louis rotation spot that opened up after a Jack Flaherty oblique injury. It might be another big day for the Cincinnati offense, and the O/U is 9 runs.
Reds Set to Get the Bats Going?
Cincinnati has scored 10 runs so far this series, taking a 4-2 victory on Thursday and winning 6-4 on Friday night. Nick Castellanos has gone 4-8 the last two nights, and has extended his hitting streak to 20 games. Jesse Winker had a 3-hit game on Friday, including his 14th HR of the season.
The Reds don't have a ton of experience going up against Oviedo, just 3-9 as a team. Cincinnati has now won 4 of their last 5 though, including an 11-1 victory over the Phillies to close out May. It's been a nice weekend so far at Busch Stadium, as the Reds were swept here at the end of April, scoring just 6 runs over three games.
For as good as their offense has the chance to be in the June 5th Reds at Cardinals contest, it's Mahle which makes Cincinnati a steal at -119. He hasn't allowed a run in two straight starts, giving up just 4 hits over 10.1 IP. Mahle is 3-1 with a 1.47 ERA in 7 road starts this year, which is much better than his 7.23 ERA in 4 home starts.
Can Cardinals Get One?
The free fall continues for St. Louis, who has lost three in a row and five of their last six. That stretch has dropped them down into 3rd in the NL Central, currently 1/2 a GB Milwaukee but still just 1.5 down from the Cubs. The Cardinals went 12 straight innings without scoring over their two losses against the Reds so far this weekend.
The St. Louis offense definitely has some work to heading into Saturday afternoon's contest, especially Nolan Arenado who has gone 0-8 so far this series and just 1 for his last 22. The Cardinals did score 3 ER in all three games against Mahle last season (going 1-2), and will look for a big day from Yadier Molina who is 9-19 (.474) with 2 HR vs. the Reds starter.
The big wild card for St. Louis in this matchup is Oviedo, who hasn't tossed in the big leagues since May 14th, and has allowed 10 ER over his last 11.0 IP.
Free June 5th Reds at Cardinals Pick
It's somewhat interesting that the Reds aren't bigger favorites in this matchup, although they've been +116 and +129 underdogs in their first two wins of the series. St. Louis is in a rut and has a minor league callup taking the mound vs. a red hot Cincinnati offense. If this one's a trap, at least it's an affordable one.
Reds 6 – Cardinals 3
Pick: Reds -119