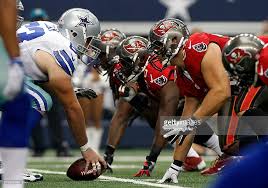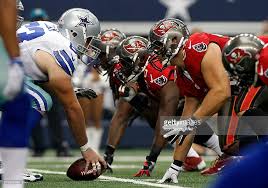 In week 15 of the 2016 football season, our Tampa Bay Buccaneers play Dallas Cowboys free pick offers sports bettors some major challenges. The Cowboys are looking to get back on track after losing for the second time this season to the Giants. The Bucs need this win to keep pace with the Falcons, if they beat the 49ers this week, or the pass them and move into first.
Tampa Bay (8-5) comes into this game in a virtual tie with Atlanta for first in the NFC South. They have a five-game winning streak going, as they have taken down, Chicago, Kansas City, Seattle, San Diego, and New Orleans. The Giants shut down the Dallas Cowboys (11-2) last week. The Cowboys lost 10-7. With a win tonight, they can secure home field for the NFC playoffs.
Tampa Bay Offense vs. Cowboys Defense
Tampa Bay is averaging 22.5 PPG. QB Jameis Winston (61.7 COMP%, 23 TDs, 12 INTs,, 26 Sacks) is having a solid year for the Bucs. WR Mike Evans (80 REC, 1100 YDs, 13.8 AVG, 10 TDs) is as dependable as they get, while TE Cameron Brate (51 REC, 575 YDs, 11.3 AVG, 6 TDs) is another solid outlet. RB Jacquizz Rodgers (97 ATT, 422 YDs, 4.4 AVG, 1 TD) needs to boost his totals.
Dallas has a very stingy defense, which is allowing opponents only 18.3 PPG. The Cowboys come in with 14 FF, five picks and 26 sacks. They've also posted 50 TFL and 45 PD. Some top performers such as LB Sean Lee and DE Tyrone Crawford are questionable. CB Brandon Carr (8 PD, 1 INT) and DL David Irving (1 Sack, 4 TFL, 4 PD, 3 FF) will play and should offer major contributions.
Dallas Offense vs. Buccaneers Defense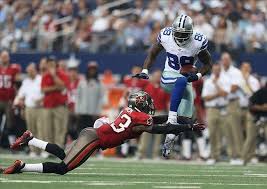 The Cowboys are averaging 26.2 PPG with 152.2 yards on the ground and 242.1 yards in the air. It should be the Ezekiel Elliot (287 ATT, 1392 YDs, 4.9 AVG, 12 TDs) show with contributions from QB Dak Prexcott (65.8 COMP%, 20 TDs, 4 INTs, 21 Sacks) thrown in. Prescott has a great group of receivers to toss to, including Cole Beasley (64 REC, 711 YDs, 11.1 AVG, 5 TDs) and Jason Witten (56 REC, 579 YDs, 10.3 AVG, 2 TDs). An important note, WR Dez Bryant, who has six TD catches, is questionable with a back issue.
The Tampa Bay defense is holding teams to 22.8 PPG. A note of concern is that they are allowing team 110 YPG on average in rushing. In this game, they meet Ezekiel Elliot who is anything but average. They must contain Elliot to win this game. The Bucs bring 30 sacks to the field and 14 FFs, 11 of which they've recovered. They have also taken in 14 picks, defended 62 passes and posted 42 TFL. CB Brent Grimes (17 PD, 3 INTs, 1 FF) and LB Lavonte David (1 Sack, 11 TFL, 4 PD, 1 INT, 4 FF)are both extremely solid. In addition, LB Kwan Alexander (104 TCKL, 3 Sacks, 8 TFL, 4 PD, 1 INT) and DT Gerald McCoy (7 Sacks, 2 TFL, 4 PS, 1 FF) bring game-changing skills.
Tampa Bay Buccaneers Play Dallas Cowboys Free Pick
Dallas is really looking to affirm its superiority and this is the perfect time for them to do so. We expect Elliot and Prescott to put in fine games and for the Dallas defense to contain the Bucs. However, Tampa has a lot at stake, and we expect them to counterpunch well. It should be a close one.
Our Tampa Bay Buccaneers play Dallas Cowboys free pick says give this game to Dallas. We're taking them at -6.5. The game starts at 8:25 p.m. ET.
Tampa Bay Buccaneers Play Dallas Cowboys Free Pick: Dallas at -6.5