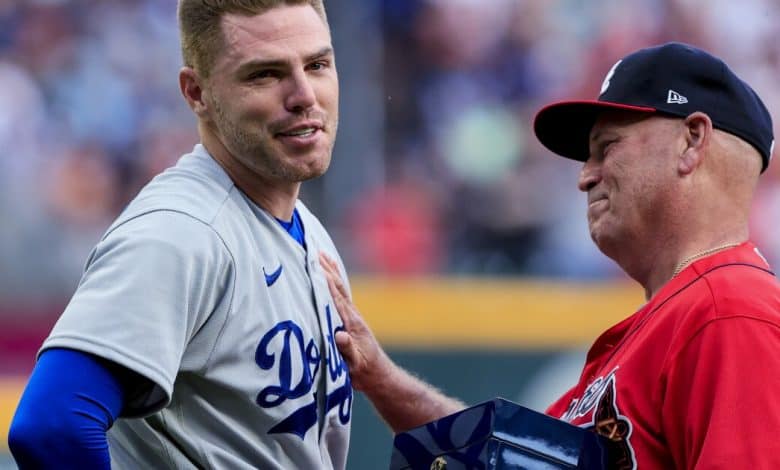 Los Angeles is heating back up as they head into the June 25th Dodgers at Braves betting matchup. L.A. was able to take the series opener 4-1 on Friday night at Truist Park as -133 favorites to push their current winning streak to four games.
Atlanta couldn't get any revenge in Freddie Freeman's return to the organization where he spent the first 15 years of his career, but they are still 4-2 in their last 6 as well as 16-4 in June. Oddsmakers like the Braves to even up the series in this spot, listing them as -148 favorites. L.A. is trending back upwards though and has some value as +126 underdogs.
Dodgers Bouncing Back
Los Angeles has had kind of a tough couple weeks. It started by getting swept in San Francisco scoring just 4 runs in 3 games, and following two wins over the Angels they then lost a series at home to the Guardians. L.A. is currently 4-0 on their road trip though and have also won 42 of their last 60 against LH starters.
Trea Turner delivered a big blow on Friday with his 10th HR of the season and also set the table well with 3 hits from the leadoff spot. Freeman got on base 3 times and scored 2 runs in his return to Atlanta and the Dodgers won 4-1 despite averaging over 8 runs/game in their previous series in Cincinnati.
Mitch White (1-1, 3.86 ERA) makes his 5th start of the season in the June 25th Dodgers at Braves betting meeting. He's held opponents scoreless in two of his previous four starts and Atlanta's offense wasn't exactly clicking with just 6 hits on Friday.
Fried to Lead the Win?
Atlanta was a +113 underdog in Friday's Ian Anderson vs. Julio Urias, but are up to -148 favorites with Max Fried (7-2, 2.77 ERA) starting in game two. The left-hander had a rough outing in Washington on June 14th giving up 4ER over 5.2 IP, but rebounded to hold San Francisco to 1 ER over 7.0 IP last time out.
Trea Turner is 8 for 24 in his career vs. Fried and Justin Turner has gone 5-13 vs. the Atlanta starter while both have a HR. Fried went 7.0 IP allowing just 2 hits on April 19th against the Dodgers in a game the Braves won 3-1 as +144 underdogs.
Three of the first four batters in the Braves lineup had multiple hits on Friday night but they could still manage just 1 run. Dansby Swanson is hitting .440 over the past week and Matt Olson .385 so there is some real potential for some decent offensive numbers for Atlanta in game two.
Free June 25th Dodgers at Braves Betting Pick
Friday night's win snapped  five game losing streak in Atlanta for the Dodgers. Do they bounce back to those losing ways on Saturday or will the momentum of their current win streak lead them to a 2-0 series win?
White has had a couple solid outings as of late but he's also hasn't pitched out of the 5th in any of his four starts. If Atlanta can get Fried a couple of runs of support that should be enough to push the Braves to the win.
Pick: Atlanta -148