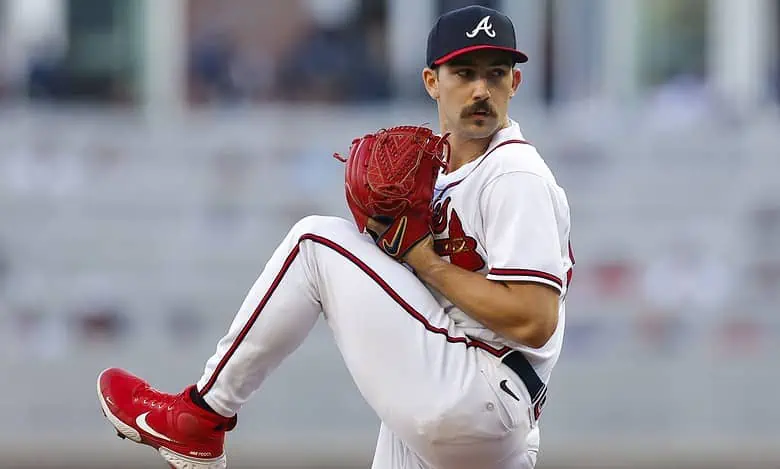 We could see the NL All-Star starting pitcher on the mound in the July 8th Braves at Rays betting matchup when Spencer Strider (10-2, 3.66 ERA) takes the bump for Atlanta up against TB's Taj Bradley (5-4, 5.27 ERA). Strider has won four straight starts and is a big reason why the Braves are -150 favorites for Saturday's tilt.
Tampa Bay outhit their opponents 6-2 in Friday night's series opener, but still suffered a 2-1 setback as slight -105 favorites. The Rays still have some value in game two just being at Tropicana Field where they are 34-14 on the season. A whopping 72% of the betting public still like the Braves in this matchup with their ace on the mound.
Why the Braves Have Value Saturday
Strider is heading into the ASG on a roll. Over his last three starts he's allowed a total of 4ER while striking out 28 (19.2 IP). The Braves haven't lost a Strider start since May 23rd, and overall they are 15-2 in the right-hander's outings this season. That doesn't make the -150 price tag look as bad considering that's an .882 winning percentage.
Atlanta is just finding ways to win right now as they recently came out on top in 9-straight games and overall have taken 11 of their last 12. The Braves knocked out just 2 hits on Friday night, but one of those was a 2-run HR off the bat off Sean Murphy that ended up being the game winner.
The Braves bats were stifled a bit in the opener, but that was against Tyler Glasnow who went 5.2 IP while allowing just the 2 hits. Bradley has been much more hittable lately, giving up 12 ER over his last two starts including serving up 4 HRs in a June 27th loss to the Diamondbacks.
Why the Rays Have Value on Saturday
Tampa Bay suffered a rare home loss on Friday basically due to one bad pitch to Murphy. TB finds themselves in a slump with a 6-game losing streak, but they have still won 52 of their last 74 at The Trop dating back to last season and have the most home wins in baseball this year.
Strider is going to be tough to get to in the July 8th Braves at Rays betting matchup, but he's not unhittable as evidenced by a 5.46 ERA last month. He gave up 5 ER in a start at Detroit in one of his recent road starts and TB is due for a breakout after being held to 1 run in three of their last four losses. The ML also hasn't moved much despite so much of the public betting being on Atlanta so this could have some trap play vibes.
Bradley has had two rough starts in a row, but those were also both on the road at Arizona and in Seattle. He held Baltimore to just 3 hits and an ER in his most recent home start so things could go a bit better back in St. Petersburg.
Free July 8th Braves at Rays Betting Pick
Do you go the contrarian route and take the Rays here? This sure looks like an Atlanta play considering the Braves have won 11 of their last 12 while TB is stuck in their biggest rut of the season with six straight losses. It's hard to side with over 70% of the betting public at a -150 price tag, so a small play on the Rays – who are still 20 games over .500 at home – is the route to take.
Free Pick: Rays +130