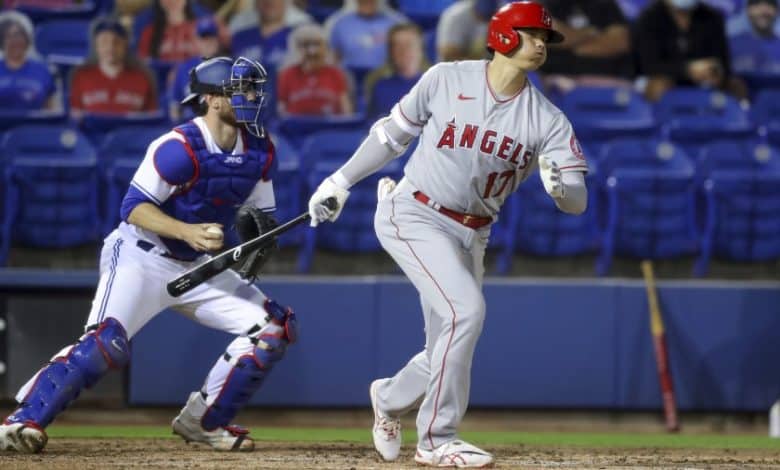 Los Angeles is clicking nicely coming into the April 10th Angels at Blue Jays matchup, winners of five of their last six. That includes two victories already in the series with Toronto, 7-5 on Thursday and 7-1 on Friday both as favorites.
The line shifts slightly for Saturday night's tilt though, with Toronto actually listed at -112 in what will be a matchup of two left-handed pitchers. The Blue Jays have lost four straight, so with such a contrast in play lately what is the driving force behind Toronto being favored – despite oddsmakers setting a trap?
Angels Look Like Contenders
LAA is 6-2 on the year, matching a franchise best start to the season. That record hasn't come against tomato cans either, with the Angels taking three of four from the White Sox, splitting a two game set with the Astros, and grabbing the first two of a four-game series in Toronto so far.
A couple of the big dogs are on a roll heading into the April 10th Angels at Blue Jays matchup. Mike Trout has gone deep in three straight games, including a moon shot on Friday that hit a nearby school. Shohei Ohtani also went deep on Friday as part of a 4-RBI night, and Jared Walsh has multi-hit games in three of the last five.
Offense isn't a huge concern for Joe Maddon ahead of Saturday night's game being held at TD Ballpark in Florida. Pitching is a different story though. Jose Quintana picked up a no decision in his first start of the season, but that was in spite of allowing 4ER in 3.1 IP which included 3 BBs. Quintana threw just 10 innings in 2020 due to injuries, so maybe he needs some time getting back to form.
Blue Jays The Play Here?
It seems like if Toronto were to win this game it would be an upset, yet the Blue Jays are a -112 favorite. The Blue Jays have been held to 1 run in two of the last three starts, but haven't been as bad at the plate overall lately. Toronto ranks 25th in runs/game, but have 4+ runs in three of the last five.
Pitching is the major issue for Charlie Montoyo's club, as they have allowed a 7-run outing in three of the last four games. Steven Matz started in Toronto's last win on April 5th, and he'll get the nod again after pitching into the 7th and allowing just 2 hits in a 6-2 win over Texas. The lefty struck out 9 in that game, but isn't completely in the clear after an 0-5, 9.68 ERA season with the Mets last year.
There's very little familiarity between either team's starting pitcher and the opposing batters. Only three current Angels batters have faced Matz, and vice-versa for Jays hitters vs. Quintana. The betting total is 10.5 in this one though, so oddsmakers are expecting some runs to come from somewhere.
Free April 10th Angels at Blue Jays Pick
The easy play seems to be the Angels here, they are playing much better baseball lately and have easily the more potent offense. Sure, Matz pitched well in his season debut (especially compared to Quintana), but that's against a Rangers team that has plated 2 runs or less in three of the last four. Some way, some how, it's still looking like the Blue Jays pull this one out in a contrarian play.
Blue Jays 6 – Angels 5 
Free Pick: Blue Jays -112