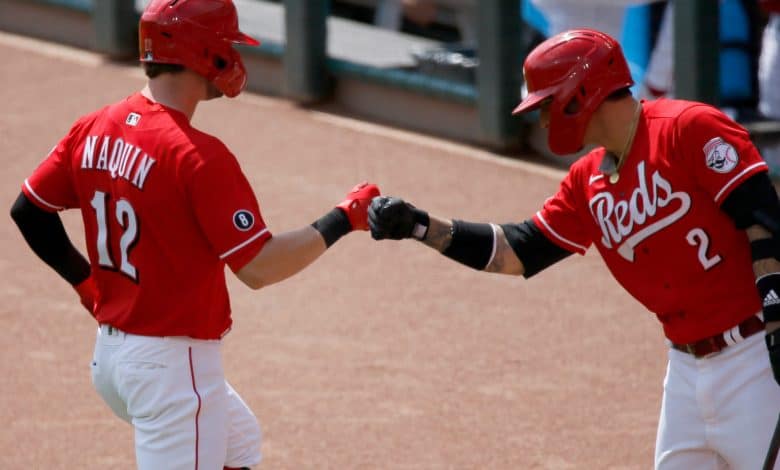 There's some quality baseball on tap for a night cap in the April 12th Reds at Giants matchup. San Francisco has won four in a row, staying within 1.5 games of the Dodgers in the West so far. The Giants are -115 favorites backed by a solid 3-0 home record to start the year.
Cincinnati is listed at just -105 on Monday, but there is cause for concern in David Bell's clubhouse after the Reds dropped their last two to Arizona over the weekend by a combined score of 15-3. Both teams' starting pitcher's had a solid first outing of the year, giving the under 8.5 an early lean.
Reds Need a Pitching Reboot
Early on in this MLB season Cincinnati looks like a team to play the 'over' on virtually every night. They allowed 11 runs to the Cardinals in the season opener, and then scored 21 the next two games. The Reds then scored 30 runs in a three game sweep over Pittsburgh, but then allowed 20 in dropping two of three at Arizona.
Neither starter was able to get out of the 5th inning over the last two games, leaving Bell to hope for another strong outing from Wade Miley (1-0, 0.00 ERA). The left-hander allowed just 2 hits over 6.0 IP to the Pirates in his first start of the season, a positive outing after an 0-3, 5.65 ERA in 2020.
The good news is that Miley doesn't necessarily need his best stuff in the April 12th Reds at Giants matchup. That's because this Cincy offense is downright potent, leading the majors in runs/game, BA, OPS, and HR. Tyler Naquin is tied for the MLB lead with five HRs, and teammate Nick Castellanos is right behind him with four.
San Francisco on a Nice Run
With the April 12th Reds at Giants line so low, there's definitely value on both teams. The Cincinnati offense has been impressive, but their pitching not so much the last two games. Plus, San Francisco is finding ways to win, taking two of three from the Padres and sweeping Colorado in their last two series'.
San Francisco didn't score more than 4 runs in any of their five wins in the last six games, and in fact is just 24th in scoring and 26th in BA as they get set to play their 20th game of the year. In four of those victories Giants pitching has held opponents to two runs or less, which is very impressive.
Aaron Sanchez (0-0, 1.80 ERA) will try to keep that strong pitching trend going. He allowed just 1 ER on 6 hits to the Padres last week, starting a game for the first time since August 20th, 2019. Sanchez missed the entire 2020 season after shoulder surgery.
Free April 12th Reds at Giants Pick
How much do you trust Sanchez to be out of the woods in starting just his second game in the last two years? This Reds offense is not a team you can make mistakes against, and although the Cincinnati pitching may have some issues the Giants aren't the type of offensive team to take advantage of those.
Reds 6 – Giants 3
Free PIck: Cincinnati -105