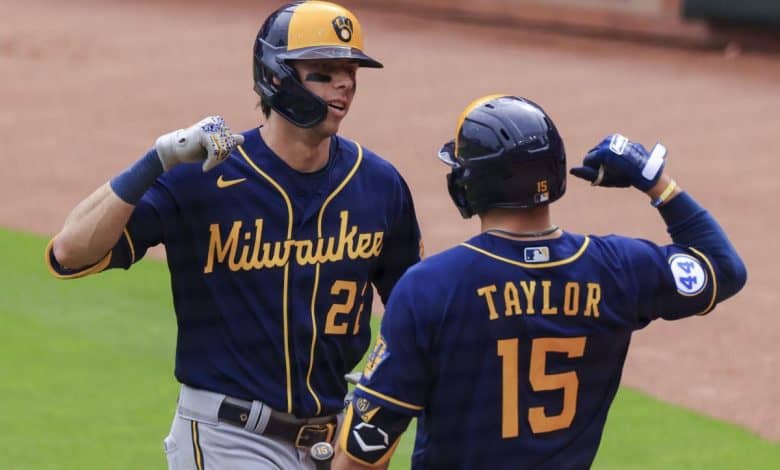 Runs may be at a premium in the May 24th Padres at Brewers matchup. Blake Snell (1-0, 3.79) finally looks comfortable with San Diego, throwing 6.0 IP of 1 ER ball last time out against Colorado with 11 K's. Milwaukee counters with Brandon Woodruff (2-2, 1.58 ERA) who has pitched into the 8th in consecutive starts, and has allowed 1 ER in each of his last three.
San Diego has momentum coming into Monday night's tilt, riding a 9-game win streak that has powered them into 1st place in the AL West. This game has trap written all over it though, as it's Milwaukee who is listed as slight -115 favorites (SD -105). The Brewers have won two in a row in their own rights, but you have to think the public is hammering SD here.
Can Padres Keep It Going?
Make no mistake, it's been an impressive run for San Diego with 12 wins in their last 13 games. Each of their 9 wins on the current streak came at home though, and the team will almost surely hit a wall playing 33 games in 34 days and kicking off a 10-game road trip in the May 24th Padres at Brewers pick.
San Diego is still 12-7 on the road this season, and have built a 1 game lead over the Dodgers in the West. They were swept by the Brewers at home in a three game series from April 19th to 21st. Monday is a great opportunity for revenge, led by Fernando Tatis, Jr. who has absolutely gone off lately. Tatis has multi-hit games in six straight and also has 5 HR in the last five contests.
There are definitely some red flags around taking the Padres on Monday night, like why aren't they priced higher with Snell on the mound? The left-hander completed the 6th inning for the first time as a member of the Padres last time out, and has held opponents to 2 ER or less in five of his last six starts.
Can Woodruff Keep Things Close?
Milwaukee definitely isn't priced bad with Woodruff on the mound, as he's been very stingy. The right-hander has allowed a run or less in 7 of his last 8 starts, but is just 2-2 over that span as the Brewers are giving him just 1.58 runs of support over 9 IP.
It's hard to expect Woodruff to get much more help on Monday night, as only three Milwaukee players have ever faced Snell (2-13, .154 BA). Woodruff went 6.0 IP allowing just 1-hit in the Brewers' 3-1 win over San Diego in April, but can his offense fulfill their end?
There are signs that Milwaukee's offense may be turning things around, as Christian Yelich was 2-4 on Sunday with his first HR of the season. Kolten Wong also has a 3-hit game in three of his last five, and Snell isn't completely out of the woods yet, not pitching into the 6th in 3 of his last 4 starts.
Free May 24th Padres at Brewers Pick
It would be easy to hammer the Padres in this spot, because their 9-game win streak has been something special and there's definitely some momentum that comes with that many wins in a row. That being said, Snell has a 6.75 ERA on the road this season, and San Diego is playing their first road game in almost two weeks. Plus, you can never go wrong with Woodruff on the bump.
Brewers 5 – Padres 3
Free Pick: Brewers -115