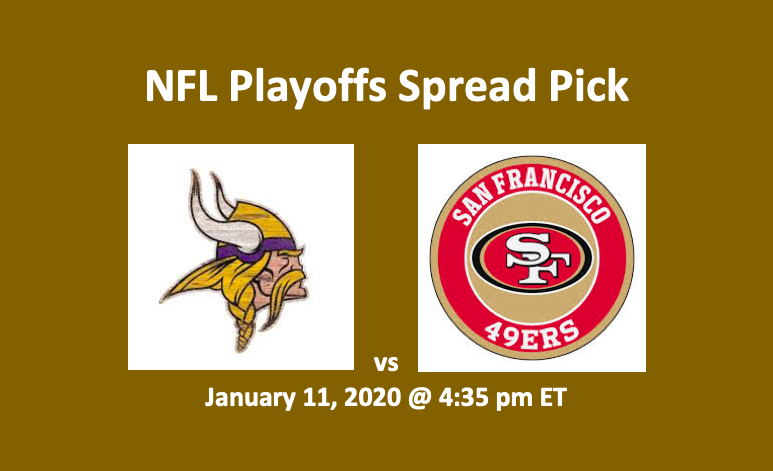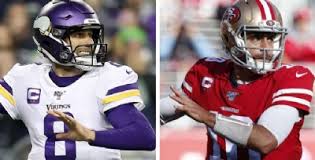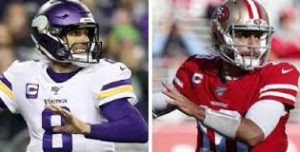 Our Minnesota vs San Francisco pick offers the Niners at -7.0. In this Minnesota vs San Francisco prediction, the Vikings are coming off a big 26-20 OT Wild Card win against New Orleans last week. The Minnesota Vikings (10-6) earned their NFC Wild Card berth by finishing second in the North to the 13-3 Green Bay Packers. Meanwhile, the San Francisco 49ers (13-3) were first in the NFC West as they bested the second-place Seattle Seahawks by two games. The Seahawks, who last week beat the Philadelphia Eagles in their Wild Card matchup 17-9, will play the Green Bay Packers in their Divisional Playoff contest tonight. The Vikings and Forty-Niners will also play today, Saturday, January 11, 2020. They kick off at 4:35 pm ET from Levi's Stadium in Santa Clara, CA.
Minnesota vs San Francisco Pick – Regular Season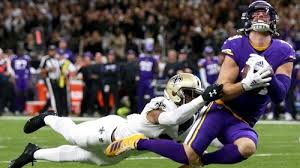 Over the first four games of the season, Minnesota was on-again/off-again as they went 2-2. The Vikings then put up four-straight wins, beating the Giants, Eagles, Lions, and Redskins. After a 26-23 loss to Kansas City, they beat Dallas 28-24 and Denver 27-23. In their final five games of the regular season, they proved to be uneven, posting two wins and three losses. The Seahawks beat the Vikings 37-30 on December 2. Minnesota lost its final two games of the year. Green Bay beat them 23-10 and Chicago edged the Vikings 21-19.
In the regular season, San Francisco earned a bye and home field. To start the season, they won seven games in a row. Then, on November 11, Seattle handed them their first loss in OT 27-24. Over their final seven games, the Forty-Niners went 5-2. The Baltimore Ravens beat them 20-17 and the Atlanta Falcons took them down 29-22. They finished the year with wins over the LA Chargers 34-31 and the Seahawks 26-21.
Vikings and 49ers – Team Stats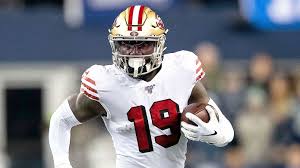 At home, the 49ers are averaging 32.4 PPG. SF and Minnesota passing, running, and overall yards are close. Scoring on the road for the Vikings has averaged 26.4 PPG. In terms of defense, San Francisco is permitting opponents 19.6 PPG, while Minnesota is giving up 21.6. A problem for the Vikings is passing yards. They're allowing 246.6 YPG. Our Minnesota vs San Francisco pick finds that the Niners are permitting just 157.9 air YPG. Rushing yards allowed by each defense comes to just over 100 per game.
NFC Divisional Playoffs – Players and Matchups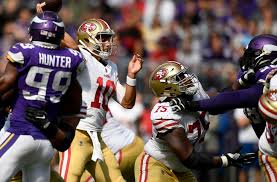 The Minnesota offense needs Dalvin Cook to be the dual threat he can be. Also, QB Kirk Cousins must continue to stay away from the pick. He's done a good job doing that so far this year. For the Niners, QB Jimmy Garoppolo has gotten into trouble by tossing INTs and being vulnerable to the sack. In order to win, SF needs both their rush attack and air game to function efficiently. Both teams bring very fine defenses to the field. However, San Francisco's is a tad better.
Minnesota Vikings Players
This season, QB Kirk Cousins tossed 26 TD passes and six picks. He's been sacked 28 times. Cousins completed 69.1% of his passes. His top receiver is Stefon Diggs. Diggs has 1,130 receiving yards, six TD catches, and 63 receptions. RB Dalvin Cook is a dual threat. This season as a receiver, he's made 53 catches for 519 yards, and as a running back, Cook has gained a total of 1,135 yards while averaging 4.5 YPA. He's scored 13 times.
Our Minnesota vs San Francisco pick notes that despite the fact that the Vikings have given up quite a few passing yards, they still bring a very tough pass rush and effective secondary to the field. They've recorded 48 sacks, 19 FF with 14 recovered, and 17 picks. They've also defended 83 passes and scored two TDs.
San Francisco 49ers Players
QB Jimmy Garoppolo, who's completed 69.1% of his passes and tossed 27 TDs and 17 picks, leads the Niners. Garoppolo, who's been sacked 36 times, has a solid receiving unit. TE George Kittle is his top pass catcher. Kittle comes to this game with 1,053 receiving yards, 85 receptions, and five TD catches. Three wideouts have 30 or more receptions each and a total of 11 TDs and over 1,600 yards. RB Raheem Mostert comes to this game with 772 yards, eight scores, and an average gain of 5.6 YPA.
The SF defense, like the Viking unit, brings some impressive stats to this contest. They too have 48 sacks. Plus, they've forced 23 fumbles, recovered 15, and scored a total of five times. Three of those TDs have come off of their 12 picks. They've also defended 74 passes.
Our Minnesota vs San Francisco Pick
These offenses will be going all out today. We certainly like SF at home. They will be tough to beat. Also, we do expect the 49er D to do some damage. They certainly could score. Our Minnesota vs San Francisco pick is the Forty-Niners at -7.0. A 10-point win is possible.
Summary – Minnesota vs San Francisco Spread Pick </h3
San Francisco 49ers at -7.0