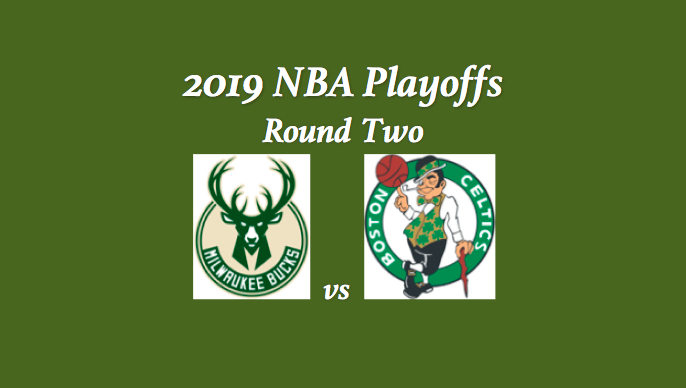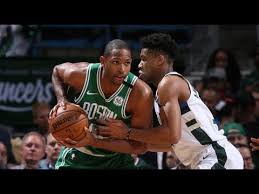 Our Milwaukee Bucks vs Boston Celtics pick has the Bucks favored. In determining Milwaukee Bucks vs Boston Celtics pick we noted that the Bucks took the season series 3-1. Milwaukee topped the NBA in wins with a record of 60-22, finishing first in the NBA East. The Boston Celtics, who were 49-33, finished fourth in the conference. In round one of the 2019 NBA playoffs, Milwaukee dispatched the Detroit Pistons in four games. Boston did the same with the Indiana Pacers. This Eastern Conference Semifinal series tips off Sunday, April 28 at 1:00 pm ET. The first two games will be played at the Fiserv Forum in Milwaukee. The series then moves to the TD Garden in Boston for two games and, if needed, the final three games will alternate between Milwaukee and Boston.
Milwaukee Bucks vs Boston Celtics Pick – Stats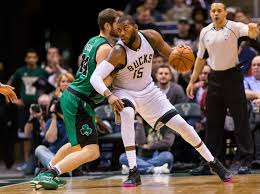 In the regular season, the Bucks had a +8.9 PF/PA differential, while Boston posted at +4.5 PF/PA. Milwaukee averaged 118.1 PPG and allowed 109.3 PPG. Boston gave up 108.4 PPG and scored 114.4 PPG. In the playoffs, the Bucks performed a bit better than they did in the regular season, averaging 121.8 PPG.
During their first series of the playoffs, the Bucks allowed the Pistons just 98 PPG, giving them a 23.8 PF/PA differential. In their initial NBA playoff series, the Celtics averaged just 99.3 PPG. However, at the same time, they allowed the Indiana Pacers a nere 69.3 PPG. That's a differential of +30.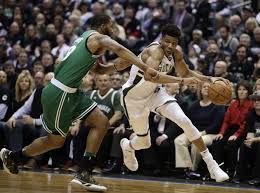 Comparing playoffs stats, the Bucks are +5.5 in rebounds, +8.2 in assists, and +5.8 in blocks. If Milwaukee can control the boards against the Celtics in the same way they did versus the Pistons, they will easily take this series. However, Boston does bring a solid defense to the court, and that could help them keep every game close.
This is a Milwaukee Bucks team that opponents must play intensely during every possession. One big question is do the Boston Celtics have the depth and stamina to do that?
Milwaukee vs Boston – Players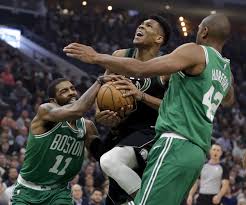 The Bucks bring a powerful trio to the frontcourt. In round one, PF Giannis Antetokounmpo averaged 23.6 PPG, 12.0 RPG, and 1.5 BPG. He also notched 3.5 assists. Center Brook Lopez averaged 3.5 BPG as well as 12.0 PPG and 5.3 RPG. SF Khris Middleton scored 19.0 PPG, 5.5 RPG, and 4.3 APG. This is a group that ably controls the paint. PG Eric Bledsoe was good for 5.3 APG and 19.3 PPG. Also at the point, George Hill has put in 9.5 PPG while making 3.5 APG. At the same time, shooting guards Pat Connaughton and Sterling Brown have offered 9.0 and 8.3 PPG and 6.8 and 5.8 RPG. The Bucks are deep in the backcourt.
Under the rim, Boston is not as throng as the Bucks, but they certainly have some tested talent. At center, Al Horford can battle with the best of them. Versus the Pacers, he averaged 11.0 PPG and 10.3 RPG. He also notched 4.5 APG. Two small forwards, Jayson Tatum and Gordon Hayward, offer 19.3 and 12.3 PPG and 5.5 and 5.0 RPG. Power forward Marcus Morris put in 12.3 PPG and grabbed 6.5 RPG. Against the Pistons, PG Kyrie Irving was good for 22.5 PPG and 7.8 APG. He's also taking down 4.5 RPG. Also important, SG Jaylen Brown is averaging 11.0 PP and 6.8 RPG. Although Boston does not have the inside rebounding chops that the Bucks possess, they do bring backcourt depth, talent, and skills.
Keys to Bucks vs Celtics
Milwaukee's Antetokounmpo best player in the paint
Boston's Horford has his hands full with Lopez
At the point, Boston's Irving tops Bucks' Bledsoe
Inside game belongs to Milwaukee
Outside play is Boston's strength
Our Milwaukee Bucks vs Boston Celtics Pick
Our Milwaukee Bucks vs Boston Celtics pick likes the Bucks in the long run. The Celtics have to steal one in Milwaukee, and that won't be easy. We see the Bucks taking the first two of ths NBA semifinal contest, and Boston taking down game three. After that, we expect it to be all Bucks. Our Milwaukee Bucks vs Boston Celtics pick is the top-seed Milwaukee four games to one.
Summary Milwaukee Bucks vs Boston Celtics Pick
Milwaukee Bucks in five games.