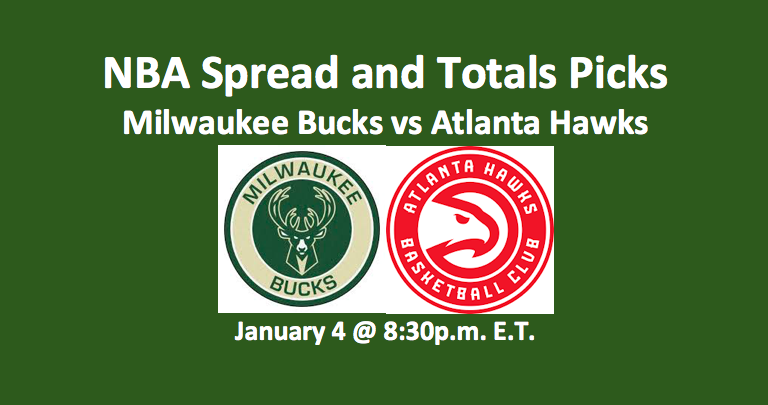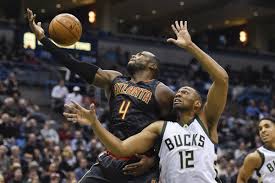 Friday, Jan. 4, the Atlanta Hawks (11-26 Overall, 5-16 Away), who are fifth in the Southeast Division and 13th in the Eastern Conference, visit the Milwaukee Bucks (26-10 Overall, 17-3 Home), who are first in both the Central Division and East. The Bucks are a tough team to beat at home. The Hawks have played badly on the road. Our Milwaukee Bucks vs Atlanta Hawks preview and pick has the home team favored by 13.5. The over/under can be found at either 229.5 or 230. The game will be played at 8:30 pm ET. There are a total of 1o games on tap in the NBA tonight. Be sure to check out our totals and spread pick for Chicago vs Indiana. That game tips off at 8:00 pm ET.
Recapping Team Performances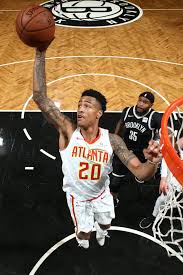 The Atlanta Hawks have struggled all season. Their longest losing streak, 10 games, lasted almost the entire month of November. Twice Atlanta has won back-to-back games, and in December, the team won three straight games, which was their longest winning streak. Last week, they beat Cleveland and Minnesota, but this week, they lost their last two contests to Indiana and Washington. The Bucks started the season at 8-2. They then spent much of November and early December trading wins and losses. But from id-December to January 1, they went 8-2 again. They are presently on a four-game winning streak where they have beaten teams by an average of 17 PPG.
Checking Stats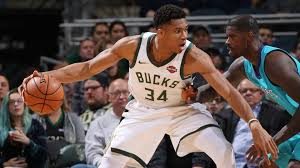 Our Milwaukee Bucks vs Atlanta Hawks preview finds that the Bucks top the Hawks in just about every major statistical category. And although the margins in most areas are rather thin, there are three related statistical groupings that hold a very sobering story for the Hawks. Those are points scored per game, points allowed per game, and the PF/PA differential.
The Bucks averaging 117.0 PPG, while holding teams to 107.6 PPG. That makes them +9.4 when it comes to PF/PA differential. Atlanta has been averaging 109.1 PPG. On defense, they have allowed 117.8 PPG. Their differential stands at -8.7. Combining Milwaukee's +9.4 and -8.7, you get a total point difference of 18.1. In our Milwaukee Bucks vs Atlanta Hawks pick, that huge gap tilts this game heavily in the home team's favor.
Edge: Milwaukee
More Telling Numbers
Once you get past the rebounds, assists, steals, blocks and other such stats, all of which are fairly close, you come to shooting percentages. In just about every area, the Bucks dominate when shooting. They lead in all four categories. Field goals it's 47.6% to 44.6%, threes it's 34.7% to 33.4%, and frees it's 76.2% to 73.4. Milwaukee is outshooting Atlanta on two-point shots by almost six percentage points, 57.5% to 51.7%. Shooting stats belong to the Bucks.
Edge: Milwaukee
Keys to the Game
Our Milwaukee Bucks vs Atlanta Hawks preview notes that there are five keys to the game to consider prior to betting on this game.
Hawks have played three of last four games on the road
Milwaukee in the midst of a successful six-game home stand
Atlanta last played Jan 2 and lost, Bucks Jan 1 and won
Productive Atlanta SF Taurean Prince is a scratch tonight with an ankle
Whoever wins PF battle between Bucks' Giannis Antetokounmpo and Hawks' John Collins wins game
Edge: Milwaukee
Milwaukee Bucks vs Atlanta Hawks Preview – Our Pick
Our Milwaukee Bucks vs Atlanta Hawks preview acknowledges that 13.5 is a big spread. However, we think that Milwaukee will win by about 17 points. Also, of the 10 games being played tonight, 230.0 points ends up being the second-highest over/under. We're taking the under. Our Milwaukee Bucks vs Atlanta Hawks pick for the spread is the Bucks and for the totals the under.
Summary Milwaukee Bucks vs Atlanta Hawks Pick –  Milwaukee at -13.5 and under 230.0.