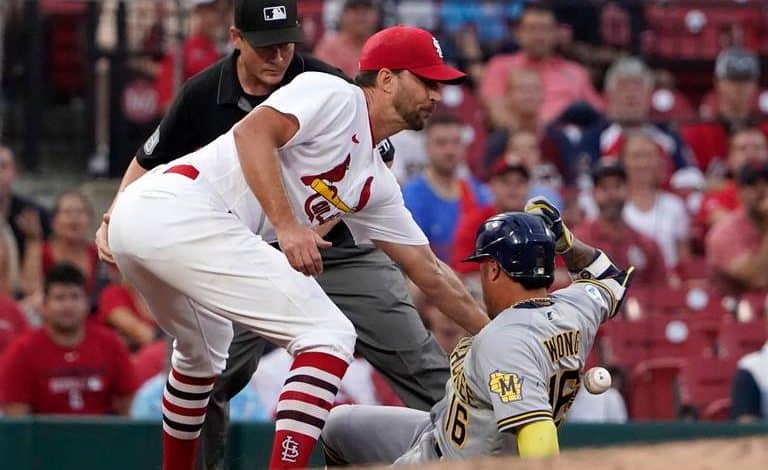 St. Louis hasn't given up hope for a possible spot in the playoffs as they head into the August 18th Brewers at Cardinals matchup. STL had won 8 of 9 before falling 2-0 to Milwaukee in the series opener on Tuesday. The NL Central rivals continue their 3-game set on Wednesday night.
Milwaukee is running away with the division, riding a 3-game win streak that has built their lead to 8.5 over the Reds in the Central. The Brewers had won 7 of 8, but most of those against bottom feeders Chicago and Pittsburgh. Can St. Louis even things up as +105 underdogs here, or is the value on Milwaukee -130?
Brewers Pitching Too Dominant?
Milwaukee got the win on Tuesday as -157 favorites, a number that still had some value with Corbin Burnes on the hill. The right-hander held the Cardinals to just 2 hits over 6.0 IP, allowing 1 ER or less for the 8th time in his last 9 games. St. Louis scratched out just 4 hits total in the defeat.
Freddy Peralta (9-3, 2.26 ERA) going in the August 18th Brewers at Cardinals matchup doesn't give St. Louis a whole lot of reprieve. Peralta has allowed 4 total runs in his last four starts, and has struck out 17 over his last two outings. Peralta allowed just 1 hit over 7.0 IP in his only start against St. Louis this year on May 11th, but the Brewers ended up losing 6-1 in 11 innings.
The Milwaukee offense managed just 2 runs on Tuesday, but that was more than enough for Burnes and it was actually a solid offensive night as the team belted out 14 hits. 9 of those hits came against STL starter Adam Wainwright, who had been on a personal 4-game win streak.
Another Low Scoring Game Coming?
Tuesday was a rough offensive night for the Cardinals, but that's usually the expected case when Burnes takes the mound. Unfortunately for St. Louis things don't get much easier vs. Peralta, with St. Louis have a team .227 average vs. the Milwaukee starter.
There is hope for some upside on Wednesday night, even though the run total is just 7. Paul Goldschmidt has gone 4 for 8 with 2 HR in his career vs. Peralta, and Paul DeJong has a HR and 3 hits in 10 career ABs vs. the right hander. St. Louis had also scored at least 4 runs in 11 straight games prior to Tuesday's loss, so their offense has been in a groove.
Jack Flaherty (9-1, 2.65 ERA) takes the ball for St. Louis hoping to continue a nice run that has seen him give up just 4 total hits the last two games. Flaherty has held opponents scoreless in 3 of his last 6 starts, and has a 1.44 ERA in four home outings this season.
August 18th Brewers at Cardinals Pick
The value is on St. Louis at +105 in this one, as the game could really go either way. It's going to be a pitcher's duel and there probably won't be a lot of action for the first 5-6 innings, but the side could flip flop either way late.
Cardinals 2 – Brewers 1
Free Pick: Under 7