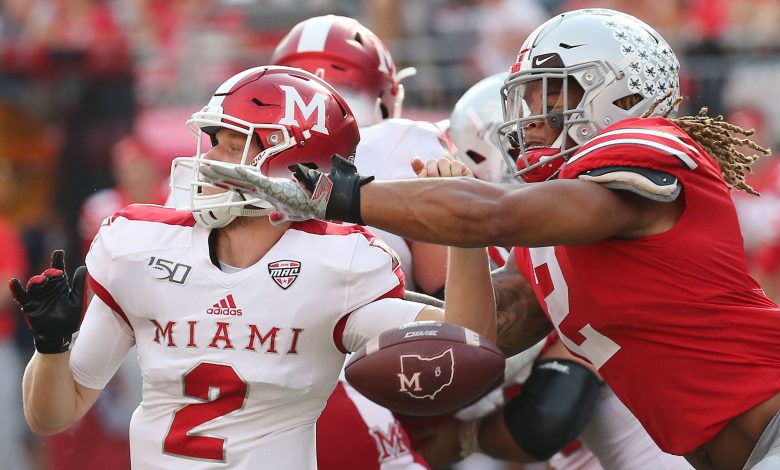 One of the underrated rivalries in college football is renewed on Saturday night when No. 25 Michigan State travels to take on No. 4 Ohio State. The Spartans come into the game with a 4-1 record, having won their last two contests, while the Buckeyes are a perfect 5-0, outscoring their first five opponents 262-43.
Michigan State has been here before against the Buckeyes, knocking off undefeated and No. 3 Ohio State in Columbus in 2015, as well as knocking off an undefeated OSU team in the Big Ten Championship Game in 2013. But recent seasons have been all Buckeyes, with Ohio State winning the last three meetings, including the last two by a combined score of 74-9.
The moneyline for this contest has the Michigan State Spartans +950 and the Ohio State Buckeyes -1800. Ohio State is favored by 20 points, with the over/under set at 49.
Must Be Perfect
Michigan State has been up and down offensively this season, but it will have to be able to control the ball and not allow Ohio State's offense multiple chances at a short field. Last season, MSU started its first five drives of the second half inside its own 10-yard line and was unable to move the ball, giving the Buckeyes great field position. Despite that, the MSU defense was able to hold strong for the most part, allowing just 17 points — with nine other points coming off a safety and a defensive touchdown.
Brian Lewerke must stand tall in the pocket against the Ohio State pass rush and make good decisions. He's passed for 1,325 yards and 10 touchdowns this season with just one interception, but he's gotten in trouble in the past when he tries to make too much happen. The biggest key for Michigan State is the production of freshman running back Elijah Collins, who has rushed for 413 yards and three touchdowns despite barely playing in the season opener. If he can be productive to help the Spartans move the ball and keep the clock moving, it will go a long way to slowing down the Buckeyes' potent offense.
A First Real Test
Ohio State has been outstanding offensively this season, averaging 52.4 points and 535.6 yards per game. The Buckeyes' passing game is elite, but the running game is what will wear defenses like the Spartans' down. They did it last week against Nebraska, going for 368 yards on the ground, led by JK Dobbins' 177. Michigan State has an elite run defense, but it is going to have a hard time slowing down the ground attack of the Buckeyes.
Defensively, the Buckeyes have been getting it done as well, allowing just 8.6 points and 223.8 yards per game. Ohio State is tied for second in the nation with 24 sacks, including eight by defensive end Chase Young and 3.5 by DE Malik Harrison. Speaking of tied, these two teams are among 14 tied for 13th in the country with 10 turnovers forced thus far this season. Holding onto the ball will be key for both offenses in this one.
Closer Than The Spread
Ohio State has an amazing 60-5 record against Big Ten teams since 2012, though two of those five losses came against Michigan State. The Spartans will have a very difficult time winning this one, but they should be able to at least keep it close, especially if they can hang in the game for a while. Ohio State should move to 6-0, but it won't be by a 20-point margin or better. I'm taking Michigan State +20 to at least give the Buckeyes a game.