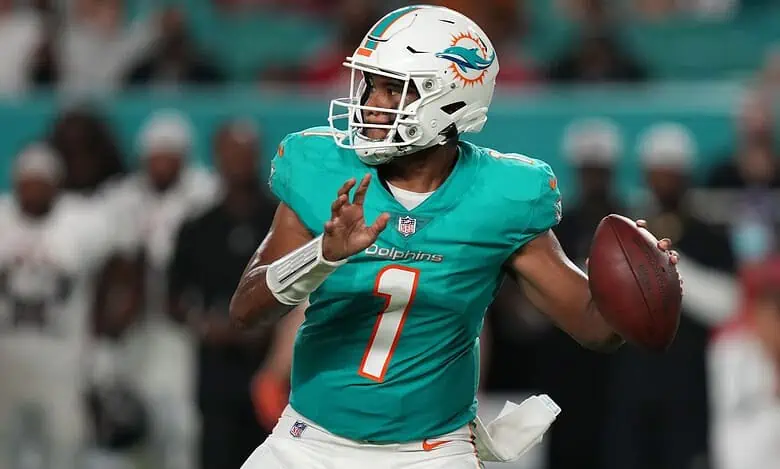 Two of the best teams in the NFL are set to meet up on Sunday night as the Philadelphia Eagles host the Miami Dolphins. This game should be one of the best of the season up to this point, and it could end up being a preview of the Super Bowl matchup.
Miami is currently sitting on top of the AFC East Division this season as they have gone 5-1 through six games. The Dolphins were blown out by the Bills in their only loss of the season, but they have dominated the rest of the year.
Philadelphia is coming into this game with a sour taste in their mouth, and they will be looking to turn things around quickly. The Eagles are still on top of the NFC East Division this season, but they have some teams trying to track them down.
The Philadelphia Eagles are three-point betting favorites over the Miami Dolphins on Sunday Night Football.
Miami Can Really Score
The Miami Dolphins are on pace to be the best offensive team in league history, and no one seems like they are able to slow them down. Miami has scored over 37 points per game this season, and they have already hung 70 on an opponent.
Quarterback Tua Tagovailoa has thrown for 1,876 yards and 14 touchdowns this season, and he is the top MVP choice at this time. Tyreek Hill might be next on the list when it comes to MVP odds, as he has 814 receiving yards and six touchdowns.
Miami is going to have to find a way to get some big stops late in games, but that defense has been good enough most of the season. This will be a tough test for that defense, but Miami will try to counter by scoring a ton of points.
Eagles Want to Be Physical
The Philadelphia Eagles have the ability to be as explosive as the Dolphins, but that's not how they will play in this game. Philadelphia will be coming after Tua Tagovailoa in this one, and then they will counter by running the football.
The Eagles are averaging 150 yards per game on the ground, and they will be looking to chew up some clock in a big way. Philadelphia can get some yards from Hurts, or running back D'Andre Swift has 86 carries for 452 yards this season.
Philadelphia still put up a great defensive effort in their loss last weekend, and that defense will have a big game in this one as well. The Eagles will need to hit on some big plays if they are going to keep pace on offense.
Dolphins Fly Past the Eagles
This is going to be a game in which there are a ton of points scored, and that's a good thing for the Dolphins in this game. Miami is dominant in games in which both teams want to play offense, and that will be the case on Sunday Night Football.
Philadelphia was exposed a little bit in their most recent game, and they just don't have the offense to win this game. The Eagles are going to be solid on defense in this matchup, but ultimately, they will have too many holes.
Take the Miami Dolphins moneyline as they go to Philadelphia and beat the Eagles on Sunday Night Football.