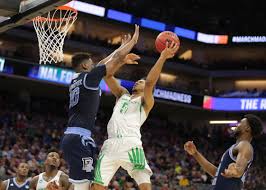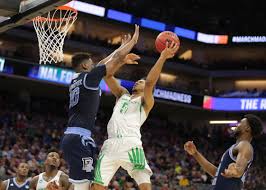 Our first 2017 March Madness Sweet 16 has the #7 Michigan Wolverines at the #3 Oregon Ducks in the Midwest Region. Our Michigan plays Oregon 2017 Sweet 16 free pick has the Wolverines at -1.0 and the over/under at 146.5. At this point in the tournament, seeds mean very little.
The fact is any team can beat any other team. This is the first of two Midwest Region games that will be played on Thursday night at the Sprint Center in Kansas City, Missouri.
Michigan finished fifth in the Big Ten with a 10-8 record. Michigan secured a trip to March Madness by winning the Big Ten Tournament. They beat Illinois 75-55 and #13 Purdue 74-70. They then took down Minnesota 84-77 to get to the finals where they beat #24 Wisconsin 71-56.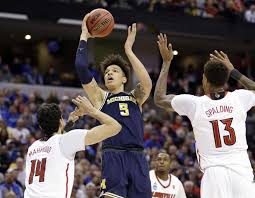 Wisconsin, Purdue, and Minnesota, as well as Northwestern, were all Big Ten teams that made it to the tournament. Wisconsin and Purdue are also still in the tourney. In the first round, the Wolverines beat #10 Oklahoma State 92-91. In the next round, Michigan took down #2 Louisville 73-69.
Oregon ended up at 16-2, which earned them second in the PAC-12. Arizona was first with the same record. The Ducks made it to the finals of their conference tournament by beating Arizona State 80-57 and California 73-65. They met Arizona in the finals, losing 83-80. In the NCAA Tournament, Oregon beat #14 Iona 93-77. They then met #11 Rhode Island, winning a close one 75-72.
#7 Michigan Wolverines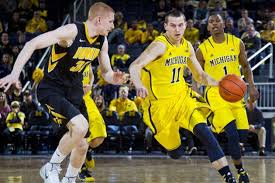 The Wolverines put a balanced team on the court. It includes Derrick Walton Jr., Zak Irvin, Moritz Wagner and D.J. Wilson. Together the four are averaging over 12 PPG and 4.6 RPG. Walton leads all Wolverine scorers, averaging 15.4 PPG, while Wilson is tops in rebounding with 5.3 per game. In the tournament, Wagner has been the team's top player, scoring a career-high 26 points against Louisville, which included a three-point basket that pushed them ahead of the Cardinals for god.
Wagner is a 57% shooter and Walton is good 42% of the time from the arc. The Wolverines are better than the Ducks from the foul line by seven percentage points. That may be a factor, especially since the Ducks are outscoring Michigan by four points per game.
#3 Oregon Ducks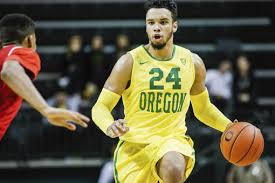 Oregon continues on in the tournament despite losing star Chris Boucher in the PAC-12 Tournament. The frontcourt is comprised of point-leader Dillon Brooks, who's averaging 16.4 PPG, and Jordan Bell, who's averaging 10.8 PPG. Brooks is good on his shots 51% of the time, and Bell is accurate on 63% of his shots. However, Brooks struggled against Rhode Island, hitting just seven of 20 attempts. Still, he did hit for 19 points.
Oregon guard Tyler Dorsey, who's averaging 14.0 PPG, has put up 20 or more points in each of his last four games. Guard Dylan Ennis is good for 10.7 PPG and 4.4 RPG. The top rebounder is Bell at 8.3 per game.
Michigan Plays Oregon 2017 Sweet 16 Free Pick
This looks like it will be a close game. Oregon is outrebounding Michigan 36 to 29. But Boucher, one of the Ducks' top guys in the paint, is out. In our Michigan plays Oregon 2017 Sweet 16 free pick we like thw Wolverines at -1.0. We're also going with the over at 146.5.
The game will be played on Thursday, Mar. 23 at 7:09 p.m. ET. This Midwest Region game will be on CBS and will be played at the Sprint Center in Kansas City, Missouri.
Michigan Plays Oregon 2017 Sweet 16 Free Pick: Michigan at -1.0 and over 146.5