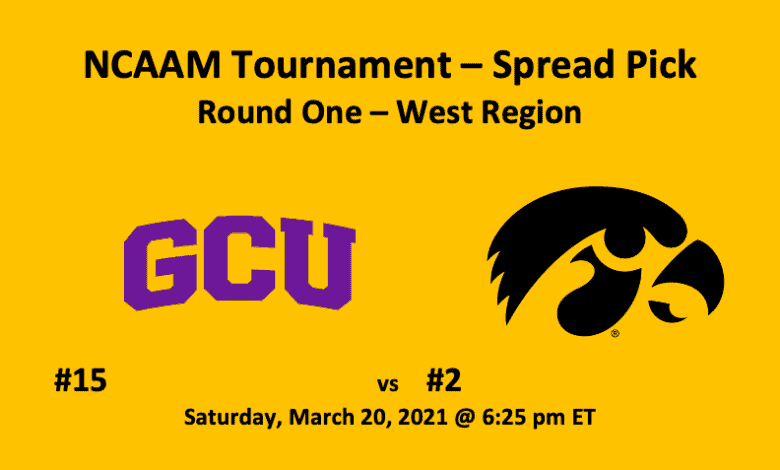 This Grand Canyon vs Iowa pick features a Western Athletic Conference team, the Antelopes, going up against a Big Ten club, the Hawkeyes. In this 2021 NCAA Tournament West Region Round One contest, the Hawkeyes are favored and at -14.5 (-102). The underdog Antelopes are at +14.5 (-111). Grand Canyon finished first in the WAC and then won the tournament title by beating New Mexico State 74-56. Over their last five games, Grand Canyon has gone 4-1, winning their last three games. The Iowa Hawkeyes, who've won four of their last five games, finished third in the Big Ten. In the conference tournament semifinals, the Hawkeyes lost to the Illinois Fighting Illini 71-62. The Antelopes and Hawkeyes will meet on Saturday, March 20 at 6:25 pm ET. The game will take place at Indiana Farmers Coliseum in Indianapolis, IN. We've got a pick for every March Madness game. See our Maryland versus UConn pick.
Grand Canyon vs Iowa Pick – Stats
The Antelopes are averaging 75.6 PPG, while the Hawkeyes are putting in 83.8 PPG. In terms of field-goal percentage, Grand Canyon is hitting 49.2% of their attempts, while Iowa is sinking 46.9%. The Hawkeyes are better from downtown (38.6% to 33.2%) and from the free-throw line (71.3% to 68.6%). Iowa is making 3.6 fewer turnovers and manufacturing three more assists than the Antelopes. Both teams are grabbing 40 RPG.
Key Players
Three players are essential to Grand Canyon's success. Two centers, Asbjorn Midtgaard and Alessandro Lever, and one guard, Jovan Blacksher Jr. Midtgaard, a 71% shooter, is averaging 14.0 PPG and 9.9 RPG. He making 1.3 BPG. Lever, who is good on 51% of his attempts, is scoring 13.3 PPG and bringing down 5.4 RPG. He's completing 39.2% of his three-point attempts. Guard Blacksher Jr. is a true playmaker, averaging 5.6 APG, 1.3 SPG, and 11.9 PPG. Plus, he's taking down 3.7 RPG.
For the Hawkeyes, center Luke Garza is a solid 55% shooter from the field and is hitting 41% of his threes. Garza tops the team with 23.7 PPG, 8.8 RPG, and 1.7 BPG. Also, guard Jack Nunge is averaging 7.1 PPG and 5.3 RPG. In the backcourt, Jordan Bohannon offers excellent leadership. He making 4.5 APG and averaging 10.9 PPG. Joe Wieskamp is recording 14.7 PPG, while hitting field goals at a rate of 49.7% and threes at 47.3%. CJ Fredrick is good for 7.8 PPG.
Grand Canyon vs Iowa Pick – Final Thoughts
Our Grand Canyon vs Iowa pick offers a hefty spread. Can Iowa beat it? They have the depth, shooters, and playmakers. At the same time, Grand Canyon brings some fine talent to the court. We're taking the Iowa Hawkeyes at -14.5 (-102). We expect Garza to lead this team in a major way and put in a big game.
#15 Grand Canyon Antelopes vs #2 Iowa Hawkeyes
Iowa Hawkeyes at -14.5 (-102)