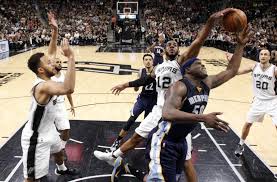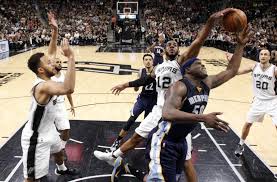 The Memphis Grizzlies (43-39), seventh seed in the West, and San Antonio Spurs (61-21), second seed, will slug it out in this series. The two teams battled this season and split their series. The two rivals have met four times previously in the playoffs with the Spurs taking three of the four series. In each of the series that they won, San Antonio swept Memphis. However, in 2011, the eighth-seed Grizzlies took down the first-seed Spurs. Our Memphis plays San Antonio 2017 NBA playoff free pick sees this as being a hard-fought series. The first game of this bout will be played at 8 p.m. ET on Saturday.
Memphis Grizzlies Keys
At 35.4%, the Grizzlies are 17th in the league in three-point percentage. They are 30th in field goal percentage, hitting just 43.5%. They are in the middle of the pack in frees, sinking 78.4%. First the bad news, it looks like the team's prime defender Tony Allen is out for this series. That is a major blow.
PG Mike Conley leads the team with 20.5 PPG and 6.3 APG. He's hitting 46% from the field and 41% from the three-point mark. Look for center Marc Gasol to be a major contributor. He's been averaging close to 20 PPG, as well as 6.3 RPG and 4.6 APG. Conley is averaging 1.33 SPG while Gasol has 1.34 BPG. The importance of PF Zach Randolph (14.1 PPG, 8.2 RPG) should not be underestimated. He's completing 45% of his shots from the field and an important force on the boards.
San Antonio Spurs Keys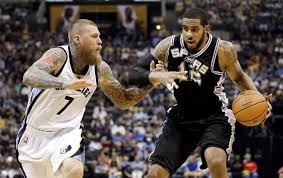 The Spurs are seventh in the NBA in shooting hitting 46.7% of their attempts and seventh in free throws at 79.7%. Their 39.1% three-point rate is the best in the NBA. They are also 11th in rebounding, seventh in assissts, and second in blocks. SF Kawhi Leonard, PF LaMarcus Aldridge, and center Pau Gasol are all major contributors on offense and defense. They're the top three point makers while Leonard has major stealing chops and Aldridge and Gasol are tops in blocks. SG Manu Ginobili comes off the bench, offering solid defensive skills.
Top Series Factors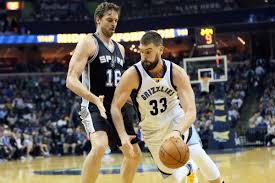 Here's what to look for as far as deciding factors go in this matchup:
Injured defensive master Tony Allen of the Grizzlies may miss the series, which will be a major blow to Memphis
Can the Grizzlies scoring leader Conley step up in Allen's place?
Spurs D can shutdown just about anyone and should do so to Memphis
San Antonio is the best three-point team in the NBA
Memphis is a weak road team and has had a tough time winning as of late
Spurs have four solid guys who can play D
Memphis Plays San Antonio 2017 NBA Playoff Free Pick
We think the Spurs will be tough to beat in this series. They have excellent defensive chops and some very fine shooters. Without Allen, the Grizzlies will have a tough time controlling the game. Our Memphis plays San Antonio 2017 NBA playoff free pick is San Antonio in five games.
Memphis Plays San Antonio 2017 NBA Playoff Free Pick: Spurs in five