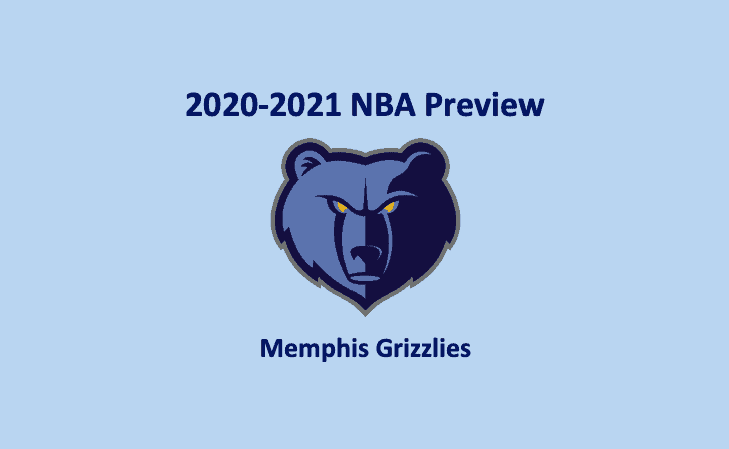 Our Memphis Grizzlies preview 2020 – 2021 notes that from 2010 through 2017 this team was playoff bound. It was in 2012-2013 that they enjoyed their longest playoff run. In the 2013 postseason, they won the First Round, beating the Clippers 4-2, and in the Conference Semifinals, they took down the Thunder 4-1. Then, in the Conference Finals, Memphis lost to the Spurs four games to none. Since the 2017-2018 season, the Grizzlies have missed the playoffs. Last year, the Grizzlies recorded 34 wins and 39 losses. They cinched a play-in berth but lost to the Portland Trail Blazers. Consequently, the Grizzlies did not make the playoffs.
Memphis Grizzlies Preview 2020 – 2021 – Stats
Memphis was 14th in scoring, recording 112.6 PPG. However, they were 21st in opponent points, allowing 113.7 PPG. Consequently, Memphis posted a PF/PA differential of negative 1.1. The team posted a 46.8 field-goal percentage, which was seventh, and a 34.7 three-point percentage, which was 23rd. The team ranked 19th in frees, shooting 76.3%. The Grizzlies were strong in the paint, averaging 46.5 PG (5th), and they were sound in playmaking, posting 26.9 APG (1st). However, turnovers came in at 14.6 PG, which ranked 23rd. They were seventh in blocks, averaging 5.5 PG, and 12th in steals with 7.9 PG.
The Grizzlies held opponent shooters to 45.0% on field goals, which was ninth. However, opponents hit 36.5% of their threes. Memphis ranked 24th in opponent three-point percentage. Opposing teams bested the Grizzlies by nearly two percentage points in frees, as they hit 78.2% of their attempts. Opponent averages include 44.9 RPG (14th), 24.8 APG (18th), and 14.3 TO (19th). Steals by opponents came to 8.0 PG (21st) an blocks were 5.3 PG (22nd).
Memphis Roster
Ja Morant and Dillon Brooks comprise a very fine backcourt. Morant is a magnificent talent, while Brooks is soundly consistent. In front, there are injury issues at power forward and performance problems at small forward. The center position is a strength on this team. The bench is good but uneven.
Memphis Grizzlies Preview – Backcourt
Point guard Ja Morant came to the Grizzlies last season as the overall number two draft pick. In his rookie season, he played and started 67 games. He was so good, he won NBA Rookie of the Year honors. Morant averaged 17.8 PPG and 7.3 APG. He had 0.9 SPG. Morant averaged 31.0 MPG and shot 47.7% from the field, 33.5% in threes, and 77.6 in frees. Shooting guard Dillon Brooks, who started 73 of 73 games last year, comes back to Memphis for his fourth season. Brooks averaged 16.2 PPG, 3.3 RPG, and 2.1 APG. He hit 40.7% of his field goals and 35.8% of his threes. Free throws came in at 80.8%.
Grizzlies Preview – Frontcourt
Two seasons ago, small forward Kyle Anderson came to Memphis after four seasons with San Antonio. Last season, averaging 19.9 MPG, he recorded 5.8 PPG and 4.3 RPG. His field-goal shooting was sound, as he knocked down 47.4% of his attempts. However, he completed just 28.2% of his threes. Power forward Jaren Jackson Jr., who is out recovering from a meniscus tear in his left knee, is an important part of this offense. Additionally, substitute small and power forward Justise Winslow is rehabbing a hip injury. Both will miss substantial time this season. Last season, Jackson, his second in the NBA, averaged 17.4 PPG, 4.6 RPG, and 1.6 BPG. He's a sound shot inside and out, averaging 46.9% in field goals and 39.4% in three-pointers.
In his seventh season with Toronto, center Jonas Valanciunas came to Memphis. That was during the 2018-2019 season. Last year, his first full season with the Grizzlies, Valanciunas averaged 14.9 PPG, 11.3 RPG, and 1.1 BPG. He's a constant double-double threat as well as a fine defender. Plus, along with possessing a fine inside shot, he averaged 58.5%, he can pop out and hit the three. Our Memphis Grizzlies preview 2020 – 2021 notes that last season, he was successful on 35.2% of his downtown shots.
Grizzlies Bench
Tyus Jones comes in to relieve the point position, while De'Anthony Melton can play either the one or two guard spots. After four seasons with Minnesota, Jones came to the Grizzlies last season. In his first year, he averaged 7.4 PPG and 4.4 APG while playing 19.0 MPG. In the 2018-2019 season, his first, Melton played for the Phoenix Suns. Last year, his second in the NBA, Melton averaged 19.5 MPG, shooting 40.2% from the field. His three-point rate was just 28.6%. Melton averaged 7.6 PPG, 3.7 RPG, and 2.9 APG. Grayson Allen also rotates in at shooting guard. Last year, his second in the NBA, he played 18.9 MPG, scoring 8.7 PPG. He's a 40-plus percent shooter in field goals and threes.
Frontcourt
As noted, small forward Winslow is out, while John Konchar looks to be the primary substitute. Last year, his initial NBA season, Konchar played 19 games. He averaged 9.5 MPG, recording 2.8 PPG and 2.5 RPG. Brandon Clarke and Xavier Tillman Sr. (Day-to-Day) come in at power forward. Clarke, who was the 21st overall pick in last year's draft, averaged 12.1 PPG, 5.9 RPG, and 22.4 MPG. He was good on 61.8% of his field goals and 35.9% of his threes. Clarke is a fine substitute for injured starter Jackson. Tillman, who was a second-round, 35th overall draft pick this year, is out with knee soreness. Tillman, in his last of three seasons with Michigan State, averaged 13.7 PPG and 10.3 RPG. He shot 66.7%.
Jackson, who we've noted is out, is the primary substitute at center. Brandon Clarke comes in to help at center. This is Clarke's second NBA season. Last year with the Grizzlies he averaged 22.4 MPG, 12.1 PPG, and 5.9 RPG. He's a fine shooter from the inside and also solid from the arc.
Memphis Grizzlies Preview 2020 – 2021 – Coaching
Taylor Jenkins got into the professional coaching ranks as an assistant in the G League for the Austin Toros from 2008-2012. In 2012, he became the Toros' head coach. In 2013, Jenkins became an assistant for the Atlanta Hawks, and in 2018, he was an assistant for Milwaukee. In 2019, he was selected to be the head coach for the Grizzlies. He certainly had a solid initial season at the helm, as he almost guided a team that had numerous major injuries to the playoffs.
Our Memphis Grizzlies preview 2020 – 2021 observes that Jenkins is noted for being a fine mentor of young talent. That's important, as the Grizzlies are a young team. Jenkins utilizes analytics and is known as being someone who embraces basic foundation elements. Also, Jenkins is very much focused on process, which means learning from situations and developing resilience. This season, he could get this Memphis team to the playoffs.
Memphis – Pluses and Minuses
Lots of fine, young talent
Backcourt is solid
Jenkins is the right coach for this group
PF Jaren Jackson injury is worrisome
Versatile Justise Winslow is also out
Young team will make mistakes
Memphis Grizzlies Preview 2020 – 2021 – Final Word
Our Memphis Grizzlies preview 2020 – 2021 envisions this team being very competitive. As noted, there's a lot of fine, new talent. Plus, Jenkins is exceptionally solid as a head coach. In the frontcourt, this team still looks good despite nagging injuries. As noted, in the guard spots, Rookie of the Year PG Morant and SG Brooks are a fine duo. They could be major difference-makers. Watch out for this team.
Memphis Grizzlies Projection – 38-34 Fourth-Place, Southwest Division