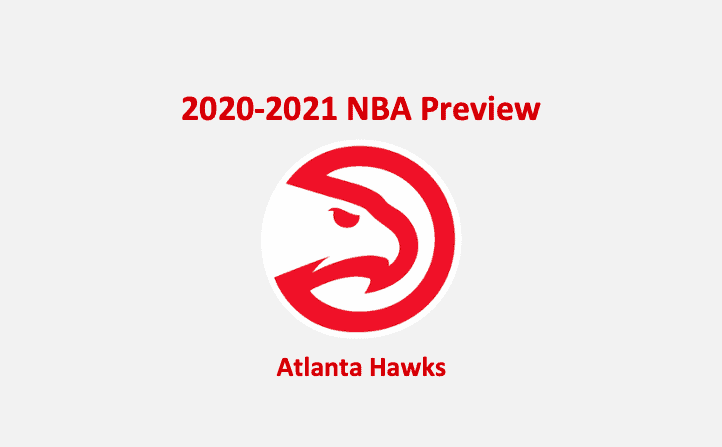 Our Atlanta Hawks preview 2020 – 2021 observes that this team finished with a record of 20-47, which was good enough for third place in the Southeast Division. The Hawks were 21 games out of first place, which was occupied by the Miami Heat. Atlanta was ninth in the Eastern Conference and missed the playoffs. The Brooklyn Nets went into the postseason with a worst record of all playoff teams, 35-37. The Hawks needed 15 more wins to even have a potential shot at the bubble. At one point in the season, Atlanta went 2-14. They suffered through two 10-game losing streaks, which were separated by a 2-1 mark. The best this team could do last season was two straight wins. That happened four times.
Atlanta Hawks Preview 2020 – 2021 – Stats
The Hawks were 17th in points per game, averaging 111.8. They were 23rd in field-goal percentage at 44.9%, while they did well on threes, hitting them at a rate of 36.1% (8th). Their 79.0 free-throw rate ranked 10th. Atlanta's ball movement was less than adequate, as they averaged 24.0 APG (17th). They were in the middle of the pack with 7.8 SPG (13th) and 5.1 BPG (12th). The Hawks were 29th in turnovers, averaging 15.7 per game. Around the rim, they grabbed 43.3 RPG (22nd). From a distance, that is, the three-point mark, this team was best. But, overall, the Hawks struggled on offense.
Atlanta allowed 119.7 PPG. They ranked dead last in that category. Consequently, their PF/PA differential was -7.9. Subsequently, that differential was the second-worst in the NBA. Opponent field-goal rate was 47.8% (26th), and their three-point rate came in at 36.3% (22nd). Opponents grabbed 47.0 RPG (28th), which gave the Hawks a -3.7 differential (29th). The Hawks were 26th in steal differential (-1.1 PG), 27th in blocks (-1.2), and 21st in assists (-1.0). One positive, Atlanta was fifth in turnover differential at +1.3.
Atlanta Roster
Although numerous Atlanta players are listed as being day-to-day, they all have various minor injuries, which should allow each member of the team to play sooner than later. This is a young team with a lot of talent. Many of these players are either ready to take it to the next level or managed to do so last year. Numerous backup players, both experienced veterans and fairly new recruits, have been brought in. The good news is that coach Lloyd Pierce is the right guy to be working with this young group. He's a top-notch mentor.
Atlanta Hawks Preview – Backcourt
In his second season last year, Trae Young took it to a new level. His 29.6 PPG was a good 10 more than he averaged in his initial season. He also recorded 9.3 APG and 1.1 SPG. Young, a 43.7% field-goal shooter, hit 36.1% of his attempts from the arc while averaging 35.3 MPG. Shooting guard Bogdan Bogdanovic comes to the Heat this season after playing three years with Sacramento. Last season, he was good for 15.1 PPG, 3.4 RPG, 3.4 APG, and 1.0 SPG. He had a 44.0 FG% and 37.2 3PT%.
Hawks Preview – Frontcourt
The paint is manned by small forward De'Andre Hunter (Day to Day), power forward John Collins, and center Clint Capela (Day to Day). Last year, Hunter was the fourth overall pick in the NBA Draft. Averaging 32.0 MPG, he was good for 12.3 PPG and 4.5 RPG. He connected on 41.0% of his field-goal attempts and 35.5% of his three-pointers. Collins, who was the 19th overall pick in 2017, played 33.2 MPG. He was a true double-double threat, averaging 21.6 PPG and 10.1 RPG. Collins is a dead-eye shooter. Consequently, he was good on 58.3% of his field goals, 40.1% of his threes, and 80.0% of his frees. Capela comes to Atlanta this season after six years with the Rockets where he averaged 12.2 PPG, 9.7 RPG, and 1.5 BPG. He's a 63.4% field-goal shooter.
Hawks Bench
The backcourt is backed up by Rajon Rondo (Day to Day) and Kris Dunn (Day to Day) at point and Kevin Huerter (Day to Day) and Cam Reddish (Day to Day) at the shooting spot. Rondo is in his 15th NBA season. In his last two years with the Lakers, he averaged 8.8 PPG, 4.1 APG, 6.5 APG, and 1.0 SPG. Last season, Dunn played with Chicago recording 7.3 PPG, 3.4 APG, and 2.0 SPG. Third-year player Huerter averaged 12.2 PPG, 3.8 APG, and 4.1 RPG last year and second-year man Reddish was good for 10.5 PPG and 3.7 RPG.
Our Atlanta Hawks preview 2020 – 2021 observes that Atlanta's small forwards include Cam Reddish (Day to Day) and Kris Dunn (Day to Day). Last year's 10th overall pick, Reddish averaged 10.5 PPG and 26.7 MPG. As noted, Dunn comes to Atlanta from Chicago. Danilo Gallinari, who averaged 18.7 PPG and 5.2 RPG with Oklahoma City last year, and De'Andre Hunter (Day to Day), who was good for 12.3 PPG and 4.5 RPG in his first season, rotate in at power forward. Onyeka Okongwu (Day to Day) and John Collins cover center. Okongwu, who played with USC, was this year's number six draft pick. With USC, he averaged 16.2 PPG, 8.6 RPG, and 2.7 BPG. He'll be a major two-way player. Collins, who's in his fourth NBA season, averaged 21.6 PPG and 10.1 RPG while playing 33.2 MPG.
Atlanta Hawks Preview 2020 – 2021 – Coaching
Our Atlanta Hawks preview 2020 – 2021 notes that prior to becoming Atlanta's coach in 2018, Lloyd Pierce had four NBA assistant coaching jobs from 2007 to 2018. He earned his head coaching chops assisting with the Cleveland Cavaliers, Golden State Warriors, Memphis Grizzlies, and Philadelphia 76ers. Thus far under Pierce, the Hawks have gone 49-100 finishing third in the Southeast in his first year and fifth in his second.
In coaching, Pierce starts by focusing on clearly communicating with his team and being connected to his players. His strong points include defense, player development, and team building. He's one of those coaches who believes that everyone should be focused on learning and improving. Pierce does practice what he preaches. In doing so, he spends his summers working with the USA Men's National Basketball Team as an assistant for one of his mentors, Gregg Popovich.
Atlanta – Pluses and Minuses
Lots of young developing talent
Solid depth
Coach Pierce brings many fine tools
Defense was lacking last season
Better ball control needed
Offense was middling at best
Atlanta Hawks Preview 2020 – 2021 – Final Word
Our Atlanta Hawks preview 2020 – 2021 likes this team and thinks that they will make some progress this season. We don't expect them to earn a playoff berth. However, an extra dozen wins are not out of the question. If this basketball team does in some way run up even more wins, and they might with the raw talent that's developing, they could be a dark horse for the playoffs. That is, as long, as everyone can stay healthy.
Atlanta Hawks Projection – 32-40 Fourth-Place, Southeast Division