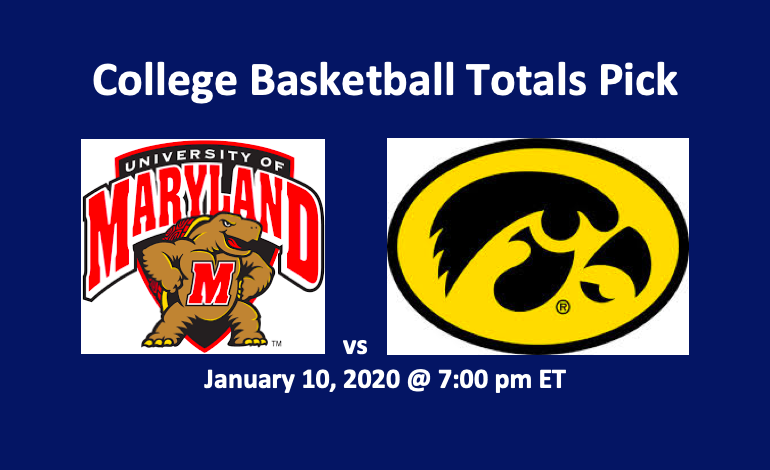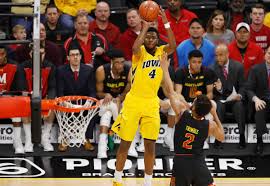 In this Maryland vs Iowa totals pick we have a productive Iowa offense battling a stingy Terp D. The Maryland vs Iowa over/under stands at 147.0. It opened at 151.0. The #12 Maryland Terrapins (13-2 Overall, 3-1 Big Ten) occupy second-place in the conference. With a perfect 5-0 Big Ten record, the #8 Michigan State Spartans sit in first. Conversely, the Iowa Hawkeyes (10-5 Overall, 1-3 Big Ten), who are unranked, are tied for 12th-place with the #11 Ohio State Buckeyes. Note, Iowa boasts of a high-scoring offense, while the Terps bring a solid defense and top-notch inside game. This Big Ten matchup will tipoff at 7 pm ET on Friday, January 10, 2020. The venue is the Carver-Hawkeye Arena in Iowa City, Iowa.
Maryland vs Iowa Totals Pick – Stats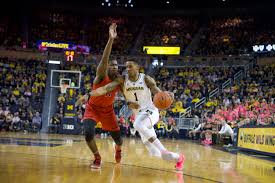 The statistics for this game are a contrast between an Iowa offense that's scoring 80.4 PPG and a Maryland defense that's giving up 61.3 PPG. If those stats hold true, we have an under bet to make. Then again, when you look at the fact that the Hawkeyes are allowing opponents 70.7 PPG and Maryland is scoring 74.8 PPG, you're looking at a trend towards the over.
The average of both offenses comes to 77.6 PPG, while the average for these team's defenses is 66.0 PPG. Those totals come to 143.6. Again, that is under the total of 147.0. In their last three games, all of which they won, the Terrapins averaged 75.3 PPG. They held opponents to 61.3 PPG. In their last three games, where the Hawkeyes went 1-2. Iowa averaged 86.0 PPG and kept opponents to 69.0. Maryland's last three games steer us towards the under, while Iowa's past trio of contests indicate an over. The combined totals come to 145.8 PPG. Once again, we are under.
Terrapins at Hawkeyes – Trends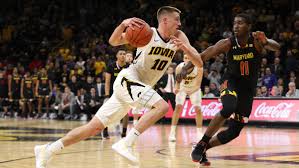 Our Maryland vs Iowa totals pick notes the following recent trends. This season on the road Maryland is averaging 71.4 PPG while they are permitting opponents 66.6 PPG. Meanwhile, at home, the Hawkeyes are averaging 82.75 PPG and holding teams to 65.88 PPG. Taken separately, the Terrapins' stats bend toward the under and Iowa's take us to the over. Combined, they come to 143.3. Consequently, we go under. When considering the over under, this season these two teams have gone over 10 times, under 19, and pushed once.
Our Maryland vs Iowa Totals Pick
Just about every stat and trend point us to the under. Plus, the Maryland defense can be especially stingy. They are adroit at blocking shots and rebounding. The Terrapins can take a solid offensive team out of their game. Our Maryland vs Iowa totals pick is under 147.0.
Be sure to read our Big Ten Maryland vs Iowa point spread prediction. We offer solid, in-depth analysis of this matchup.
#12 Maryland Terrapins vs Iowa Hawkeyes Over/Under Prediction – Summary
147.0 Total – Under 147.0