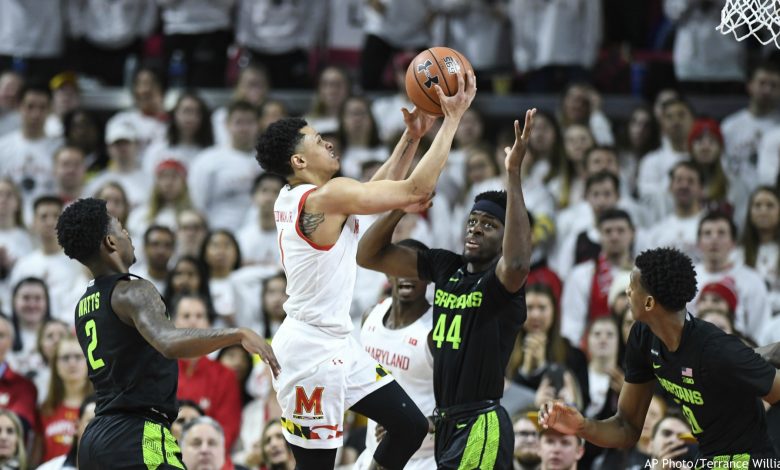 The ninth-ranked Maryland Terrapins (23-6, 13-5) hit the road to face off against the Rutgers Scarlet Knights (18-11, 9-9) in a Big Ten Conference tilt. A win Tuesday night would clinch a share of the Big Ten Conference regular-season title for the Terrapins.
Maryland made a second-half comeback to take the first contest against the Scarlet Knights back in early February. Rutgers is a 1.5-point favorite over the Terrapins.
What to Know – Maryland
Looking to claim its first Big Ten Conference regular-season title in school history, the Maryland Terrapins role into Piscataway trying to bounce back from a 78-66 home defeat to Michigan State on Saturday. Maryland has not lost to Rutgers since the two teams joined the Big Ten, winning all eight meetings. The Terrapins are 5-5 this season on the road.
Maryland is led offensively by senior guard Anthony Cowan Jr., who averages 16.7 points per game. Sophomore forward Jalen Smith supplies 15.4 points and secures 10.5 rebounds per game backed behind 19 double-doubles this season. Smith led the way in the last meeting, scoring 14 points and grabbing 15 rebounds.
The Terrapins score at a rate of 71.7 points per game and allow 62.3 per game defensively. The visitors held the host to a season-low 51 points, limiting the Terrapins to just 17.6% shooting from the arc. Maryland ranks 10th in KenPom and 15th in the NCAA NET rankings.
What to Know – Rutgers
Rutgers showcases a nation's best 17 home victories this season to just one loss. A win Tuesday night would give the Scarlet Knights their most home victories in program history. RU has lost four of its last five, including three straight. The last time out, the Scarlet Knights came up short in a second-half comeback to Penn State, falling 65-64 on the road.
Sophomore guard Ron Harper Jr. (12.1 ppg) leads the way for the home squad offensively, followed closely behind by junior guard Geo Baker (10.6 ppg). Senior forward Akwasi Yeboah led the charge last time out, scoring 13 points on 5-11 shooting from the floor against the Terrapins.
Rutgers posts a 69.6 scoring average while surrendering 62.3 ppg. The points allowed rank 18th in the nation and are second-best in the conference. RU's conference losses have been by an average of 6.0 ppg. The Scarlet Knights sit at 34th in the NET rankings and 32nd in KenPom.
The Pick is In
Rutgers' home record is sparkling, but the Scarlet Knights have tripped up over the last two weeks. Maryland continues to showcase a high level of basketball and are motivated to clinch the regular-season title. We will side with the top team in the league here. We like Maryland +1.5.