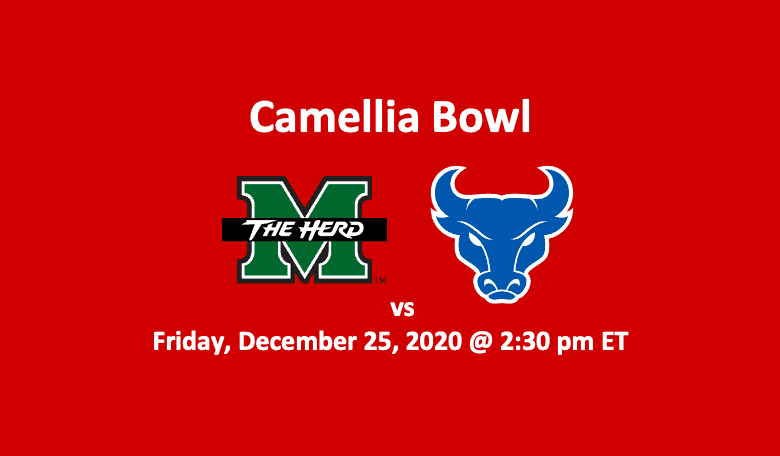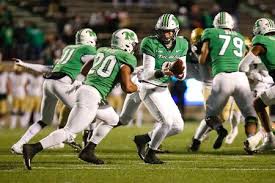 Our Marshall vs Buffalo pick 2020 is for the Camellia Bowl, which is the only Division I FBS game being played on Christmas Day. The Marshall Thundering Herd finished first in Conference USA – East with a 4-1 record. They ended the season with a 7-2 overall mark. The Buffalo Bulls topped the Mid-America Conference – East as they posted a 5-0 record. Their record, with nonconference games included, came to 5-1.
The Buffalo Bulls are favored in this bowl game. They are at -4.5 (-107). The Marshall Thundering Herd spread is +4.5 (-103). If you're looking to place a totals bet, you can secure the over at 54.5 (-105). The under is also offered at 54.5 (-105).
The Camellia Bowl will be played on Friday, December 25. The kickoff will be at 2:30 pm ET with the game being played at the Cramton Bowl in Montgomery, AL. The weather is predicted to be mostly cloudy with a temperature of 47-degrees. Probability of precipitation is 23% and winds will be 10 MPH from the NW.
Marshall vs Buffalo Pick 2020 – Statistics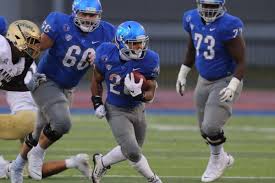 Our Marshall vs Buffalo pick 2020 observes that the Thundering Herd have a very tough defense, as they've allowed just 12.6 PPG. On the other hand, Bulls have given up 23.8 PPG, almost double of Marshall's defensive points. Conversely, it's Buffalo that's excelled on offense, averaging 47.8 PPG. However, Marshall recorded 30.6 PPG, which was almost 17 fewer points than the Bulls scored. In PF/PA differential, the Bulls were +15.0, while the Thundering Herd came in at +18.0. Thus, those numbers give Marshall a slight edge of +3.0.
On offense, Marshall averaged 407.1 YPG with 223.9 in ground yards and 183.2 in air yards. The Buffalo offense has been good for a total of 508.7 YPG. They accumulated 309.2 YPG in rushing and 199.5 YPG in passing. On defense, the Thundering Herd allowed just 277.2, while the Bulls gave up 379.2. Marshall was especially tough versus the run as they permitted just 88.9 ground YPG. On the other hand, Buffalo allowed opponents 161.3 rushing yards and 217.8 passing yards.
Camellia Bowl – Offense and Defense
As their name implies, the Thundering Herd like to run a lot. The good news for them is they will be playing a team that has had a tough time controlling opponent ground attacks. Plus, this team has a decent pass attack. Still, it's a muted offense. Conversely, the Buffalo offense is more explosive than Marshall's. Plus, they excel at the ground game. However, the Marshall D is especially tight and much more so against the run.
Thundering Herd and Bulls – Offenses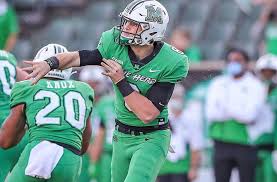 For Marshall, QB Grant Wells has tossed for 1,977 yards, 18 TDs, and nine INTs. He been sacked seven times. The Thundering Herd have four receivers with two or more pass catches. The top two receivers are wideouts Xavier Gaines (26 REC, 396 YDs, 4 TDs) and Corey Gammage (29 REC, 321 YDs, 4 TDs). Brenden Knox and Sheldon Evans are the two primary ground gainers with 887 and 248 YPG and 4.8 and 4.6 YPA respectively. Knox has nine and Gammage four touchdowns.
Buffalo QB Kyle Vantrease has thrown for 1,186 yards, completing 63.0% of his passes. He's tossed seven touchdown passes and two picks and been sacked once. As noted, the ground game is this team's bread and butter. RBs Jaret Patterson and Kevin Marks Jr. are Buffalo's top rushers with 1,072 and 603 YPG respectively. Patterson, who has 19 TDs, averaged 7.6 YPA and Marks, who has scored six times, 7.8 YPA.
Marshall vs Buffalo Pick 2020 – Defenses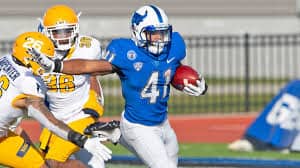 Marshall has forced a baker's dozen fumbles, recovering 10 and scoring off one. Plus, they've accumulated 25 sacks, 25 PD, and four picks. LB Tavante Beckett leads the team with 31 solo tackles and 90 total bringdowns. Also, he's got 2.5 sacks, two FF, and four FR, scoring once. DL Darius Hodge has made 6.5 sacks and DB Steven Gilmore has one pick, eight passes defended, and 1.5 sacks. Also, he has posted two FF.
The Bulls recorded 16 sacks, six INTs, and 25 PD. They've had one pick six. Buffalo has forced six fumbles, recovering four. DE Malcolm Koonce recorded five sacks and two PD, while DT George Wolo has three sacks and two forced fumbles. LB James Patterson leads Buffalo with 24 solo and 54 total tackles. He's made one INT, one FF, and two PD.
Marshall vs Buffalo Pick 2020 – Final Word
Our Marshall vs Buffalo pick 2020 notes that over their last five games the Thundering Herd are 3-2. They've lost their last two games. That last loss was against UAB for the C-USA championship. The final score came to 22-13. The Bulls are 4-1 for their past five. They lost their last game, which was against Ball State for the MAC title. The final was 38-28. Both of these teams are looking to redeem their seasons.
We find that the Herd's D is exceptional. We expect them to control the line of scrimmage and slow down Buffalo's offense. Still, Patterson will likely score a few times. On the other hand, the Bulls' defense is weak. Marshall has a fairly balanced attack. They should be able to exploit Buffalo's D. We are going with the underdog Marshall at +4.5 (-103). Also, we're taking the under at 54.5 (-105).
Camellia Bowl 2020 – Summary
Point Spread –at +4.5 (-103)
Totals – Under 54.5 (-105)