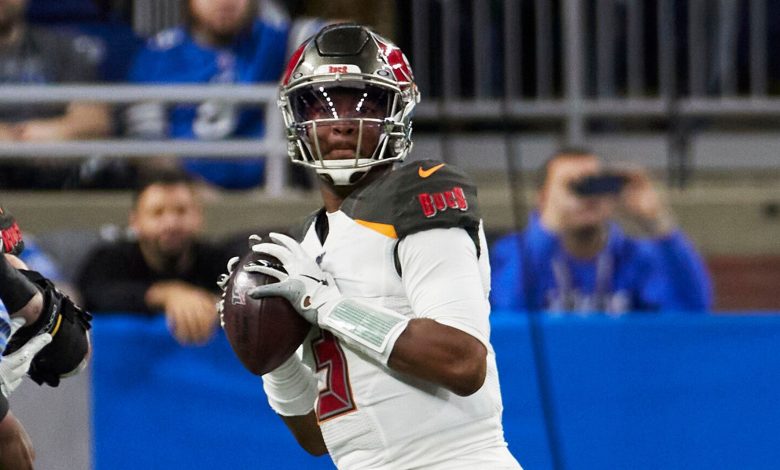 The Atlanta Falcons will visit sunny Tampa, Fla., for a matchup with the Tampa Bay Buccaneers in the season finale for both teams. These teams will be watching the playoffs from home this season, but this should still be a terrific game to end the season. The Buccaneers beat the Falcons by a score of 35-22 earlier this season, and they will be looking for the season sweep.
The Falcons come into this game with a ton of momentum after winning each of their previous three games. Atlanta is still just 6-9 so far in 2019, but a win in this game would give it something to build on in 2020.
Tampa Bay enters this game with a record of 7-8, and inconsistency has plagued it all year. The Bucs had their four-game winning streak snapped in Week 16. The Tampa Bay Buccaneers are a one-point favorite over the Atlanta Falcons in the season finale.
Buccaneers Will Throw the Football
The Buccaneers lead the NFL with 310 passing yards per game, and they will throw the ball a ton in this one. Quarterback Jameis Winston has thrown for over 4,900 yards this season, but he is also closing in on 30 interceptions.
The Buccaneers are averaging just 92 rushing yards per game, and they will need to find some balance on offense in this game.
Defense is another area that must improve for the Buccaneers if they want to be a playoff contender in 2020 and beyond. Tampa Bay is allowing over 28 points per game, and that puts way too much pressure on the offense.
Linebacker Shaquil Barrett has racked up 16.5 sacks this season and gives the Buccaneers a player to build their defense around.
Falcons Finding Some Defense of Late
Atlanta is not known for having a stout defense either, but it has been playing much better of late. The Falcons are still allowing more than 25 points per game, but that number has gone done in December. Atlanta does have 27 sacks as a team, and getting pressure on Winston will be a priority in this game.
Quarterback Matt Ryan might be reaching the end of his career, but he has still thrown for over 4,100 yards this season. Ryan's favorite target is once again Julio Jones, who has 92 receptions for over 1,300 yards this season.
The Falcons also struggle to run the ball, but they will find some gaps in the Tampa Bay defense.
Buccaneers Win With Late Score
This game should be a back-and-forth affair, and there will definitely be plenty of points scored in this game. Both teams want to throw the ball a ton, and both defenses will be under fire in this one.
Atlanta has been playing much better of late, but the Buccaneers have been the better team throughout the season. Look for the Buccaneers to make enough plays late in the game to come away with a win. Bet the Tampa Bay Buccaneers -1.0 over the Atlanta Falcons in this NFC South showdown.