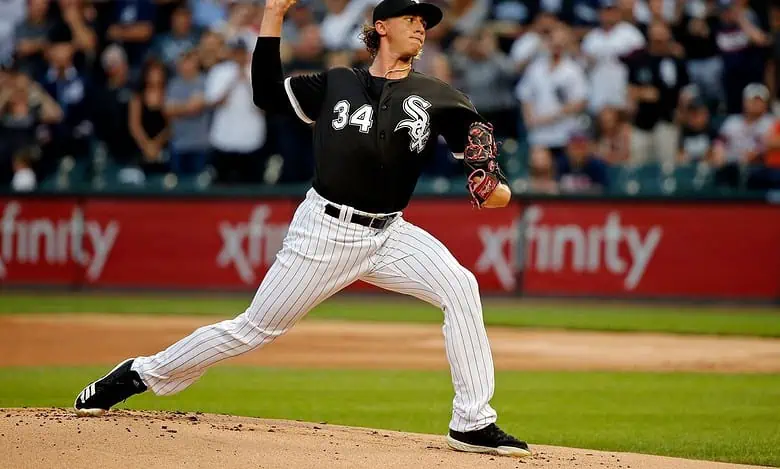 AL Central Division rivals continue a series on Saturday night as the Cleveland Guardians host the Chicago White Sox. Cleveland picked up a 4-2 win in the series opener on Friday, and they are looking to add to the misery of Chicago that has plagued them all season long.
The White Sox were supposed to win this division, but things went south almost immediately for this team. Chicago comes into this series with a record of 43-68, and they traded away plenty of talent at the Trade Deadline.
Cleveland was able to snap a three-game losing streak with a win on Friday night, and they are trying to stay in the race in the AL Central. The Guardians are sitting at 54-56 on the year, but that's actually good for second place in the very bad AL Central Division.
The Cleveland Guardians are moneyline betting favorites on Saturday night at -145 over the Chicago White Sox.
White Sox Can't Get Outs
The Chicago White Sox have plenty of issues this season, but their inability to get any outs has been the biggest issue. Chicago comes into this game with a team ERA of 4.64, and that's a massive issue facing this team.
Michael Kopech will be on the mound in this game, and he has really struggled this season for the White Sox. Kopech has gone just 4-10 with a 4.49 ERA, and he has been hit really hard since the All-Star Break.
Luis Robert Jr. leads the way with 29 home runs and 60 RBIs, but he is about one of the only players having a good season. Chicago does still have some talent in that lineup, but it doesn't matter if they can't get out.
Guardians Looking For Offense
The Cleveland Guardians simply don't have enough firepower on offense to win games, as they have scored just 450 runs on the year. Cleveland has belted just 83 home runs, and they have to find a way to find more power as the season moves along.
Cleveland is a team that is usually able to get some outs, as they have a team ERA of 3.83. Noah Syndergaard will be ready to make the start on Saturday night, and he is still looking to get his season turned around.
Cleveland always seems to find another gear in the second half of the year, and that will be a big key in this game.
Guardians Get It Done Again
This used to be a terrific rivalry in the AL Central Division, but neither team has really been great over the last few seasons. Both teams were willing to trade away some talent at the Trade Deadline, but Cleveland still has some good players on this roster.
Michael Kopech just hasn't pitched well at all for the White Sox, and the Guardians should be able to take advantage in this game. Cleveland is going to find just enough offense to pull ahead, and they will climb closer to .500 with another impressive win.
If you are going to bet on this game, then you will want to take the Cleveland Guardians at -145 on the moneyline over the Chicago White Sox.