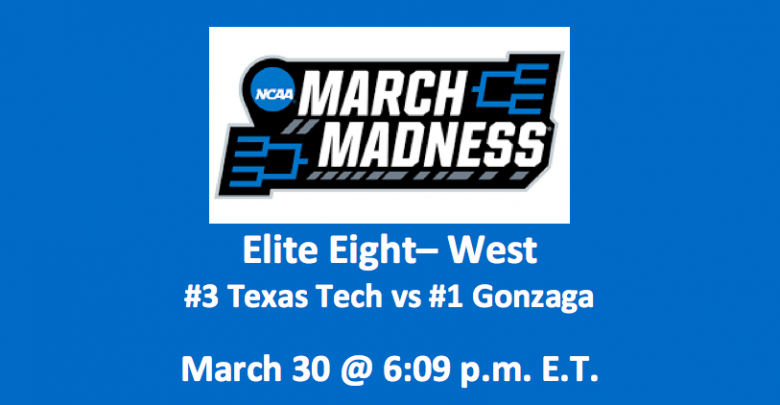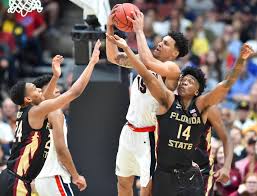 Our Texas Tech vs Gonzaga preview and pick have the Bulldogs at either -4.5 or -5.0. This Texas Tech plays Gonzaga prediction for the NCAA West Region Elite Eight sees this contest as being a massive offensive push for Zags and a huge defensive effort for the Red Raiders.
In the Sweet 16, the Raiders beat the Michigan Wolverines by holding them to 44 points, while Tech scored 63. The Zags took down the Florida State Seminoles 72-58 in their Sweet 16 matchup. This Elite Eight game will be played today, Saturday, March 30 at the Honda Center in Anaheim, CA at 6:09 pm ET.
Texas Tech Red Raiders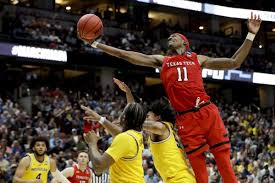 In the 2019 NCAAM Tournament, the Red Raiders have allowed opponents just 53.0 PPG. Opponents have been shooting 35% against them and 20% from downtown. Texas Tech is shooting 48.1% from the floor. The team's three-point rate is 32%. In the tournament, opponents have turned the ball over 47 times. Red Raider turnovers come in at 10 fewer. They also lead opponents in steals 25 to 18.
Our Texas Tech vs Gonzaga preview and pick notes that the two most consistent scorers for this team in the tournament are two sophomore guards, Jarrett Culver and Davide Moretti. Culver is averaging 22.3 PPG and has 5.3 APG. Moretti is putting up 12 PPG. In front, both Norense Odiasi and Tariq Owens have posted double-doubles. Odiasi's biggest contribution came against Buffalo. In that game, he played 25 minutes, scoring 14 points and bringing in 15 rebounds. The other two contests he saw limited playing time. Owens is averaging 9.7 PPG and 6.6 RPG. He's also posted seven blocks.
Gonzaga Bulldogs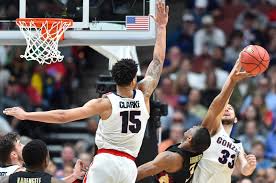 This Texas Tech vs Gonzaga preview and pick finds that the Bulldogs are a scoring machine, averaging 80.7 PPG. In March Madness 2019, they are giving up just 59.3 PPG. Gonzaga's shooting, in all three areas, has been on target throughout most of the tournament. Against the Dogs, teams have shot overall well when putting up field goals, but three-pointers have been successful just 22% of the time. Also, the Zags have done a good job of limiting their turnovers while causing other teams to make mistakes. In the first three games of the 2019 NCAA Tournament, Gonzaga has accumulated 21 steals and 19 blocks. However, this team has to watch its personal fouls. They take too many.
For the Bulldogs, the presence of Brandon Clarke and Rui Hachimura in the frontcourt has to be reassuring. Clarke, who's averaged 21 PPG and 9.3 RPG, has blocked a total of 13 shots thus far and grabbed 10 OREB. Hachimura is hitting for 14.7 PPG, while grabbing 5.6 RPG. The two primary contributors in the backcourt are Zach Norvell Jr. and Josh Perkins. Norvell is averaging 12.0 PPG, 4.0 APG, and 5.3 RPG. Perkins has been good for 10.0 PPG and 4.3 APG. Both inside and outside on this team scoring are solid.
Five Keys
Texas Tech has to control pace of game
Gonzaga inside game can open up court for Bulldogs
Who wins rebounding battle? Both teams are averaging 35.3 RPG
Consistency in shooting on Zags side
Texas Tech's offensive strength is outside game
Texas Tech vs Gonzaga Preview: Our Pick
Our Texas Tech vs Gonzaga preview and pick notes that one of these teams is going to meet their match today. But we doubt either will be blown out. Here's the skinny on the spread, when it's under 10 points, more times than not, the Red Raiders beat it. Also, we do anticipate a close game. Every computer-driven projection sees the winning margin as being around five-points. With that in mind, we're going to go with the Red Raiders at +5.0.
Summary Elite Eight West – Texas Tech vs Gonzaga Preview & Pick: Texas Tech Red Raiders at +5.0