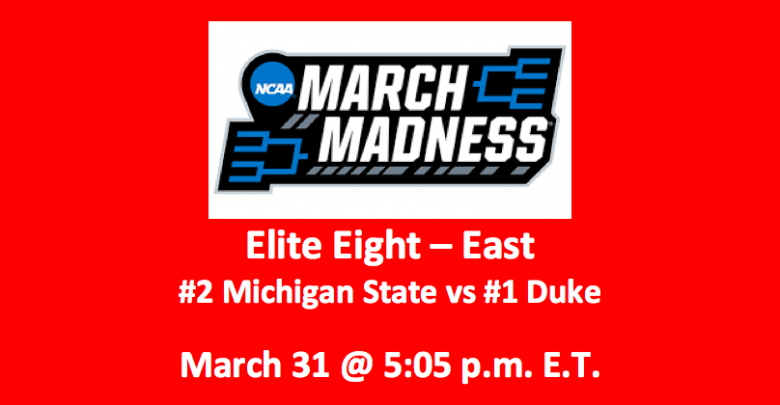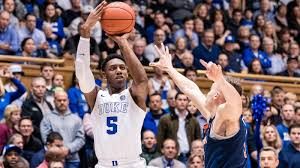 Our Michigan State vs Duke preview and pick have the Blue Devils at either -1.5 or -2.0. This Michigan State plays Duke Elite Eight prediction looks to be a battle between the tough D of MSU and the high-output offense of Duke. In the Sweet 16, the Spartans beat LSU easily 80-63. Duke, however, just got by their opponent, Virginia Tech. The final was 75-73. This Elite Eight East Region game will be played today, Sunday, March 31 at the Capital One Center in Washington, DC at 5:05 pm ET. Once this game is decided, we'll know all of the teams that will play in next week's NCAAM Final Four.
Michigan State Spartans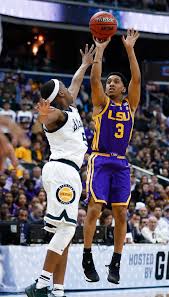 The Spartans have held opponents to just 59.3 PPG. They have been scoring 75.3 PPG. Although in their first game against Bradley, Michigan State had a tough time connecting on their shots, by their second game, they seemed to work out the kinks. In their last two games, the Spartans have averaged 52.0% from the floor and 40% on their three-pointers. Over the course of those two games, the team's hit just 67% of their free throws. In the tournament, the Spartans are averaging 15 APG, and in their last two games, they've been good for 19 per contest. Our Michigan State vs Duke preview and pick notes that the Spartans are committing 14 TOPG and 15 fouls per game. Neither of which is extraordinarily worrisome, but neither of which is stellar either. MSU is solid in the paint, grabbing 40.7 RPG. On defense, they are averaging 3.6 BPG and 3.7 STPG.
For the Spartans, sophomore forward Xavier Tillman is a force. Tillman is hitting for 13.3 PPG and taking down 8.3 RPG Also big in the paint is Kenny Goins who's averaging 9.3 RPG. Off the bench, forward Nic Ward has been contributing 7.0 PPG and 5.7 RPG. The Michigan State backcourt is controlled by Cassius Winston and Matt McQuaid. Winston has been good for 18.5 PPG and 7.0 APG. He is both a fine scorer and setup man. McQuaid is averaging 8.3 PPG.
Duke Blue Devils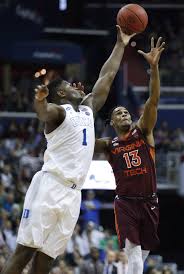 Our Michigan State vs Duke preview and pick notes that the Blue Devils have had a tough time containing their last two opponents. Over three games, the Duke has allowed opponents 70.3 PPG and over the past two 74.5. In this 2019 edition of March Madness, Duke has averaged 79.0 PPG. In their last two games, they've been good for 76.0 PPG. From downtown, the Blue Devils have hit 37.3% of their attempts. They've been good on 50% of their field goals and 62% of their free throws. Duke is averaging a healthy 17 APG and 34.5 RPG. The Blue Devils are committing fewer than 10 turnovers a game and are averaging 17 PF per contest. They've recorded 6.7 STPG and 5.0 BPG.
Duke has three massive forwards who are this team's major contributors. Zion Williamson is averaging 26.7 PPG and 6.7 RPG. Forward RJ Barrett provides 20 PPG and 8.7 RPG. In two games, forward Cam Reddish has scored 12.5 PPG. In the backcourt, Tre Jones has been offering 12.6 PPG and 5.3 APG.
Five Keys
Can Spartans continue to play at same level as last two games?
Duke's D needs to step up
Michigan State defense has been stingy
Can Duke control MSU in paint?
Turnovers could hurt the Spartans
Michigan State vs Duke Preview: Our Pick
Might this be the game where the Blue Devil offense is stopped? It could be. The Spartans put a very solid defense on the court. Plus, Duke has had a proclivity in this tournament for letting opponents stick around. We do think that Michigan State can keep up with the Blue Devils. Plus, the spread is thin. With those points in mind, our Michigan State vs Duke preview and pick
is the Spartans at +2.0.
Summary Elite Eight East – Michigan State vs Duke Preview & Pick: Michigan State Spartans at +2.0