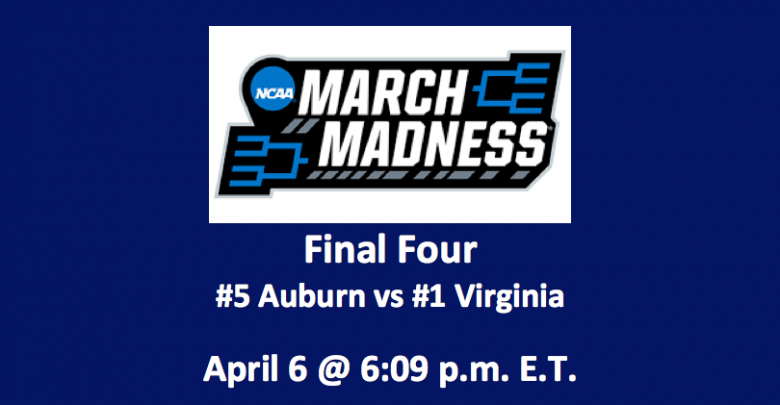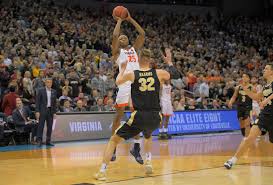 Our Auburn vs Virginia pick and preview has the Cavaliers from -5.0 to -6.0. This Auburn vs Virginia pick for the Final Four also features the highest and lowest seeds left standing in the tournament which started with 66 teams. This NCAA Tournament Final Four game will be played on Saturday, April 6 at 6:09 pm ET. It will tip off at the U.S. Bank Stadium in Minneapolis, MN and is the first of two contests that night. The second, which is scheduled to start at 8:49 pm ET, will have the three-seed Texas Tech Red Raiders at the second-seed Michigan State Spartans.
Auburn Tournament History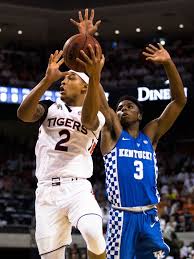 Fifth-seed Auburn has defied all odds in this year's tournament. The 14th-ranked team in the nation started out by beating 12th-seed New Mexico State 78-77. After that, they met fourth-seed and 17th-in-the-nation Kansas. The Tigers dispatched them easily 89-75. In the Sweet 16, Auburn faced their toughest challenged in this tournament, first-seed North Carolina. UNC was also ranked third nationally. Auburn led at the half 41—39 and never lost that lead in the second half. The final score was 97-80. In the Elite Eight, the Tigers took on the Kentucky Wildcats. The Cats, who were ranked seventh in the country, were seeded second in this year's Big Dance. It took OT, but Auburn prevailed 77-71. Our Auburn vs Virginia pick and preview notes that these Tigers continue to perform at a higher than expected level.
Virginia Tournament History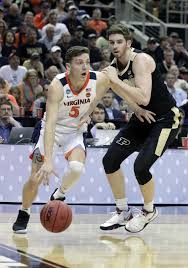 Unlike the Tigers, the one-seed Virginia Cavaliers, who are ranked second in the country, are exactly where people thought they would be. They took down 16th-seed Gardner-Webb 71-56 by coming from behind in the second half. The Cavaliers then beat ninth-seed Oklahoma, taking the lead in that one at the ninth-minute of the first half and never looking back. The score in that contest was 63-51. In the Sweet 16, the 12th-seed Oregon Ducks were a bit pesky during the second half. But, in the end, the score was Virginia 53 and Oregon 49. Our Auburn vs Virginia preview and pick notes that third-seed Purdue, ranked 13th-nationally, gave the Cavaliers their toughest fight and biggest scare. With one-second left in the second half, the Cavaliers sent the Elite Eight contest into OT by tying it 70-all. The Cavs then outscored their opponents in OT 10 to 5 and secured their Final Four berth with the final being 80-75.
Auburn vs Virginia Preview Matchup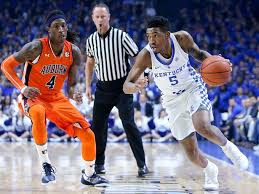 Our Auburn vs Virginia preview observes that in their last contests, both of these teams excelled at the foul line. Auburn hit 75% of their attempts (18-24) and Virginia was good on 85% (17-20) of their shots. Both teams won their games at the charity stripe. In their first two March Madness contests, the Tigers hit around 75% of their free throws, but against UNC their success rate dipped to 47%. They need to be good on about 75% of the team's frees to have a chance in this game. In the first two games of the tournament, the Cavs struggled from the free throw line, hitting about 50%. But in the last two contests, they've found the mark, completing 82.5% of their attempts.
Auburn Players
Players to watch for the Tigers include guard Jared Harper. Harper can score, dish-off, and defend. He's also a solid rebounder. Against Kentucky, he led all Auburn players with 26 points. Additionally, guard Bryce Brown, who put up 24 points in that game, is able in D. In the paint, which could be problematic for this team, are forwards Anfernee McLemore and Danjel Purifoy. Both are sound rebounders and offer points. McLemore hits approximately 60% of his field goals. This Auburn vs Virginia preview and pick notes that center Austin Wiley, who's averaging about eight points per game, is dangerous, hitting over 50% of his shots.
Virginia Players
The Cavaliers have a very deep and dangerous team. Senior center Jack Salt and junior forward Mamadi Diakite can dominate the paint. Diakite had 14 points against Purdue and grabbed seven rebounds. Guard Kyle Guy is good for 15 PPG. Versus the Boilermakers, he put up 25 points and took down 10 rebounds. Guard Ty Jerome is this team's primary assist-man and a top scorer. You can expect him to notch about six assists per game and score 14 points. In the Purdue contest, he was good for 24 points, seven assists, and five rebounds. Another major contributor is guard De'Andre Hunter. Hunter is averaging 14.9 APG and 5.0 RPG.
Auburn vs Virginia Pick
We have an Auburn team that seems to be able to step up whenever they need to and a Virginia club that has a lot of players who can readily contribute. Depth is important, and our Auburn vs Virginia pick and preview finds that the Cavaliers have the edge there. We also think that they are a bit more disciplined and more consistent from the foul line. The Virginia team's defense has done a better job in shutting down opponents. But in this edition of March Madness, the Tigers have been a scoring-machine. We are going to say that the Auburn Tigers will cover at +6.0. Throughout the season and tournament, they have kept pace with and even beaten some of the best teams in the nation.
Summary NCAA Final Four – Auburn vs Virginia Pick: Auburn Tigers at +6.0