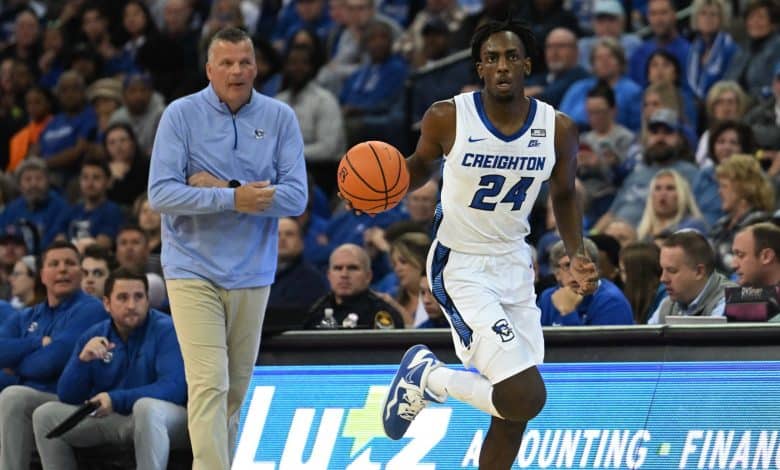 North Carolina had dropped from the #1 team in the country out of the top 25, but the next biggest slide in the nation might belong to Creighton, who had gotten up to #7 before going into their current six game skid. The Bluejays (6-6) need a win in the most desperate of ways in this Butler at Creighton betting matchup.
Butler (8-4) is coming off a 22-point loss last Saturday, but that also came against #2 UConn who has blazed off to a 12-0 start in 2022. The Bulldogs had won five of six games prior while battling through some injuries, but the visitors are still +8.5 point underdogs in Thursday contest.
Butler Getting Healthier
The Bulldogs' 8-4 start to the season isn't horrible considering they've had almost no depth due to injuries. Ali Ali (concussion) and 6'10" Jalen Thomas  just made their season debuts last weekend while D.J. Hughes has missed four games with a concussion and Myles Tate has missed time while recovering from knee surgery.
It's no shocker that Butler is the absolute worst team in the country (352nd) in bench points per game (7.5) because they have barely had a bench for most of the year, playing many games with just 7-8 players. On the flip side though, that has let the starters really blossom and all five are scoring in double figures this season.
Chuck Harris leads Butler with 14.3 ppg, and blew up for 32 in a win over Tennessee Tech earlier this month. Manny Bates adds 14.1 ppg, and the 6'11" Senior should be a huge factor in Butler at Creighton betting as the Bluejays have been without their starting center the last three games.
Can Creighton Stop the Bleeding?
The Bluejays have lost to some quality teams on their current stretch of poor play including #5 Arizona (81-79), #7 Texas (72-67), #25 Arizona State (73-71), and most recently #24 Marquette (69-58). Those are largely close games against good squads, but there are no moral victories when a team loses six in a row not to mention Creighton has also lost to BYU and by 10 points at home against 7-6 Nebraska during their slide.
Butler is a team getting healthy coming into Thursday night's matchup – and it appears Creighton may have their team leader back in the lineup as 7'1″ Ryan Kalkbrenner is expected to return after missing the last three games with an illness. Kalkbrenner leads the Bluejays with 15.9 ppg but his absence may have somewhat accidentally led coach Greg McDermott to find some depth in the post with 6'10" freshman Fredrick King posting back to back 16+ point double-doubles.
Butler has some deep scoring with five starters averaging in double figures, but so does Creighton and they have the emerging King coming off the bench for what looks like an expanded role moving forward.
Free Butler at Creighton Betting Pick
These two teams are evenly matched splitting the last 10 games, but whoever does win those games usually runs away with it. Only two of those previous 10 meetings have been decided by single digits, although that does include last year's 54-52 Creighton win at home although they were -7.5 favorites.
The Bluejays get their veteran big man big on Thursday night, and they also have to like what they see from their young center. The fact that this spread is -6.5 even though Creighton is on a losing streak points to some good things from the Bluejays here.
Free Pick: Creighton -6.5