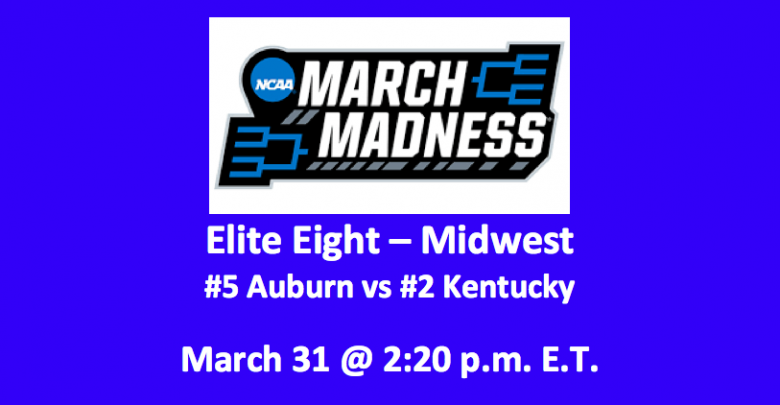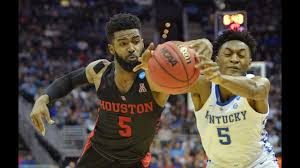 Our Auburn vs Kentucky preview and pick offer the Wildcats at either -2.5 to -4.0. Considering our Auburn plays Kentucky prediction for the Elite Eight and what transpired in the 2019 NCAA Tournament thus far, we have to expect a close game. In the Midwest Region Sweet 16, the Auburn Tigers upset the one-seed UNC Tar Heels 97-80 by dominating the second half. The Kentucky Wildcats beat a very tough Houston Cougars team 63-58 by holding off a late second-half surge that took the game down to the wire. Look for this Midwest Region Elite Eight contest will be played today, Sunday, March 31 at the Sprint Center in Kansas City, MO at 2:20 pm ET. It should be quite a contest.
Auburn Tigers
The Auburn Tigers have defied the odds, beating four-seed Kansas in round two and one-seed UNC in the Sweet 16. Our Auburn vs Kentucky preview and pick sees this team as being exceptionally dangerous and capable of getting to the next level. In each game of March Madness thus far, the Tigers have been shooting 45% or better from the floor. They're averaging 42.4% from the arc and beyond. However, Auburn is completing on average just 64.3% of frees, although their average in the first two contests was a healthy 77%. Overall, the team has kept turnovers low, but they do commit too many fouls. The Tigers, who have averaged 17.3 APG, do a good job of setting up plays and finding the open man. Also, there's solid D. Auburn has accumulated 18 steals and 11 blocks thus far. The Tigers have held opponents to 76 PPG, while they've averaged 88.
In the paint for Auburn, Chuma Okeke is averaging 7.0 RPG, 3.0 STPG, and 15.0 PPG. But he will be missed in this game, as he's out with a torn ACL. In the backcourt, Jared Harper and Bryce Brown have both delivered. Harper is dishing off seven assists per game, while scoring 14.7 PPG. Brown has been good for 16.3 PPG. Off the bench, guard J'Von McCormick has contributed 11.3 PPG.
Kentucky Wildcats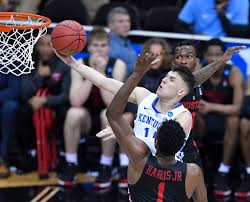 Our Auburn vs Kentucky preview and pick notes that in the 2019 NCAA Tournament, the Wildcats have had a much easier schedule than the Tigers. While Auburn met New Mexico State, Kansas, and UNC, Kentucky played Abilene Christian, Wofford, and Houston. But the difference in strength of schedule aside, the Wildcats have done the same thing that their opponent for today has done, win three games. Kentucky got here by putting a defense on the floor that has held opposing teams to an average of 53 PPG. In this edition of March Madness, no team has scored more than 56 points against the Cats. Against Kentucky, opponents are shooting 35% from the floor and 30% from the arc. Another good point is the fact that the Wildcats are committing under 12 TOs per game. However, their ball movement is less than dazzlingly, as they are averaging just 10 assists per contest.
Kentucky relies a lot on the play of forward Reid Travis and guard Tyler Herro, Travis, who's a double-double guy, is averaging 10.3 RPG and 12.7 PPG. Herro has been good for 12.0 PPG, as well as 4.3 RPG and 3.3 APG. They are Kentucky's two most consistent performers. Guard Keldon Johnson and Ashton Hagans are both capable contributors. Johnson is averaging 13.3 PPG, while Hagans offers 6.6 PPG. In any given game, one or two guys can come off the Kentucky bench to deliver six to 12 points.
Five Keys
Kentucky defense has to stop Auburn
Tiger three-point shooting could seal the game
A double-double by Travis goes a long way for Cats
Auburn guards offer top-notch ball movement and shooting
Wildcats have advantage in foul shooting and in PFs
Auburn vs Kentucky Preview: Our Pick
Our Auburn vs Kentucky preview and pick finds that if this game is close all the way, then we think Kentucky takes it. Why? Because it's likely to come down to foul shots, and the Wildcats are amazingly disciplined when it comes to hitting free throws. Plus, Auburn tends to commit too many fouls. But if Auburn is hitting what it launches from downtown, then they take this game. We think that the Kentucky defense will slow the pace of today's contest down and take Auburn out of their game. We like the Cats at -2.5.
Summary Elite Eight Midwest – Auburn vs Kentucky Preview & Pick: Kentucky Wildcats at -2.5