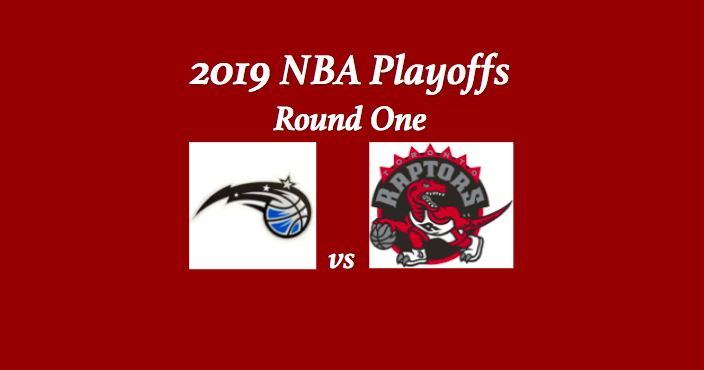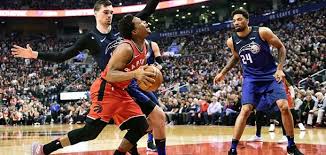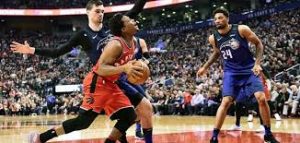 Our 2019 Magic vs Raptors playoff preview observes that Orlando comes in with a four-game winning streak. Also, our Magic vs Raptors preview notes that both teams come to the playoffs in relatively good health. The Orlando Magic (42-20) finished seventh in the Eastern Conference and first in the weak Southeast Division. They were the only team with a winning record in that division. The Toronto Raptors (58-24) were second in the East, just two games behind the Milwaukee Bucks, and first in the Atlantic Division. The two NBA clubs split their season series with each taking two games. The series is scheduled to start 5:00 pm ET on Saturday, April 13. The first two games will be played in Toronto at the Scotiabank Arena, and the second two in Orlando.
Playoff Preview Stats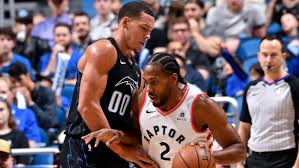 Our Magic vs Raptors playoff preview finds that both teams are fairly solid on D. Toronto is allowing opponents 108.4 PPG. Orlando is doing even better, giving up just 106.6 PPG. Although the Magic are better at limiting opponent scoring, the Raptors are outscoring them 114.4 to 107.3. The overall point differential goes to the Raptors as they sit at +6.1 and the Magic are at just +0.7. That makes the overall differential +5.4 in favor of Toronto. It is a decent enough margin to give the second-seed team a statistical edge.
The biggest differences between these two teams in terms of other stats has to do with shooting percentages. Toronto is a bit better overall in every shooting stat. The Raptors are tops in field goal percentage (47.4% -45.4%), two-point percentage (53.9% – 50.9%) and free throw percentage (80.4% – 78.2%). They are also a bit better when it comes to hitting from downtown, as the Raptors lead 36.6% to 35.6%. We think that the free throw, field goal, and two-point advantage for Toronto of between two to three points will help them in round one of the 2019 NBA playoffs.
Orlando Magic vs Toronto Raptors – Players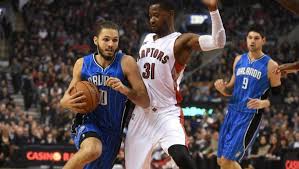 The Magic have a major talent in center Nikola Vucevic (20.8 PPG, 12.0 RPG, 51.8 FG%). Vucevic, a double-double threat, is tough in the paint, but can also pop out and hit three-pointers. Power forward, Aaron Gordon (16.0 PPG, 7.4 APG, 44.9 FG%), who's second on the team in points and rebounds, is an essential part of the Magic offense. He's good on 34.9% of his threes. The backcourt features two shooting guards who can be lights out, Evan Fournier (15.1 PPG, 3.6 APG, 43.8 FG%) and Terrence Ross (15.1 PPG, 3.5 RPG, 42.8 FG%), as well as shooting guard D.J. Augustin (11.7 PPG, 5.3 APG, 47.0 FG%). Augustin is good on 42.1% of his attempts from downtown.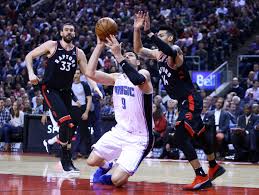 In the paint, the Raptors can be foreboding. SF Kawhi Leonard (26.6 PPG, 7.3 RPG, 49.6 FG%) tops the team in points and is second in rebounds. He also leads in steals with 1.9 per game. PF Pascal Siakam (16.9 PPG, 6.9 APG, 54.9 FG%), who's third in rebounds, is second in points per game with 16.9. Finally, center Serge Ibaka (15.0 PPG, 8.1 APG, 52.9 FG%) is the team's major big man when it comes to grabbing balls for second shots. He's been good for 2.1 ORPG. Point guard Kyle Lowry (14.2 PPG, 8.7 APG, 41.1 FG%) looks to be a major factor in this series. Also, SG Danny Green (10.3 PPG, 4.0 RPG, 46.5 FG%) offers points and also some solid rebounding chops. Green is hitting 45.5% of his three-point shots.
Keys to the Magic vs Raptors Series
Toronto has an advantage FG shooting
Tough for Orlando beat Raptors in paint
Raptor three-point shooting offers edge
If free throws play a big role, Toronto looks good
Orlando must step up in front and back courts
Magic vs Raptors Playoff Preview – Our Pick
Our Magic vs Raptors playoff preview finds that overall Toronto has a big edge. Still, we do think that this will be a battle that will take six games to decide. Orlando has talent but they don't quite possess the depth that Toronto does. Our Magic vs Raptors playoff preview and pick is Toronto in six games.
Summary – Orlando Magic vs Toronto Raptors Pick
Toronto Raptors in 6 games