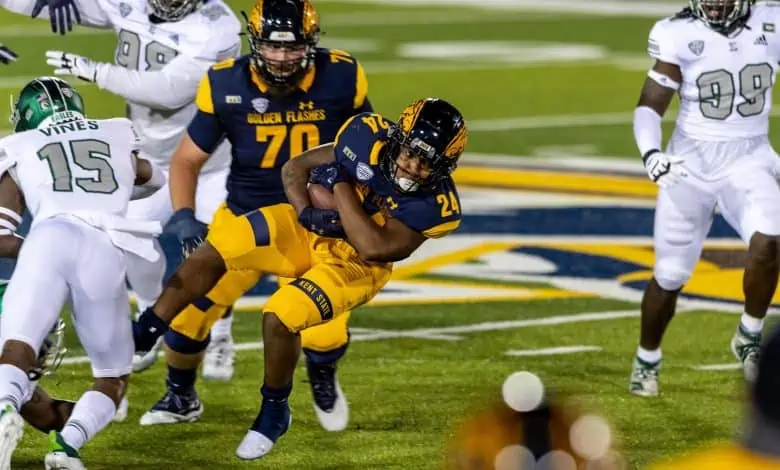 EMU is bowl eligible at 6-4, but they want to eliminate any doubt from selection committees with a win in the Eastern Michigan at Kent State betting matchup. The 4-6 Golden Flashes still have work to do if they want a chance at a postseason game, but if Kent State can get a win on Wednesday they still have a tough trip remaining at Buffalo next week.
Kent State is a somewhat surprising -7.5 favorite in this matchup, and although they are at home the Eagles have rattled off four straight road wins – one shy of a school record. 68% of the betting public is taking EMU plus the 7.5 in this spot.
Eastern Michigan Won't Wow You
Would you rather have the type of team that puts up stellar offensive and defensive numbers but has a hard time pulling off wins – or would you like a team that collects victories despite not being particularly stellar in any area? Eastern Michigan is definitely the latter, EMU ranks 8th in the MAC in rushing (139.7), are 9th in passing (203.2) but are also bowl eligible and had a chance at claiming the West division prior to a loss to Toledo in week 9.
Eastern Michigan's "do just enough" strategy was on display last week as they struggled to a 34-28 win over 1-9 Akron, running for 155 yards and throwing for 190 against the worst team in the MAC.
The way you get to Kent State's defense is through the air, as their 289+ yards allowed to FBS opponents is 8th worst in the country. Austin Smith and Taylor Powell have split time at QB for the Eagles this season, with Smith getting the start last week vs. Akron completing 16/28 passes for 2 TDs but with just a 57.6% completion rate on the season.
Kent State Has a Rushing Number To Hit
The Golden Flashes come into Eastern Michigan at Kent State betting with the #1 rushing offense in the MAC at 210.3 ypg. Kent State is coming off a big 40-6 win over Bowling Green last week – a team that will be playing for the MAC East championship next week.
Kent State ran for 201 yards last week, and they're 3-0 this season when they go for 230+ while EMU has lost all three games they've allowed 230+. Golden Flashes RB Marquez Cooper 'only' had 98 yards rushing last week, but he had gone for 135+ in four of five games prior. Eastern Michigan also has the fourth worst rush defense in the MAC.
Kent State QB Collin Schlee had his second 3TD game of the season against Bowling Green and he's got upside with a couple of 300+ yard games this year as well.
Free Eastern Michigan at Kent State Betting Pick
A majority of the public are on Eastern Michigan here and they have been great on the road (4-1). Kent State is hungry though, as they still have outside hopes at a bowl appearance and will have an advantage in their final home game of the season. The hook on the 7.5 point spread isn't ideal, but the Golden Flashes just have better weapons and can cover this number.
Free Pick: Kent State -7.5