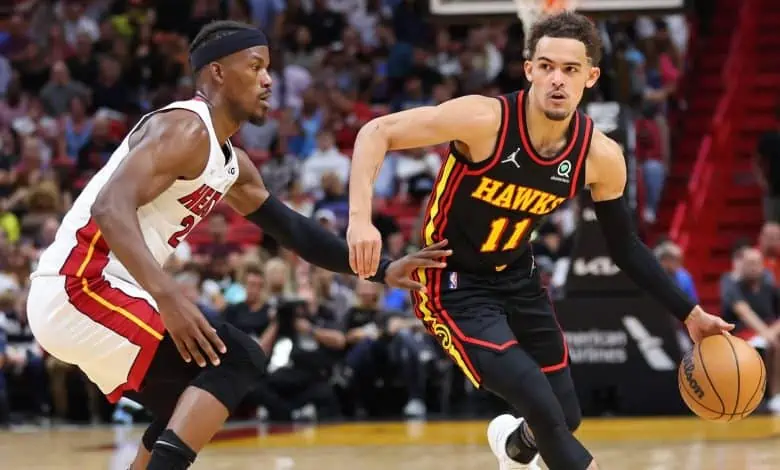 Atlanta was able to get one win back at home but that's it, and now they face a 3-1 deficit heading into Tuesday's Hawks at Heat game 5 betting contest. The series shifts back to South Beach where Miami took games 1 and 2 by a combined 34 points.
Because the Heat were so dominant the first two meetings at FTX Arena, they look like they have incredible value as -6.5 favorites in Game 5. Miami doesn't want to let the Hawks crawl back into this series like the Sixers allowed Toronto to do even after getting up 3-0. About 80% of public betting is on Miami though, which is never a good thing.
Young and Some Help
Trae Young has definitely had a series to forget for Atlanta, being held to 8 points on 1-12 shooting in Game 1 and most recently 9 points on 3-11 shooting on Sunday. Young did go for 25 in Game 2 but was still just 2-10 from three point range, and he also tallied 24 on Friday in Atlanta's lone win of the series.
It doesn't take a veteran NBA pundit to know that for Atlanta to win in the Hawks at Heat game 5 betting matchup, Young needs to shoot efficiently as he did in Game 3's 6-14 performance. That's easier said than done though, as Miami has the 5th best defense in the NBA and hold opponents to just 33.9% shooting from three,
Of course it wouldn't hurt Atlanta's chances if they can get somebody to step up and take some of the offensive pressure off Young as De'Andre Hunter did in Game 4 with 24 points. The Hawks still lost that game by 24 though. Clint Capela played for the first time this series on Sunday, but his right knee injury could still be bothering him after he had just 2 points and 7 rebounds in 21 minutes.
No Lowry, No Biggie for Miami
The Heat were down to a -1.5 favorite in Sunday's matchup as they prepared for life without starting PG Kyle Lowry (hamstring), but that just showed that sometimes oddsmakers miss too as Miami went on to a 110-86 victory. Lowry is only scoring 8.3 points with 5.3 assists per game, so his absence was almost unnoticeable in Game 4.
While Atlanta has struggled to find consistent support for Young this series, Miami had a slew of players step up in Lowry's absence on Sunday. Victor Oladipo was 0-5 from three, but still provided a spark with a +/- of +28 in 23 minutes off the bench while Max Strus was +34. When you get just 3 points from Tyler Herro but still win by 24 something is going right.
Of course it never hurts to have Jimmy Butler in the lineup either, and he's had a 36 and a 45 point outing over the last three games. Another huge game should be incoming.
Free Hawks at Heat Game 5 Betting Pick
How does Atlanta stay in this game? Miami looks like a double digit winner here but that's also what 80% of bettors think too. That being said you just can't trust Young right now as a Hawks backer, and the Heat are back home where they are 31-12 on the season. This one could get out of hand late if Atlanta throws in the towel on their season.
Free Pick: Heat -6.5