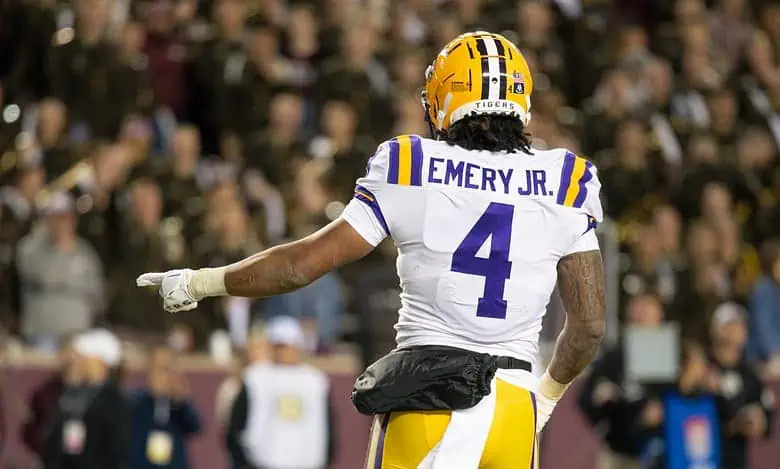 There have already been some great college football games in Week 1, but the best game might take place on Saturday night. The LSU Tigers take on the Florida State Seminoles in a top-10 matchup that is highly anticipated.
LSU is hoping to make a big move in the SEC this season, and this will be a chance to make a statement win. The Tigers are bringing back a ton of talent from a season ago, but consistency was a problem in the 2022 season.
Florida State is one of the betting favorites to win the ACC this season, but they also have some work to do. The Seminoles had some monster wins a season ago, and they are coming into this year with a ton of momentum.
LSU is a slim 1.5-point betting favorite, and there has been movement in the lines since opened.
LSU Loaded With Talent
The LSU Tigers are a team that is loaded with talent on both sides of the ball, including quarterback Jayden Daniels. LSU does need Daniels to take the next step on offense this season, and he should be tough to deal with.
One thing that will hurt the Tigers on offense in this game is that they will be without stud running back John Emery. Daniels will be able to pick up some big yards on the ground, but the Tigers will also need to hit on some big plays.
LSU will have to find a way to slow down the Seminoles' balanced attack, and they don't want this game to be played at a fast pace. Getting some pressure in the backfield is going to be a huge key in this one.
Travis Ready to Lead Seminoles
FSU quarterback Jordan Travis is on the short list of Heisman Trophy candidates, and it won't take long to see why after watching him play. Travis not only has the ability to throw the ball deep, but he can also keep drives alive with his legs.
Florida State has given Travis plenty of weapons as well as Johnny Wilson, and Keon Coleman can both make some huge plays at the wide receiver position. This Seminoles team has the chance to be explosive on offense, especially when they get on a roll.
The Seminoles are going to have to prove that they can get stops on defense if they are going to be an elite team. Playing Daniels and LSU should be a great test, and this defense will be ready.
Seminoles Sneak Past the Tigers
Florida State won this matchup a season ago, and the two teams are going to be very similar. Both teams have the ability to put up points on offense, but you should expect to see some defense in this game as well.
The difference in this game is going to be Jordan Travis, as he is one of the complete players in college football this season. Travis will make some big plays late to find holes in the LSU defense, and the Seminoles will beat the Tigers yet again.
Take the moneyline underdog in this game and bet on the Florida State Seminoles to pick up a win over the LSU Tigers.