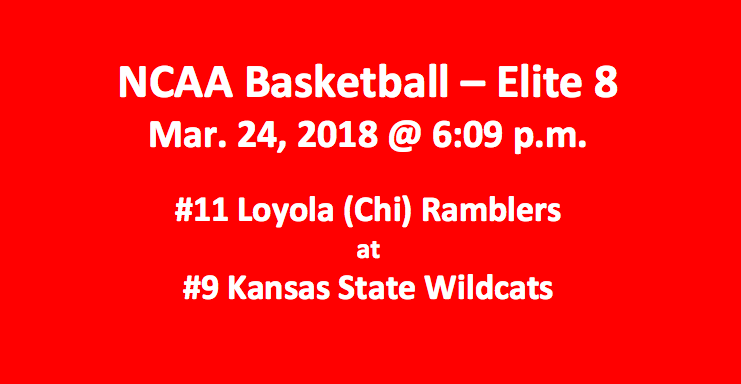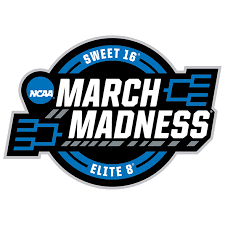 It is Elite Eight time for March Madness 2018. The first game will tip off today, Saturday, Mar. 24 at 6:09 p.m. E.T. This is a South Region matchup, and it's at Philips Arena in Atlanta, GA. The game has the #11 Loyola (Chi) Ramblers (31-9) at the #9 Kansas State Wildcats (25-11). This is the first time in NCAA history that an 11 and 9 seed will meet to see who goes onto the Final Four. It is expected that this will be a tough and tight contest. Our Loyola-Chicago plays Kansas State 2018 Elite Eight free pick offers the Wildcats at either -1.5 or -2.0. The over/under stands at 126.5.
Today's second game will feature the Florida State Seminoles and the Michigan Wolverines. That West Region game is slated to begin at 8:49 p.m. E.T. at the Staples Center in Los Angeles, CA. That pick will be posted before noon today.
Recent History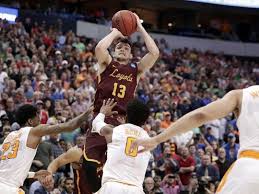 Loyal-Chicago has won its three tournament games by an average of 1.33 points. Their biggest margin of victory was in their first game, which was against Miami. They won that one by two. They beat the Nevada Wolf Pack on Thursday 69-68. We expect them to try to keep it close today.
The Kansas State Wildcats have had a much easier go of it. They beat the Creighton Bluejays in round one 69-59 and then the UMBC Retrievers 50-43 in round two. Their last game, which was against #5 Kentucky was their closest. The Wildcats of KSU beat the Wildcats of Kentucky 61-58.
Basic Stats and Facts
The Ramblers are hitting 50.7% of their shots from the field, 40% of their threes, and 72% of their threes. The Wildcats have been good on 46.7% of their field goals, 36% of their three-point shots, and 73% of their free throws. Loyola-Chicago is averaging 72 PPG, while KSU is putting in 71 PPG. In the tournament those averages are lower, coming in at the low to mid 60s for both teams. At the Big Dance, KSU has kept opponents to around 53.3 PPG, while the Ramblers are holding them to 64.0 PPG.
Players to Watch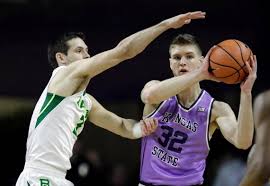 Loyola-Chicago has a solid core of players, and they are a disciplined team. Junior guard Clayton Custer (13.4 PPG, 4.2 APG) and senior guard Donte Ingram (11.3 PPG, 6.3 RPG) will be looking to set up plays and maintain order. Custer is a dead-on shooter, hitting 54% of his field goals and 46% of his threes. He's also a sound defender. For the Ramblers to stay in the game, it's essential that he play well today. Freshman center Cameron Krutwig (10.4 PPG, 6.1 RPG) is hitting 60% of his shots.
Two juniors lead the Wildcats, guard Barry Brown (16.0 PPG, 3.3 APG) and forward Dean Wade (16.2 PPG, 6.2 RPG). Wade is 55% from the field and 44% from downtown. Brown is hitting 45% of his field goals. Both players have quick hands aand are proficient and causing turnovers. Sophomore forward Xavier Sneed (11.0 PPG, 5.1 RPG) could be an important factor in the paint today.
Our Loyola-Chicago Plays Kansas State 2018 Elite Eight Free Pick
Where do we go with this unprecedented game? This looks to be nip-and-tuck. We are going with the over, which has remained steady at -126.5. We think this, like the choosing the winner, is a tight call. For our Loyola-Chicago plays Kansas State 2018 Elite Eight free pick we are taking the Ramblers at +1.5.
Ramblers and Wildcats Pick Summary: Loyola-Chicago at +1.5 and over 126.5