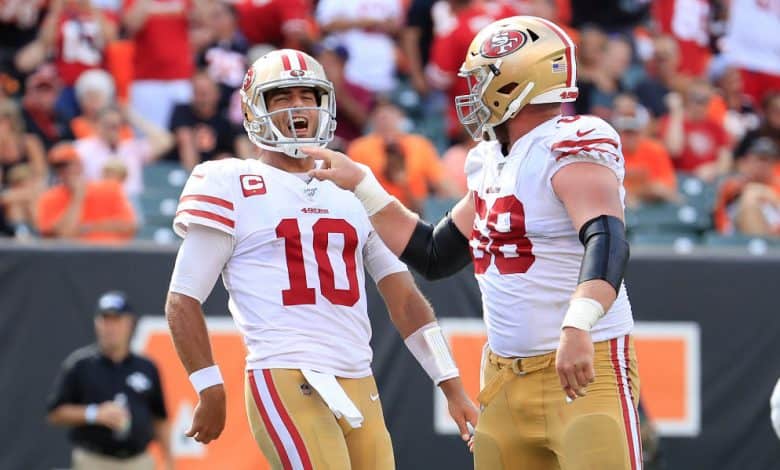 San Francisco suffered a 30-23 loss in Seattle last week but that hasn't stopped oddsmakers from making them -2 point favorites on the road in the week 14 49ers at Bengals matchup. SF had won three straight prior to that defeat, and their offense has looked much better in the last six games starting on Halloween.
The Bengals meanwhile are a dangerous team to wager on because they are way too inconsistent. Cincinnati dominated the Steelers 41-10 in week 12, but then got railroaded 41-22 against the Chargers last week as -2.5 favorites. This will be the third straight game at home for the Bengals, but temps are expected to be in the mid 40s so you don't even get the December weather advantage against a West Coast team here.
Travel Going to Catch Up With SF?
While Cincinnati is playing their third straight at Paul Brown stadium on Sunday, the 49ers are traveling for the third time in the last four weeks. That stretch has included trips to Jacksonville (W 30-10), a home game against Minnesota (W 34-26) as well as last week's 30-23 loss in Seattle as -3 point favorites.
Jimmy Garoppolo connected on 20/30 passes for 299 yards vs. the Seahawks, his fifth straight game completing at least 65% of his passes. Garoppolo was really clicking with TE George Kittle who had 9 grabs for 183 yards and both of San Francisco's TD catches, easily his best game of the season. Is San Francisco can continue to get Kittle going, and get Deebo Samuel, who missed last week's game (probable – groin), healthy then this is has the potentially to be a very productive passing game moving forward.
The Bengals will give up some yards in the passing game (256.9, 27th) as evidenced by LAC's Justin Herbert throwing for 317 and 3 TDs last week. Therefore Garoppolo will probably get his, but can the SF defense stop Cincinnati? Russell Wilson completed 30/37 passes vs. the 49ers secondary last week and the Seahawks also ran for 148 (although to be fair 73 of that came on one play).
Bengals Need a Home Rebound
Cincinnati got down 24-0 early in the 2nd quarter against the Chargers last week, so you do give them a bit of credit for battling back to make it 24-22 heading into the 4th. LAC just exerted their will after that though, going on a 17-0 run in the final frame to put the Bengals away 41-22 as +2.5 road underdogs.
The biggest takeaway from the loss to the Chargers was that the Bengals just played really sloppy. That's especially true for Joe Burrow who threw 2 INTs and also lost a fumble. Joe Mixon also lost a fumble that was returned 61 yards for a TD early in the 4th quarter. San Francisco has forced the 7th most fumbles in the league this season, but also only have 6 team INTs through 12 games.
Week 14 49ers at Bengals Pick
It's getting to be asking the question of 'good Bengals or bad Bengals' as to who will show up every week. This is a team that can lose by 25 at home to Cincinnati, and then go on then beat the Raiders and Steelers in consecutive games by a total of 50 points. A slight 56% of bettors like Cincinnati, and one would have to think the clock is going to strike on all the travel the Niners have done recently.
Bengals 34 – 49ers 24
Free Pick: Bengals +2