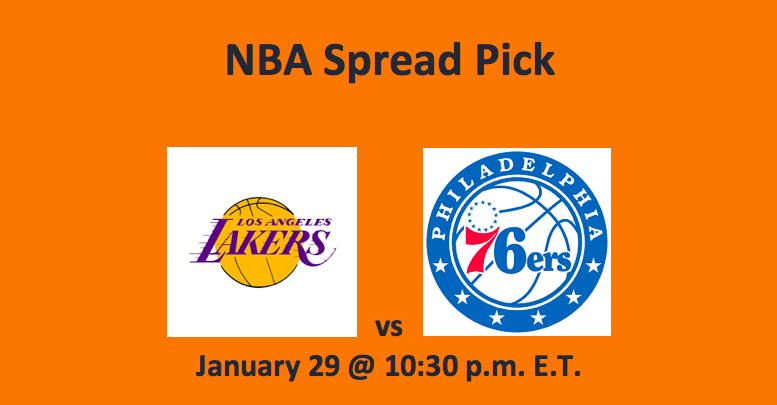 This is this season's first meeting between the Philadelphia 76ers and the Los Angeles Lakers, as Philly plays the second of four games on this road trip. The 76ers are 6-4 for their last 10 games, including a 126-110 loss to Denver on January 26. The Lakers are 5-5 for their last 10 contests, and in their last game, beat Phoenix 116-102 on January 27. Our Lakers vs 76ers pick offers the visiting Philadelphia team at -7.5.
The Sixers are fourth in the NBA East, four games out of first, and second in the Atlantic Conference. Los Angeles is ninth in the Western Conference, 1.5 games away from a playoff spot and 10 games out of first place. They are third in the Pacific Division, 10 games in back of the top team, Golden State.
Basic Stats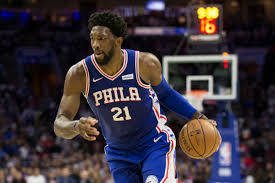 At first glance, we find that assists and point per game are the two areas that separate these teams. Philly leads in both, 115.6-to-112.3 PPG and 27.5-to-24.6 APG. There are two other shooting statistics that standout. The Sixers lead in three-point successes, 36.3%-to-33.6%, and free throw hits, 76.6%-to-68.8%.
Considering these stats and the 7.5-point spread, out Lakers vs 76ers pick likes Philly. The visiting team could end up unloading from the perimeter, which will put some points on the board. Also, their plus-five-point advantage in frees per game could push them over the top.
Edge: Philadelphia
Records, SU and Spread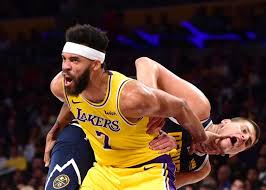 The 76er away mark is 11-13 this year, while LA has a 16-11 home record. That looks good for the Lakers. It's fairly even ATS, as the visitors are 23-27 and the home team comes in at 22-27-1. Here's a big stat. As the dog, LA is 6-11 and as the favorite, Philly is 26-9.
On the road vs the Lakers, the Sixers are 7-2 ATS. However, they are 3-6 ATS in their last nine games and 3-9 ATS in their last nine contests when playing LA. Over their last five games, the Lakers are 1-3-1 versus the spread.
Might this be a tossup? It could be. But the road Sixers vs the home Lakers look good. These stats favor Philly slightly.
Edge: Philadelphia
Keys to this Philadelphia at Los Angeles Games
First and foremost, injuries are huge with LA missing James, Ball, and Kuzma
The Philly backcourt is stacked with three players averaging a total of 54 PPG and 15.4 APG
Look for 76er center Joel Embiid (27.2 PPG, 13.3 RPG, 1,96 BPG) to win the battle against LA center JaValee McGee (10.7 PPG, 6.8 RPG, 2.14 BPG)
Note- we expect Embiid, day-to-day, to play in this game.
Edge: Philadelphia
Our Lakers vs 76ers Pick
The Lakers are dealing with a lot of injuries and Philadelphia comes to this game relatively healthy. Philly has a solid edge in many areas. Our Lakers vs 76ers pick is the Sixers at -7.5.
Summary Philadelphia 76ers at Los Angeles Lakers Spread Pick – Take 76ers at -7.5