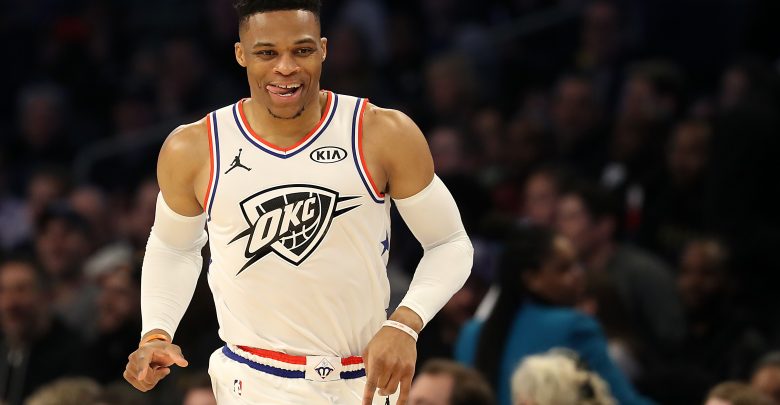 It's always fun to look for diversity in your sports betting and an 8-game March 2nd NBA DFS slate offers the opportunity to do just that. Without further ado, here is what the daily fantasy oddsmakers have laid out for us on Saturday night:


Guards
Jalen Brunson DAL ($3,800, Ownership 2.84%)
There's a flu bug going through the Mavericks locker room and both Tim Hardaway, Jr. and Trey Burke could miss Saturday night's game. Jalen Brunson stepped in big time last game with a 24 point, 5 assist, 3 rebound game in 32 minutes. The price is right if he can get the usage again.
Russell Westbrook OKC ($11,500, Ownership 39.03%)
Everybody is on Russell Westbrook tonight as Paul George is out for OKC. If he performs to his projections (61.12) it almost seems like a letdown as a 70+ fp night seems to be in store. Westbrook had a 24 assist game vs. San Antonio earlier this season and should get a majority of the scoring opps in this one.
Dion Waiters MIA ($4,700, Ownership 8.75%)
There's great upside and salary relief with Dion Waiters on Saturday night. The Miami injury list is a long one with Derrick Jones, Kelly Olynyk, Goran Dragic, James Johnson, and Hassan Whiteside all in danger of missing the meeting with the Nets. In late February Waiters had a streak of 16, 14, and 11 field goal attempts and he'll have no choice but to get shots vs. Brooklyn.
Forwards
Joe Ingles UTH ($5,400, Ownership 8.35%)
Milwaukee has been horrible vs. the SF position lately allowing 46.5 fp to Brandon Ingram and 58 to Bogdan Bogdanovic the past two games. The Bucks are in game two of a back-to-back on Saturday and Joe Ingles is coming off a 43 fp night that included 10 assists.


Terrance Ross ORL ($5,000, Ownership 6.25%)
One thing you like about Terrance Ross is that  he doesn't need a lot of time on the court to get his shots in. For example, Ross had 14 attempts in 27 minutes Thursday vs. Golden State and and was able to get off 21 shots in 30 attempts in Toronto last Saturday. Orlando is in Indiana tonight, but also has a very winnable game in Cleveland on Sunday. Does that mean big minutes for Ross as the Magic starters are preserved?
Jerami Grant OKC ($5,100, Ownership 5.19%)
With Paul George out, Jerami Grant had 37 minutes Thursday vs. the Sixers and was able to attempt 17 shots. In two games vs. the Spurs this year Grant has lines of 25/12 and 12/4/3 and those were with George in the lineup stealing shots.
Center
Lamarcus Aldridge SAS ($7,700 Ownership 6.68%)
In the last two games Lamarcus Aldridge is getting shots (21 and 22) and minutes (39 and 37) which is a great DFS recipe. The Spurs appear to be in a close contest with OKC tonight and Aldridge had a career high 56 vs. the Thunder in early January.
Utility
Paul Millsap DEN ($6,600, Ownership 12.84%)
Tonight's lineup leaves $6,800 to spend on the utility position. It's hard to argue with Paul Millsap's 38 projected points in that spot. The Nuggets big man has a favorable matchup vs. the Pelicans and desperately needs a bounce back game after going for 26 and 32 fantasy points the last two. In the three games prior, Millsap had fantasy points of 56, 46, and 52 so a return to that would be nice to say the least.