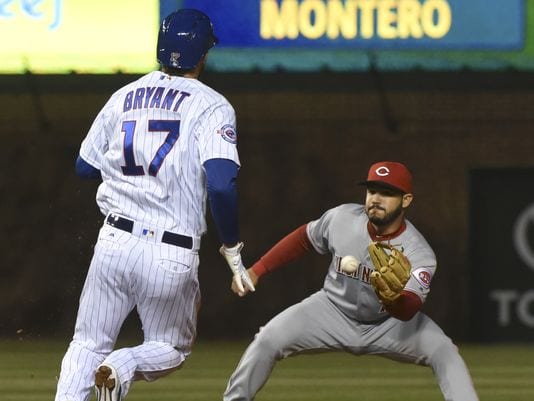 Few things are certain in life but in light of it being April – paying taxes and Jake Arrieta dominating the mound come to mind. As expected, Chicago is a big favorite as they head to Cincinnati Thursday night but the Reds are an impressive 7-2 at home. Can Arrieta continue his surge for the Cubs Reds 4-21 MLB Betting Pick and can Chicago get the win as -200 ML favorites?
Chicago Cubs Overview
The Cubs sit atop the NL Central at 11-4, three games ahead of the somewhat surprising Reds. Chicago is coming off a 2 out of 3 series win in St. Louis. Yesterday's 5-3 loss to the Cardinals was also marked by a 3 hour and 21 minute rain delay. That kind of sitting around and waiting – especially on getaway day – can mess with the player's biorhythms. The Cubs should be alright though with the short 1-hour puddle jump between St.Louis and Cincinnati.
Another reason Chicago will be O.K for the Cubs Reds 4-21 MLB Betting Pick is because Jake Arrieta is on the mound. Last year's NL Cy Young winner is 3-0 in 2016 with a paltry 1.23 ERA. The Cubs have won 16 straight regular season games with Arrieta on the mound. Not only does Arrieta deny runs, the Cubs also score runs when he is on the bump, averaging over 7+ per game this year. Arrieta was 1-1 against the Reds last year but surprisingly only 4 current Cincinnati players have faced him (.267 Avg.)
Cincinnati Reds Overview
The Reds are looking to avenge a 3-game sweep a week ago in Wrigley in which they were outscored by the Cubs 22-6. They should fare better at home where Cincinnati is 7-2 thus far in 2016. The Reds are coming off two straight wins against Colorado, a team that took 2 out of 3 against Chicago last weekend.
For the Cubs Reds 4-21 MLB Betting Pick Cincinnati's starting pitcher Brandon Finnegan was a contributing part of the sweep in Chicago, starting the series opening 5-3 loss to John Lester. To be fair, Finnegan did pitch 6.2IP of 1-hit ball before the bullpen allowed a double to Jason Heyward to score the two runs he was accounted for. Finnegan did walk 5 batters however in his first appearance against the patient Chicago hitters, who have a .045 BA against him on the year.
Cubs Reds 4-21 MLB Betting Pick
If Arrieta is his usual self and Finnegan pitches like he did April 11th in Chicago the under 7 for the Cubs Reds 4-21 MLB Betting Pick looks great. The Cubs do have the advantage of seeing Finnegan for the second time however, having the ability to put together a game plan based on how he pitched them before. The Reds can't say that about Arrieta as it will be many of the players first time batting against the ace. The -200 ML presents a significantly high risk/reward ratio, but Arrieta has been the tax collector this season.
Pick Cubs -200