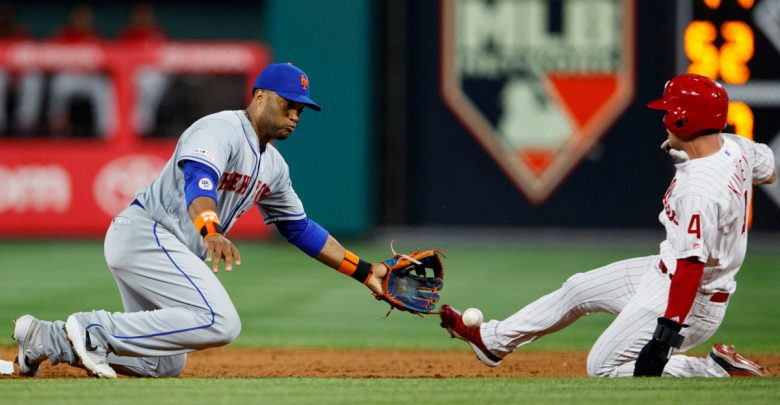 The New York Mets look to end a three-game losing streak when they continue a four-game series with their National League East rivals, the Philadelphia Phillies, on Wednesday night. New York has dropped the first two games in this series by a combined score of 20-12, as Philadelphia snapped a seven-game losing streak with the victories.
Both teams come into Wednesday's contest with 3-7 marks in their last 10 games, though the Phillies are the ones on a winning streak. New York will try to turn things around with Jason Vargas getting the start, while Philadelphia counters with Nick Pivetta on the mound.
The moneyline for this contest has the New York Mets +141 and the Philadelphia Phillies -153. The over/under has been set at 11.
Too Many Distractions
The Mets have been dealing with more than losses on the field, as Vargas and manager Mickey Callaway reportedly got into it with a New York reporter during the team's series in Chicago over the weekend. Both were fined for the incident. Vargas looks to put the focus back on his work on the field, as he tries to improve on his current 3-3 record and 3.75 ERA. Vargas has pitched 60 innings over his 13 appearances (12 starts) and has failed to get past the fifth inning in either of his last two starts.
The offensive story for the Mets has been rookie Pete Alonso, who passed Darryl Strawberry for the Mets' rookie record for home runs with his 27th over the weekend. Alonso is batting .279 on the season with 61 RBI, 17 doubles and 52 runs scored. Second baseman Jeff McNeil has been a pleasant surprise for the Mets as well this season, leading the team with a .348 batting average, which is second in the National League.
Starting To Roll
Philadelphia looked dead in the water for a little while, going from first place in the National League East to a distant second place behind the Atlanta Braves. The Phillies are still 5.5 games back of Atlanta, but they're now tied for the second Wild Card spot with the Colorado Rockies. Pivetta will look to keep the roll going in his sixth start back in the Philadelphia rotation after a month in Triple-A. Pivetta is 2-1 with a 3.94 ERA since being called up, though he suffered a loss in his last outing, going 5 1/3 innings against Washington and allowing six earned runs and two home runs.
Speaking of home runs, the Phillies are hitting their share of them the last two games. Philadelphia has belted eight home runs in this series so far, including two by Maikel Franco, who now has 11 on the season. In all, Philadelphia has six players with double-digit totals in home runs, led by Rhys Hoskins' 18. Hoskins is also hitting .270 with 52 RBI and 42 runs scored. Bryce Harper has started to pick it up lately as well, hitting 13 home runs with a team-high 54 RBI and 45 runs scored.
Phillies' Streak Continues
Philadelphia seems to have found its confidence again, helped by some hot hitting. While Pivetta isn't likely to shut the Mets' offense down completely, he should get some help from the hot bats of his teammates. I'll take Philadelphia -153 to make it three in a row over the Mets.