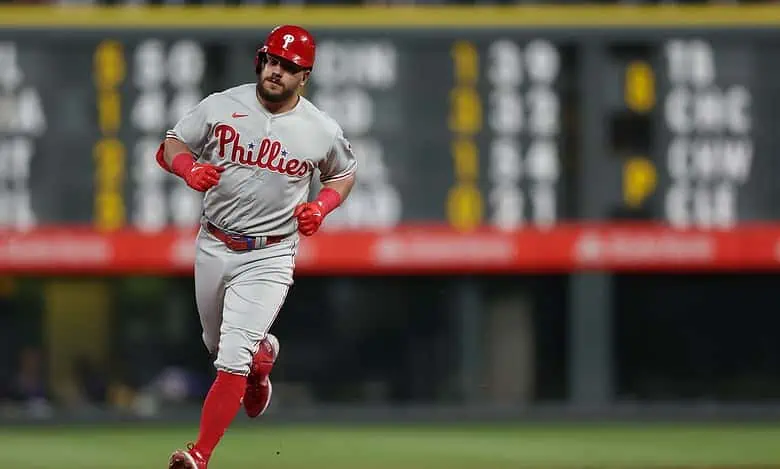 The Philadelphia Phillies and Toronto Blue Jays will conclude their brief two-game series on Wednesday night in Canada. Toronto was able to pick up a 2-1 win in the series opener, and this is a very important series for each team.
Philadelphia got off to a very slow start this season, but they have started to look like the team that won the National League a season ago. The Phillies bring a 65-55 record into this game, and they are holding on to a playoff spot in the NL.
Toronto was able to improve their record to 67-54 with the win on Tuesday night, and they are just searching for consistency. The playoff race in the American League is extremely tight, and the Blue Jays have to keep stacking wins.
The Blue Jays are the moneyline betting favorites at -155 on Wednesday night over the Phillies in this game.
Phillies Need More From Nola
The Philadelphia Phillies will be sending Aaron Nola to the mound on Wednesday night, and they need him to pitch better than he has this season. Nola is 9-8 with a 4.49 ERA on the year, but he has been a dominant starter in recent years.
Pitching is actually one area that is typically gone well for the Phillies, and they held the Blue Jays to just two runs on Tuesday. Philadelphia can't afford to have a bad start from Nola, as they sometimes lack consistency on offense.
Kyle Schwarber leads the team with 30 home runs, but he has struggled to hit for any average at all. Trea Turner has started to pick up his play for Philadelphia, and he will be a big key at the top of the lineup.
Blue Jays Have to Score
Getting a win on Tuesday night was huge for Toronto, but they still managed to score just two runs in that game. The offense has been inconsistent all year, and they need more from their star players.
Vladimir Guerrero Jr. has 18 home runs and 72 RBIs this season, but he is well short of where he has been in recent seasons. This team can still belt the ball out of the park, but at some point, they have to string some hits together.
Toronto will be sending ace Kevin Gausman to the mound on Wednesday night, and he is 9-6 with a 3.04 ERA on the year. The Blue Jays have one of the best team ERAs in all of baseball, and Gausman almost always delivers a quality start for his team.
Blue Jays Get Short Series Sweep
This is an extremely important series for both the Phillies and Blue Jays, and you saw just how competitive the game was on Tuesday night. Expect much of the same in this one, especially as both teams will have proven veterans on the mound.
Aaron Nola simply has to be better for the Phillies down the stretch, but he will struggle to put the Blue Jays away in this one. Playing at home is always a good thing for this Toronto club, and they will use that advantage to scratch out the needed runs to win this game.
Bet the Toronto Blue Jays -155 as they are able to win again on Wednesday night to sweep the shortened two-game series over the Philadelphia Phillies.